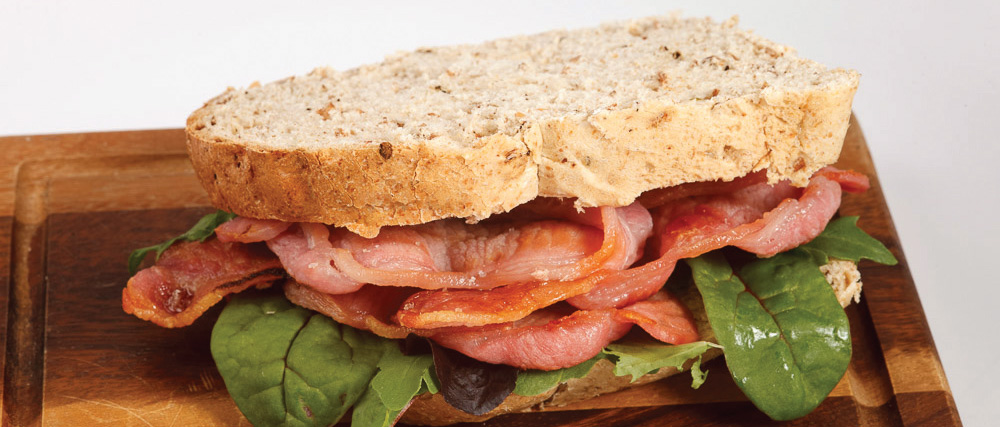 A taste of tradition
Based in Bury St Edmunds, family owned and run meat production and wholesale supply company The Taste of Suffolk benefits from not only a dedication to selling the finest produce, but also a management team of exceptional knowledge and experience
Owned by Chris Simons, the company is run by his father Roger Simons who is responsible in part for the success of both the Taste of Suffolk and its sister company Broad Oak Farm. Roger has spent his entire adult life in the sausage business and he came out of retirement when Chris acquired the manufacturing site, in order to share the benefits of his years of knowledge. As he explained to FoodChain, after six years at the helm, significant improvements have already been achieved: "The company had been going for about 35 years when we bought it, and we took over just over six years ago. Since I have been here we have increased the turnover by 25 per cent, expanded the product range and made significant changes to the facility."
Roger continued with more details about the improvements he has introduced: "When we purchased the business there were two sites, which were on the same industrial estate but separate. One of my first tasks was to enlarge one and when the leases ran out on the other one we gave it up, which created one bigger facility with all staff in one place. From that site, today we run six vans and one small lorry, which are on the road most days serving customers in Norfolk, Suffolk, Essex and a bit of Cambridgeshire.
"We've now also refurbished 90 per cent of the factory, with the remaining ten per cent scheduled to be improved in early January 2017. This section will see the addition of two new big steam
ovens for cooking hams, an investment of around £150,000. These will much bigger than our current ovens – the two new ones will produce more than our current four do!"
Such has been the success of Chris and Roger's strategy that the company is almost operating at maximum capacity. "of course if extra business comes along we will always do our best to accommodate it, but we are getting to the stage now that if we do much more we will need a second shift and that's not on the agenda at the moment," Roger added.
When The Taste of Suffolk took over the business in 2010, it consisted of DP Meats (bacon and ham) and Country Cottage Cooked Meats (sausages), and these were long established, quality food ranges that included historic smoked meats using a natural oak smoking technique that has remained unchanged for many years. Roger brought all the products under The Taste of Suffolk branding, and over the ensuing years has added new products to the range as well.
The quality and pedigree of the products is also something that Roger has prioritised, and he believes in providing firm evidence about how, over the years, the business has achieved the very high levels of satisfaction that all of its customers now expect. It has gone through several accreditation programmes to guarantee quality, and as a result it can include the SALSA (Safe and Local Supplier Approval), Freedom Food RSPCA Monitored, and BPEX Gold Award winner logos on its packaging and website. These not only signify that the business adheres to all legal requirements of producers, but also the enhanced expectations of 'best practice' of professional food buyers.
"Today our main products are smoked and green (unsmoked) gammons, smoked and green back bacon and other cooked meats like topside and tongue, and a variety of sausages," Roger added. "We still have our own oak-chip smoker so we do all our own smoking of the meats, and we often come up with new products, so for example we have just launched a hot and spicy chicken for sandwich making and also a chicken tikka variant, as well as a shaved ham, which is extremely thinly sliced."
Special relationship
These products are supplied to supermarkets including East of England Tesco and Asda, hotels, delicatessens, restaurants, fish and chip shops, butchers, and pubs, plus The Taste of Suffolk has contracts with several county councils, providing sausages for schools.
"There has been a trend over the last few years of people wanting to buy more locally produced products for their consumption and this is something we've been able to assist our customers with," said Roger. "Of course, we can't get all our ingredients from Suffolk but we try to get it as locally as possible, and we source our main materials from Norfolk, Essex and Bedfordshire, but the items like spices have to come from abroad."
The business still focuses heavily on a quality delivery service to local clients, and in addition it has a long established relationship with the East of England Co-operative Society providing bespoke ranges for its retail stores including Craske special recipe sausages and products for the 'Sourced locally' range.
Indeed, the two companies have a special relationship, and in August 2015 The Taste of Suffolk received a County Winner trophy at East of England Co-op's Producer of the Year' awards. Thousands of members and customers of the East of England Co-op voted to nominate the winners and Roger and his team were delighted that their products are enjoyed so much. He noted: "Sourced Locally gives a great boost to businesses like ours and these awards help remind everyone of the amazing array of food and drink being produced on our doorstep here in East Anglia."
Working with The East of England Co-op has helped the growth of The Taste of Suffolk, and as the relationship developed, so did the range of products on offer: "We now do direct store deliveries twice a week, and we have built up a rapport with the staff so we can offer them different ideas of new products and get their feedback. They benefit from our products being locally produced as this is one of their flagship initiatives, and we enjoy greater success from being present on their shelves."
Roger described how closely the two businesses operate and it was clear that the service supplied by The Taste of Suffolk goes much further than just a phone call and delivery van. "We do bend over backwards to accommodate our clients requests, as this company has been built on the standard of our customer service," he agreed. "This in combination with the quality of our products is what helps us succeed. It's a tough world out there selling, as there is a lot of competition and so we are always looking for different angles to progress the business, and ways to differentiate ourselves. Maintaining the highest quality along with exemplary customer service is vital to our success."