One thing we have learned over the years is that the movies are not dead," contends Rob Lehman, COO at Santikos Entertainment.
"I have been in this industry for more than 30 years, and fear surrounding streaming and how it might impact the theater business is not new. First, there was VHS, and then Blockbuster; next came home theaters, then Covid-19 and Netflix. There has always been some threat. Soon there will be another.
"However, what we have learned, especially over this past summer with Top Gun: Maverick, is that if Hollywood continues making great movies, then people will keep coming," he goes on. "People want to enter a dark auditorium and get lost in the magic. You do not get that experience with streaming."
Since 1911, Santikos Entertainment (Santikos) has been helping people get lost in the magical stories of the big screen across the state of Texas. Just as beguiling, though, is the Santikos story itself. So let us tell it.
Louis Santikos, who would later give the company his name, left his home in Athens, Greece, for central Texas at the young age of 19. He picked up some work in a local grocery store, and while he was stocking the shelves, he noticed a long line of people waiting outside the Rex Theatre across the street; smiles adorned faces and lips let out hushed whispers of anticipation. In 1911, after saving whatever he could, Louis was able to buy that very theater and thus began a legacy.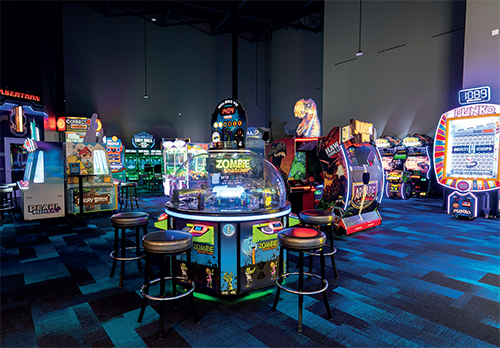 Louis' son, John L. Santikos, would take that seed and nurture it over the coming decades. One theater quickly became two, then three, and the Santikos name was soon written in bright lights across more than a dozen locations. By merging cutting-edge technology with a comfortable and welcoming atmosphere, conjured by pre- and post-movie chatter over a drink at one of the many bars featured at Santikos venues, John established the brand as the leading theatrical experience in the Texas area.
Movie-star legacy
Though John passed away in 2014, the legacy that his father started and that he helped blossom is still alive, and, more importantly, it continues to help others. On his passing, John gifted the bulk of his estate to the San Antonio Area Foundation. Beginning in 2015, the John L. Santikos Charitable Foundation has distributed millions in grants and scholarships to support specific areas of interest John had. These include people in need, enhancing health and wellness services, providing youth with education opportunities, creating vibrant arts and culture programs, and offering services that have helped improve the quality of life for people living in the region since 1964.
As Rob points out, that means profits from every purchase made at a Santikos location goes directly to fund charities that benefit local people in need. "Since John passed away, we have given over $70 million back to the San Antonio area, and if it were not for Covid-19, that number would be higher," he reveals. "There are community parks, basketball courts, food banks, and hospital rooms all across the region with John's name on them. We are the community movie theater chain here in San Antonio.
"John left a truly staggering legacy," Rob continues. "Currently, we have ten theaters here in San Antonio. We have carved out a 55 percent share of the box office market in the region. Indeed, we operate the number one and number two theaters in Texas in terms of box office gross. If you look at the US as a whole, these locations represent the country's tenth and fourteenth biggest theaters. Fortunately, all that success means we can continue doing even more for our communities."
Rob joined Santikos in 2017 after running successful food and beverage departments at two different theater chains, bringing with him a wealth of experience and fresh ideas. As he notes, food and beverage sales play an integral role in the success of movie theaters. When Top Gun: Maverick was making waves and breaking box office records, Rob explains, the studio behind the picture was taking 65 cents off every dollar Santikos made. However, food and beverage sales buoyed by the film meant the theater chain could also partake in its success.
Streamlined snacks
With that established, it is not surprising then that when Rob joined Santikos, first as Senior VP and in his current role as COO, he wanted to take the company's food and beverage department further. He has done that by implementing a more streamlined approach to food service and delivery.
Cheeseburgers, mozzarella sticks, fries, and nachos are all in the hands of a young theater clerk calling out an order number without much clue about what is happening. It all sounds too familiar to those in the theater game. Enter the APEX system.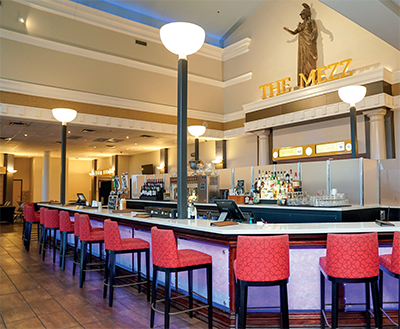 "To give you an idea what APEX is, let us run through a typical order at one of our theaters," details Rob. "You walk up to the concession stand and you order popcorn, soda, and a cheeseburger. First, we will give you your popcorn and soda and then take your phone number. The remainder of the order goes back to the kitchen, where it is prepared with care. Then, when it is ready, we will walk your food to a locker, put in the order number, and then send you an automatic text message with a barcode. You can scan the unique barcode at the locker, and the door holding your food will open."
"Working with Apex has been a long process," he adds. "We had to integrate it with our Vista software program, but it has since worked really well. Another thing that might not be apparent initially is the labor savings it offers. With less time serving customers, our employees can spend an increased period of time making the food even better in the kitchen before simply walking over to the lockers and then moving on to the next order. APEX has definitely been the biggest thing we have done in the last five years."
More than movies
Alongside self-serving popcorn warmers with a built-in buttery topping dispenser, Santikos has also ventured into high-end cinema experiences by investigating the viability of dine-in settings. To give some context, it is worth having a taste of the kind of foods on offer: traditional and boneless wings served with BBQ, buffalo, lemon pepper, or sweet and spicy sauce, epic nachos topped with either spicy beef or chicken, as well as melted cheese, pico de gallo, sour cream, and jalapeños.
Then there is the California burger and its vegetarian equivalent, which tops a patty with fresh guacamole, pepper jack cheese, lettuce, tomatoes, and pickles. Harking back to the Santikos name are Greek gyros, a mix of lean beef and thinly sliced lamb, red onions, and fresh tomatoes served with warm tzatziki-coated pita bread.
"In terms of dine-in theaters, we have The Mezz Experience at the Palladium, which is our number one location," says Rob. "Upstairs, our four big auditoriums were remodeled in 2017 to see how a dine-in experience would play out in the final two rows of the screen. Though that is the only example we have continued of its kind, it is truly a sight to behold. At The Mezz, you will find a well-stocked craft bar and a beautiful entranceway, and then once you enter the screen, a pod seat awaits, offering privacy and comfort all at once. It offers an incredible way to watch a movie."
That is the business Santikos is in: finding new and innovative ways to tell stories on the big screen. As our conversation draws to a close, Rob is keen to echo this point, highlighting that the company is determined to change how future theaters will be built.
"It is no secret that we have a lot of screens on this side of town," he says. "So, we wanted to do something different for our next venture. We started hammering out ideas, probably over several pints of Legacy Lager (our own Santikos house beer, which was created in collaboration with Freetail Brewing), and what we came up with is truly exciting, and it is starting this month. We will create a whole new destination that people will want to spend time in across nine auditoriums, 14 lanes for bowling, over 50 arcade games, party rooms, two VIP theaters, and a bar.
"With these high-end theaters, we are changing the whole model," Rob concludes. "Santikos is now an entertainment business, which does not just mean movies anymore. Come to some of these theaters and go bowling, play arcade games, or just sit at the bar with a cold beer and watch some sports on our TVs. Times are changing. I am excited about where we are headed over the next five years and how John's legacy will grow."
www.santikos.com