The Vine – Martini & Wine Bar
Michael Pruitt started busing tables in the restaurant industry when he was 14. After studying hospitality management at Kendall College and culinary arts at the College of Lake County, he opened his bar and restaurant concept called The Vine – Martini & Wine Bar in September 2006. "From the time I was 14 until I opened the doors of The Vine when I was 22, I had eight years of hands-on experience where I had to learn a lot on my own," says Pruitt.
Despite his education and experience, he concedes it was daunting when he pitched his concept to potential investors. "Originally, I approached my parents to be partners," Pruitt recalls. "They were skeptical, having their 21-year-old say, 'I want to open a bar.' That's not a conversation you want to have with them. They were good about it."
Newly married, Pruitt was willing to accept the challenge and additional responsibility of opening The Vine. His initial investors gave him the opportunity to begin planning the bar in January 2006. Two months before the doors were opened, Pruitt realized his customers would want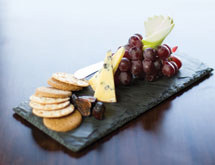 more than just drinks. He created a limited tapas menu to accompany the two dozen martinis, six beers on tap and extensive wines that were available.
Within a year-and-a-half, Pruitt had expanded the tapas style menu to approximately 30 food items consisting of appetizers and entrees. Today the menu features more than 64 items available to meet the demands of the local customers that include a wide variety of appetizers, sandwiches, salads, entrees and desserts. Pruitt also has focused on The Vine's beverage portfolio with the help of his Front of the House Manager Dan Kmieciak. By focusing on new concepts and cocktails, The Vine now has a list of more than 75 cocktails. "The menu is very eclectic," Pruitt says. "We never lock ourselves into one style. Since day one, we have never been afraid to try something new."
Starting with one head chef and a staff of four in the kitchen, The Vine now has expanded its kitchen crew to 15 culinary-trained professionals and two sous chefs. Head Chef Steven Anderson, a graduate of the Cooking and Hospitality Institute of Chicago, now leads a kitchen line of seven cooks during a single shift unless they are hosting a big event or dinner.
Eclectic Menu
Pruitt and Anderson both took menu development classes before their involvement with The Vine. "I'm always running with ideas," says Pruitt. "We work as a team to create new ideas and concepts." Unique to the Chicago suburbs, The Vine was one of the only restaurants that offered a social-style atmosphere with a warm and inviting dining experience. In 2008, The Vine expanded its operations to include an outdoor patio with seating for more than 80, a full-service bar and TVs. To accommodate the increase in customer base, The Vine expanded the restaurant by doubling the dining room, adding a private dining room and tripling the size of the kitchen.
During the eight years of being in operation, The Vine focused on bringing live music to local nightlife by incorporating open mic blues jams, live piano music and even an annual blues festival. The Vine's marketing dollars are spent mostly on social media, some local newspapers and magazines, in-house marketing and different types of guerilla marketing, such as handing out flyers or promotional items. The fully decaled company truck – with its image of a giant martini and wine glass tipped over on its side – is a rolling billboard for the restaurant.
Pruitt praises the value of hosting community events such as a rib fest, a car show and golf outings, believing that it fosters goodwill and good business while simultaneously aiding local organizations. "I think other businesses throw ads out there and expect customers to come to them, forgetting that they need to be a staple in the community," he declares. "That is what we have focused on since day one."
As a result of The Vine's efforts, Pruitt was recently named one of the Ten Young Outstanding Americans by the U.S. Jaycees.