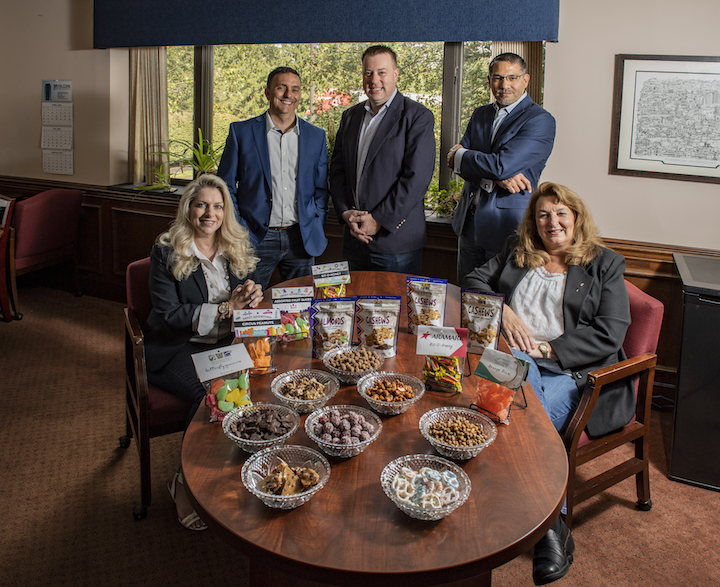 The Warrell Corp. focuses on five strategic characteristics that will continue to make it the partner of choice in contract manufacturing.
The global confectionery market is expected to reach $284.4 billion by 2025 as innovation among existing products and an increase in global demand for chocolate products remain the key drivers of the market growth. In an effort to become the industry's partner of choice in the private label and contract manufacturing snacking and confections space, The Warrell Corp. rebranded to Warrell Creations in November 2018 to reflect its commitment to innovation. "'We Innovate For You™' is the tagline that goes along with our partner of choice positioning in the marketplace," says Steve Sullivan, vice president of marketing and sales. "At Warrell, we have eight resources in product development who are innovating for our customers and we decided to pivot and double down on those resources to provide this service as our differentiator."
Lincoln and Marilyn Warrell founded the company in 1965, known then as Pennsylvania Dutch Candies, to sell and distribute specialty sweets and goods to small travel, souvenir and gift retailers around the country. Twenty years later, The Warrell Corp. took its first contract manufacturing job and since then, contract manufacturing, private label and bulk manufacturing has grown to represent 90 percent of the business.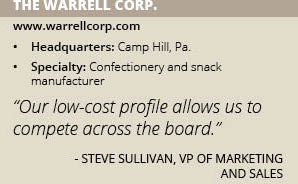 Warrell Creations was created to represent the company's largest function and reflect its ability to deliver creations for customers to go to market. "Two years ago when I came aboard, major CPG food companies were reducing their product development staff to improve their own SG&A costs," Sullivan notes. "An interesting dynamic was the retailers competing with CPG brand owners for shelf space with their own value-added private label brands. What we're seeing is that the major retailers are driving a significant amount of innovation themselves. As a result, CPGs are competing with the top-tier private label brands. They benefit from partnering on innovation and collaborate with providers for their research and development needs. Warrell Creations has identified this niche, and has become the premier partner to fill that need."
'Partner of Choice'
Sullivan came to Warrell after serving in a variety of roles at The Hershey Co. for 17 years, bringing with him the knowledge of what CPGs were looking for in a strategic contract manufacturing partner. "At Hershey, we identified five characteristics that were the keys to success and began to funnel our volumes toward these partnerships," he says. "When I got to Warrell, we mirrored those strategic partnership characteristics."
The first characteristic for a partner of choice focuses on capability and cost. "We have a breadth of capabilities at Warrell," Sullivan notes. "We have six kitchens in our Camp Hill plant and a low-cost profile that allows us to compete across the board."
Each of its six kitchens focus on a specific process, including Artisanal Panning with an approximate capacity of 16.7 million pounds per year; Chocolate Enrobing with 16.4 million pounds per year capacity, Snack Bites with 12 million pounds per year capacity, Fire Roasting has an approximate capacity of 11 million pounds per year and Nut Cluster Squares has an approximate capacity of 13 million pounds per year.
The second characteristic is a competitively advantaged quality management system, which protects its customers' brands and maintains the quality and consistency they have come to expect. Warrell has transformed quality manufacturing into a competitive advantage across all of its processes. Its facilities are GFSI Certified to FSC22000 standards, audit-ready every day, FSMA compliant, have Certified HACCP plans, and have a Golden Shield Defense Program, to name a few.
Warrell's third characteristic to be named a partner of choice is its accelerated new product development process by mastering its Rapid Prototyping Methodology. The New Product Development Team accelerates innovation cycles by serving as an extension of its customers' R&D team. Its offerings include better-for-you snacks, indulgent confections and the white space in between – SnackFections. "SnackFections are on fire right now, which is taking a regular snack item like nut cluster squares and introducing chocolate to it," Sullivan explains.
Its fourth characteristic is its experienced product managers. "In my prior role at Hershey, I would go to a contract manufacturer and discovered more often than not that I would not have dedicated product managers to launch innovation and new technologies," Sullivan explains. "We have four product managers in our business dedicated to product innovations and that's a differentiator."
Last but not least, Warrell's sixth characteristic is its willingness to invest. Whether that is in continuous improvement or tailoring its capabilities to its customers, Warrell invests for growth.  "We continue to invest in new assets to keep up with the large funnel of new product development," Sullivan says. "We are showing spectacular growth coming in the next 18 months because of our innovation funnel."