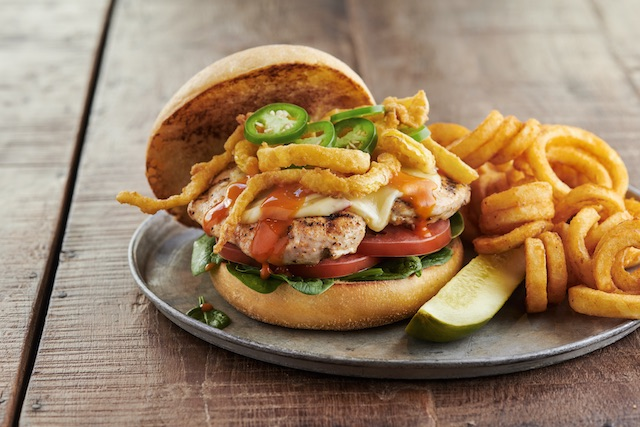 The WingHouse Bar & Grill
Under the leadership of Dennis Prescott, WingHouse Bar & Grill has flown to a new level.
When The WingHouse Bar & Grill opened 25 years ago, it focused on serving blue collar customers large portions of food and cold beer at extremely affordable prices. But under the direction of President and CEO Dennis Prescott, it has changed.
Today, its locations offer a more friendly environment that caters to a diverse demographic from families to sport enthusiasts with high-quality food and beverage served by its brand ambassadors, the WingHouse Girls. "We've done a remarkable transition with the menus," Prescott declares. "We'd like to think that our food is by far more differentiating and compelling than what you'll find in our competitive set."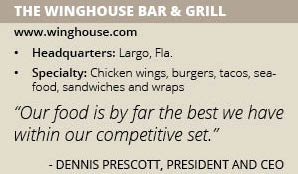 Founder Crawford Ker, an alumnus of the Dallas Cowboys and the Denver Broncos, started the Largo, Fla.-based WingHouse in 1994. Although he was known for his career in football, the former guard had the food industry in his blood.
"When he was growing up, his father was in the restaurant business," Prescott says, explaining that Ker wanted to do something similar. Inspired by the success of the Hooters franchise, he opened WingHouse and grew it to 22 locations.
Although Ker tried to branch WingHouse out of Florida with a location in Texas, "It did not work," Prescott says. "It did not have the operational oversight to make sure it was headed in the right direction."
A Seasoned Veteran
Prescott joined WingHouse a little over two years ago, after a very progressive career in the restaurant business. However, he admits that it was not his original career choice, having obtained a bachelor's degree in plant and soil science from the University of Massachusetts (UMass) Amherst.
"I was going to crack into designing golf courses," he recalls, noting that he later moved into engineering before deciding to turn to food. "All through college, I worked at a local restaurant that catered to the UMass student populations, the professors and folks that worked in town.
"It's where I found my passion," he says, adding that he has held roles at many prominent restaurant brands over the years, including Bennigan's, Outback Steakhouse and Cheeseburger in Paradise Bar & Grill before being recruited for his current role at WingHouse. "It was a pretty intriguing position where I saw great potential."
As reported in Boss Magazine, Prescott focused on updating its locations and giving them a new look, along with new uniforms for its WingHouse Girl servers and a cleaner looking logo.
He also began introducing process improvements and changing its kitchen and service philosophies. This helped elevate WingHouse "to levels the brand had not seen before," he notes.
Today, WingHouse operates with three regional managers who not only have operational oversight in the restaurants, but also roles in the organization where Prescott has mentored them in their career growth. "They're an integral part of the decision making," Prescott says. "They're a great group of guys that offer different skill sets."
WingHouse also added an employee training platform from Stella Trainer, which specializes in systems for the restaurant industry. "We uploaded all our training to their LMS platform," he says. "That's been a huge process improvement for our brand."
Up and Up
Prescott also focused on expanding the menu at WingHouse, beyond its namesake product of chicken wings. Previously, the company had worked to be competitive with concepts such as Hooters, Twin Peaks, Tilted Kilt and other sports bars, but "the food quality needed to change," he says.
To achieve this goal, Prescott visited every WingHouse location and talked to as many managers and employees as he could. "I also looked for someone who could be my culinary arm and handle the food and beverage end, too," he recalls. "We did a paradigm shift."
WingHouse then expanded its partnership with Sysco Corp. in Florida and began working with its executive chefs. "They know what's relevant in the market share today and they work with us and our vendors to make sure they have something new and exciting," Prescott says.
Over the past two years, WingHouse's additions to its format have included its Limited Time Only (LTO) menus, which offer special items and change three times each year. The Fall LTO, which has been named "End Zone Eats" with sharable, tailgating style offerings which runs through the football season.
WingHouse also now serves many dishes "that you would never have seen back in the early days," Prescott says, adding that these include Korean barbecue ribs, Icelandic cold-water cod and Gulf Coast Red Grouper sandwich. "It truly elevated our food quality and offerings."
WingHouse's locations also have enjoyed a strong response to its buffalo cauliflower, served with blue cheese or ranch dressing. "No one would ever expect that to be a relevant product in the old WingHouse, but it's gone up and up in sales," Prescott says.
"It's a tremendous lift in the products that we have out here," he says, noting that WingHouse boosted its dessert offerings by forming a partnership with Mike Martin and his Mike's Pies company in Tampa, Fla.
Currently, WingHouse guests can enjoy a triple layer chocolate cake and a Piña colada cheesecake from Mike's Pies. Soon, Prescott says, the restaurants will offer a cookies and cream cheesecake along with a pumpkin pie cheesecake on its LTO menu.
Spreading Its Wings
WingHouse also has taken a step forward with a complete revamp of its Web site. "It's very 'now' with what we do," Prescott states, noting that it incorporates videos and photo shoots featuring its WingHouse Girls.
The site also promotes sports and UFC events and enables customers to order food online. "It's a much-improved system than we've had in the past," he says, noting that this embodies the spirit of the new WingHouse.
"It's not your father's WingHouse anymore," Prescott says, adding that he sees a strong future for WingHouse. "We'd like to continue to make improvements so we can put together a real franchise-able model so we can spread our chicken wings and fly."