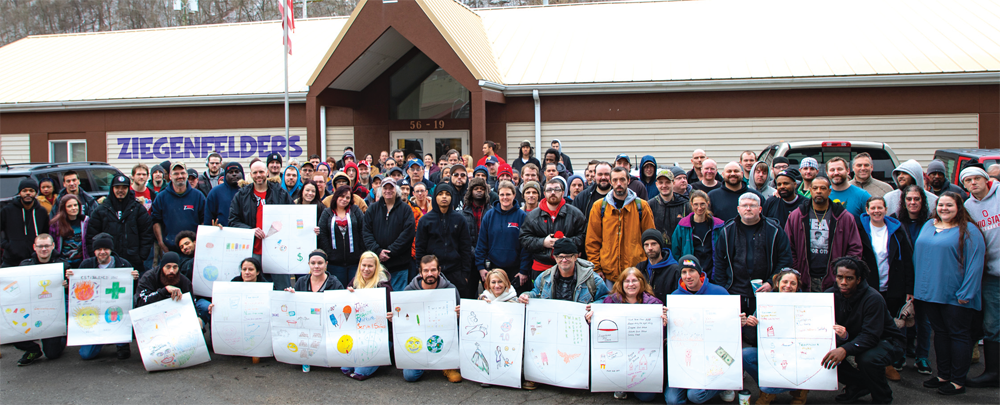 Out of the ashes
Having started 2019 in one of the worst ways imaginable, The Ziegenfelder Company has utilised both the positivity of its own workforce and the support of the local community to come back from the brink stronger than ever before
To rise like a phoenix from the ashes' is a phrase which has its origins in a story that dates back thousands of years harking back to the mythological bird that the Greek's spoke of as rising from the
remains of its predecessor. Today, it is often used to describe the act of emerging from a catastrophe stronger than before, which gives it significant meaning for The Zieggy Tribe, the name given to the men and women of The Ziegenfelder Company. The family-owned frozen treat producer is famed for its signature item, Budget Saver Assorted Twin Pops.
It is fair to say that January 31st, 2019, will not be a date fondly remembered by the company. It was on this day that a huge fire took hold of its plant on 18th Street in Wheeling, West Virginia, causing extensive damage. "The fire itself was raging for some nine hours, and required the efforts of three fire departments and at least 100 fire personnel to bring under control. However, we were immensely grateful that nobody was injured as a result," explains Barry Allen, Ziegenfelder's Chief Customer Officer.
Once the dust settled, the company was able to count the cost of the disaster. Having engulfed a part of the building housing the company's first production room, the fire destroyed two of its seven production lines, its main office, maintenance department, engine room and several other spaces important in the popsicle-making process. Taking stock of the situation, it would have perhaps been easy for the company to wallow in despair, but what followed in the subsequent weeks was nothing short of astounding.
"Thanks to the incredible efforts of our Zieggy Tribe and the amazing outpouring of support from the local community, we were actually able to get two of our production lines back up and running within 14 days of the fire, with the other three remaining lines functioning nine days later," Barry proudly declares. "In order to get products manufactured and out to our customers, we also had our mixes brought in via tanker trucks, which arrived six time per day, around the clock. It was also quite the achievement!"
The company was also forward thinking enough to utilise the two weeks between the fire and production restarting to the benefit of their workforce. "I think one of the biggest matters of pride for The Ziegenfelder Company coming out of this incident is that, we have 150 Zieggy Tribe members under our care. Not one of them lost their job as a result of the fire," Barry states. "Each day we brought everyone in, served breakfast, provided an operational update and then held training sessions in everything from food safety to leadership. We also had members of the community come in to deliver life skills advice, which was of equally great value."
Dedicated to people
The community also came together to raise nearly $50,000 for Ziegenfelder's employees. "Given the scale of the damage caused by the fire, many expected us to be unable to pay our Zieggy Tribe while production stopped," Barry says. "Fortunately, that was not the case, so what we have done is create a special fund that will be ultimately distributed back to our people. If they ever fall into financial difficulty, they can apply to receive emergency financial support."
If you believe in karma – specifically getting back that which one puts in – then the local response to the fire at Ziegenfelder's plant could be considered all the more appropriate given the work the
company itself has done over the years to provide real opportunities to others. Under the stewardship of its CEO, Lisa Allen, the company has long been proactive in helping employ people with steady work, who might otherwise find it difficult to get a job. It does so through a wide variety of hiring practices that include, but aren't limited to, re-entry employment opportunities for ex-prisoners, various work release programs, and entry points for those recovering from addiction. The company is committed to hiring and developing a workforce richly diverse in terms of professional and life experiences.
"We are constantly working to be recognised as one of the best places to work, not only in our industry but throughout America as well, and these efforts never stop," Barry tells us. "Among the many new ideas that we are developing are the establishment of a people and culture department, employee housing programs, family scholarships, and the appointment of in-house counsellors and experts to provide our people with the support they may need. We also want to ensure that the life experience of all Zieggy Tribe members is a rewarding one. We want them to know that they have a safe, friendly place to work and they will be given the same opportunities to grow and become better individuals. What it ultimately comes down to is achieving Lisa's vision for Ziegenfelder to be not only a popsicle-producing company, but a people-producing one as well!"
While the overall market for its products has remained fairly flat in recent years, Ziegenfelder has been able to sustain a pattern of growth thanks to the popularity of its products. Budget Saver pops not only look and taste good, but they are priced at a level that means that everyone can enjoy them. As well as continuing to push its core ranges, the company is using 2019 and 2020 to extend the distribution of two other lines, one being its SONIC Drive-In slushed pops and its Budget Saver Sour Monster Pops creations. Meanwhile, from an infrastructure perspective, the company intends to open a new production line in 2019, and another in 2020, while incorporating a number of automated processes to its equipment to further streamline its production activities.
Moving forward
Looking back on the events of the last several months, Barry points out the company has learned plenty about the way it operates and about its own ethos. "Where previously we may have been guilty of focusing solely on production, we recognise the need to focus on the key pillars that make up our business. Those are food safety, health and safety, finance, people and production. By finding the right balance in juggling these areas, we will continue to improve as we take the business forward."
The 'can do' attitude that The Ziegenfelder Company has long been determined to uphold has no doubt been tested like never before in the last several months. Yet it is this very culture – shared by every member of its Zieggy Tribe – that has helped it overcome such adversity. "In spite of all that has 47happened, we passionately believe we have come out as a better business than ever before, and that is the best silver lining we could have asked for," Barry concludes.