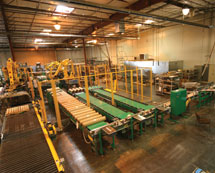 Thiele Technologies Inc. is a leader in the design, manufacture and integration of high-speed packaging and converting equipment solutions for a variety of industries, including fresh and frozen food, pet food, beverage, brewery, dairy, bakery, pharmaceutical, health and beauty, chemical, and consumer mailing and collating. Its complete range of end-of-line packaging machinery includes placing, feeding, bagging, cartoning, case packing and palletizing systems for a broad range of domestic and international markets
"That's what we do" says Kip Boie, vice president of sales and marketing. "What's exciting about Thiele is who we are. As a division of Barry-Wehmiller, we practice a truly unique people-centric leadership model that focuses on creating an environment where Thiele associates are empowered to implement ideas that make our products and our company better. Our hope is that this contributes to a sense of satisfaction and fulfillment which washes over every aspect of their life. We believe that if our main goal is to 'Build great people who do extraordinary things,' business success and profit will be a natural result. I consider it an incredible honor and also an awesome responsibility to be a leader in this environment."
Thiele has fueled growth through strategic acquisition, acquiring seven companies since 2005. Each of these acquisitions expanded Thiele's product offerings as well as the markets they serve. "Today, we have 15 major lines, giving us a unique capability to provide complete turnkey end-of-line packaging systems made up entirely of Thiele equipment," Boie says. "But it doesn't stop there. As part of Barry-Wehmiller, we work together with our sister divisions to provide complete integrated systems."
Business Unit Structure
Thiele approaches its markets via five machinery business units plus an aftermarket customer service team. This structure allows Thiele to develop and evolve product lines according to the specific needs for the markets each business unit serves.
Operationally, Thiele's five manufacturing facilities are organized into what it calls "value streams." There are 12 value streams, each with specific responsibility to engineer, fabricate and assemble two to four product lines. Employees are cross-trained to make two to three additional lines. "So if we have an order for equipment that is typically built in Minneapolis and we don't have the manufacturing capacity to meet the delivery demand, we can easily build the equipment in another value stream or even location," Boie says.
This is achieved by standardizing design and assembly practices, and establishing component standards across all product lines. "The Festo cylinders and Rockwell servos provided by Werner Electric that are found in a Thiele case packer will also be in the upstream cartoner," Boie says. "These key vendors not only provide good system components but also the technical expertise needed to apply their products to our machines."
Entrepreneurship Encouraged
Thiele's unique business structure engages more individuals on a leadership and tactical level. "Each business unit leadership team has the responsibility and freedom to do what is needed to evolve and grow their product lines and bring them to the marketplace," Boie explains. "It really creates an atmosphere of entrepreneurship."
Boie emphasizes that this business unit structure enables the company's technology to remain on the cutting edge within the industries it serves. "If we weren't structured in these segmented businesses, it would be much harder for us to have the expertise in the many market segments we serve," he stresses. "These business units are like free-standing companies, except they also have the resources of a much larger company, including a solid financial foundation and organizational support."
Manufacturing Innovations
Among the innovations Thiele Technologies companies are spearheading is Rapid Close® self-seal bags. This patented technology provides a cost-effective adhesive closure that can be used in a variety of packaging applications, including mailing/fulfillment, industrial products, food-service, produce, retail and many more.
The Hudson-Sharp business unit of Thiele Technologies has partnered with inventor Peter Taylor of Discovery Pack¬¬aging to bring this exciting new product to the commercial market. The Rapid Close® system consists of advanced turnkey attachments to existing Hudson-Sharp unwind stands and bag-making machines.
Rapid Close® provides either a permanent, tamper-evident closure or reclosable sealing that emulates traditional zip technology at a lower cost point and without the need for sealing equipment or mechanical systems. "We are very excited to bring this new technology to market and expect its impact on package design to be significant," Boie declares.
In another application, Thiele Technologies designed a packaging system for a major manufacturer of kitchen wrap that effectively doubled the company's packaging line productivity. This system replaced an older machine that had significant efficiency issues. The problem centered around bringing the product from the "winders" where the product is made to the cartoner.
Thiele developed multiple drop stations that conveyed the product and dropped it into the Thiele SX60 cartoner infeed. Today, this system is in production running multiple-sized packages at a rate of 420 cartons per minute. "That's smokin' fast," Boie remarks.
Thiele Technologies' success is due to a combination of lean principles and people-centric leadership. Thiele relies on the 5S lean manufacturing methodology – sorting, straightening, systematic cleaning, standardizing and sustaining – but adds two more steps – safety and sustainability.
"We train people on how to do process evaluation and flow charting, process improvement and so forth," Boie says. "But what's really key to the way we do it is that we add the people-centric piece into it. It's more than just giving tools, but seeing the valuable perspective that each person has into their own work. Instead of handing down solutions, we ask them to create their own – which are often better than ones management could create, anyway. They do their job everyday. They know it better than we do.
"We encourage everyone to be leaders in their own area – to feel empowered to make our products and our culture better with their own ideas," according to Boie. "We hope that at the end of the day, they feel good about what they do, and that they go home to be better spouses, parents and community members."