Thorntons Inc. remodels its stores, placing a kitchen front and center to showcase its new food and beverage offerings.
Thorntons strives to be people's favorite place to stop when they are on the go and prides itself on its ability to stay relevant to the needs of its guests. "We are part of our guests' daily lives," COO Mike Woerner says. "People stop in first thing in the morning on their way to work for a coffee and donut or hot breakfast."
The Louisville Ky.-based company was founded in 1971 as a fuel and kiosk operation. It has evolved to become a high-volume fuel and c-store chain today with 190 locations and attributes its success to its guest service and team members. "We spend time talking to our team members and guests to understand what their needs are and evolve our offerings as our guests' needs change," Woerner adds.
In addition to focusing on its guests' needs, Thorntons' prime real estate has helped it remain successful over the past four decades. Woerner says it's a core competency of the company to find good real estate with high traffic patterns and then make significant investments into the property to make it a great location for guests to shop and team members to work.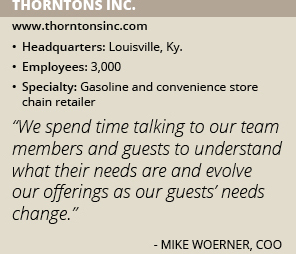 "We sell a lot of the same things our competitors do, but our team and how well we maintain our store operating standards is a key differentiator for us," he adds. "Our team-based, high-performance culture is a combination of entrepreneurial spirit and a core purpose centered on 'Delighting Our Guests.'"
Grab-n-Go Offers
For the past three years, Thorntons has been working to understand its stores' value to the guest and implementing its fresh and convenient food and beverage concept. While adopting a high-quality food offering, Thornton wanted to ensure that it was taking care of the guests who come in every day.
"We are part of the tobacco and dispensed beverage guests' everyday lives and we want to retain them," Woerner notes. "We started everyday low prices on cigarettes and dispensed beverages to offer a value to the guests we value the most because they shop us the most frequently."
Thorntons developed a new grab-n-go concept that resulted in a major remodel program of locations in Louisville and Chicago. "That's where we got into high-quality grab-n-go food offerings and having a kitchen in the store, center stage," Woerner says. "The guests who come in to buy daily items also get to see the improved food offering and we are attracting new guests."
Woerner says, "One side of the store has traditional c-store offerings and one side of the store has a large kitchen with a vast offering of dispensed beverages – hot, cold and frozen."
All hot food items are made in the kitchen and ready to go so guest just have to walk in, grab and go. "We believe the guests we are serving are the people who are in a hurry, so it's on-the-go breakfast, lunch and snacks," Woerner explains. "There are about 12 breakfast SKUs and breakfast burritos are the most popular item."
Forty-five of Thorntons stores have been remodeled to include a kitchen and every new store will open with this format, Woerner says. The company is developing a timeline for when it expects all stores to be converted to the new design.
Quality Assurance
Staff is trained on the new concept and standards during the five weeks locations are closed for remodeling. "We are going in and creating an entirely new store," Woerner says. "We have foodservice managers in all stores that operate the kitchen and they receive extensive training on food handling, safety and certifications."
Training centers are located in Chicago and Louisville for Thorntons to introduce a new kitchen item or offer refresher training. In preparation for the rollout of its new concept, Thorntons introduced its store operations system (SOS) in 2016. SOS is the result of a two-year operation engineering study to understand all the work associated with maintaining the standards it wants in every store.
"Operation engineers worked with team members across the company and vendor partners to really understand what are the things that we need to do daily, weekly, monthly and quarterly to maintain conditions," Woerner explains. "We put that into a system to train established and new team members on our standards. 'Playbooks' we call them. Every team member starts out their shift every day with a game plan and there are loops or cycles they complete every two hours to maintain standards."
Moving forward, Thorntons plans to continue to expand by opening eight to 10 new stores per year and grow its offerings as a high-volume fuel, c-store and food and beverage convenience retailer. The company in May launched its first self-checkout kiosk and says more are on the way to further expedite service.
"We feel we have a powerful offer and the right team to be able to grow the size of the company and our marketshare in established stores," Woerner says. "We are currently in a pilot phase with self-checkouts that we think our guests and team members will welcome to improve speed of service."