Three restaurant concepts, two approaches to culture, one success story – On Deck Concepts has it all wrapped up 
The first major milestone for On Deck Concepts came in 2002, with the opening of its very first brand, Lone Star Wings, which eventually rebranded as BoomerJack's Wings. The second major milestone took place in 2008, according to Owner and CEO, Brent Tipps. "We opened our first BoomerJack's Grill location in Fort Worth on West 7th. I wanted a casual sports bar environment where guests can relax and enjoy wall-to-wall sports." The third major milestone took place in 2013 with the opening of CiscoJack's, after a space next door to the BoomerJack's in Bedford became available. "It was a great restaurant space with a really large patio, and as the city of Bedford had been so good to us, it gave us a great opportunity to bring another concept to the area." 
He highlights that CiscoJack's was established as a high-end Tex Mex restaurant, and although it was a great concept, the community showed that it preferred a more casual and approachable hang-out space, not higher end dining. "We ultimately decided to convert it into Bedford Icehouse in 2015, focusing on live music, and a classic Texas icehouse atmosphere. The Icehouse is celebrating its eighth anniversary in 2023 and is a strong testament to how listening to your guests and understanding your trade area can help you flip a failure into a success." 
Since then, the business has added an additional concept, Sidecar Social, bringing its offering to a total of three under its belt. "We are looking forward to celebrating our next big milestone in the fall of this year. BoomerJack's will be growing outside of the Dallas-Fort Worth market for the first time as we take the brand to the Houston market," he shares. Locations in Webster and Katy, Texas, are coming starting late 2023.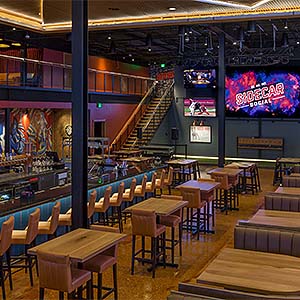 Family-feel culture 
As owner, Brent began his career in the industry at Steak & Ale. He started in the kitchen and worked his way up to head broil, eventually becoming head waiter, and head trainer, while helping with admin work in the office. "I loved my time with Steak & Ale, which was great because I spent most of my time working at that age! 
"I eventually left and joined Cici's Pizza, and owned a single unit. I started when the business only had six locations, and stayed until it had over 600. I wanted to grow and purchase additional locations, but the DFW market was sold out by then. My desire to open my own place got the best of me and I left to start the brand that eventually became BoomerJack's," Brent says.  
Of course, the journey has not been easy, and currently Brent's biggest challenge is a drive for self-funded growth. "Many smaller companies grow quickly by taking on investors or getting involved with private equity, but that's not how we plan to support our growth. It may impact our desired speed, but we are still quickly growing, focusing on our two growth brands: BoomerJack's Grill and Sidecar Social. The bigger we get, the more locations we will be able to open each year." 
On the other hand, Brent highlights that the most rewarding aspect of his job has been creating a family-feel culture. "As a result, we have an extreme amount of tenure in the brand. We have people who started with me in the first few years who are still with us, and now their kids are working here too.  Our support center is mostly internal promotes from the field, with a few outside hires in key positions. Hosting our company-wide events, it's rewarding to see the same people year after year, and to watch them grow in their careers with us. We really do have some of the best people!" 
Community commitment 
Additionally, Brent loves creating new concepts, which means the opportunity to establish these brands from scratch has been extremely fulfilling. "Working through the design features, the menu, the branding, all of it. You work on something for years – it's the best feeling walking into your new concept and seeing it all come to life!" 
On Deck Concepts' relationships with suppliers and other vendors are also vital to its success, and subsequently, the business has remained loyal to vendors almost to a fault. "We have partners who have supported us with big brand-level service quality, no matter our size, and that has had a direct impact on our ability to be successful and grow. We have been given opportunities that often are only reserved for large brands because of our vendor relationships. 
"Several of our partners feel like extensions of our team. From our procurement rep and food distributor, to our creative agency and our restaurant design firm; they're all familiar faces in our offices and often attend company-wide events," he says. 
Buttressing the company's ethos on culture, On Deck Concepts is also dedicated to supporting the community in any way it can. "We founded On Deck Concepts with one BoomerJack's location with the goal to be part of the community. Several additional concepts and locations later, this commitment has only grown, and is now an important pillar of our company culture. We created our own 501(c)(3), BoomerJack's Charities, with a mission to extend our hospitality past our walls and deep into the neighborhoods we call home. Since the founding of BoomerJack's Charities, we have raised over one million dollars in support of a total of 12 local organizations in DFW that focus on ending hunger and poverty, serving those who serve, helping kids thrive, and fighting breast cancer." 
Tenured team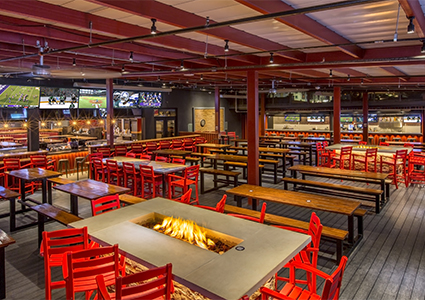 One of the business' longest partnerships is with the Joan Katz Cancer Resource Center in Fort Worth, and this year, it will host the 14th annual charity golf tournament in support of this amazing organization. In the previous year, 2022, it hit a major fundraising milestone, surpassing $500,000 in donations from golf tournaments and in-restaurant donation drives. "We also have significant sponsorships with the Texas Rangers Foundations, GRACE Grapevine, and 6 Stones. We are proud to support all of these great organizations and give back to the communities that have given us so much support and love over the years." 
The food industry is currently combating inflation and commodity increases have certainly been a challenge for everyone, including On Deck Concepts. "Although it's nice to see those starting to level off, as a brand that has always focused on value and overdelivering on our price points, it's an ongoing battle to minimize the impact that has on our guests. 
"However, staffing levels have continued to improve. For a while, it seemed like every restaurant was always hiring and no one ever appeared fully staffed, looking to technology to replace roles that people once held. Like everyone else, we felt the strain for a bit but have been fortunate that with our large percentage of tenured team members here, the staffing landscape wasn't as harsh for us and rebounded quickly. 
Ongoing growth 
"Innovation will always be a focus and a place for constant improvement. Whether it's us looking to improve the quality of our core products to carry the next hot trend in food or beverage, or finding ways to simplify execution to improve products delivered to our guests, we will always be searching for that next big idea to help support our
ongoing growth. Through all of this, we have to evolve to remain relevant to an ever-changing consumer base, but still maintain authenticity to our roots and who we are as a company." 
With these thoughts at the back of his mind, Brent is still excited for what lies ahead. "We will be opening our second Sidecar Social location, and we're looking to break ground on two new BoomerJack's Grill locations in Houston. Regardless of what happens, customers can always expect great value without compromising standards or quality, and I am determined to see us achieve our five-year goal to be a $200 million company," he says. 
For Brent, On Deck Concepts is set for success and he believes the business is in a great position. "I am very excited for what the future holds for us as we continue our company growth," Brent concludes.