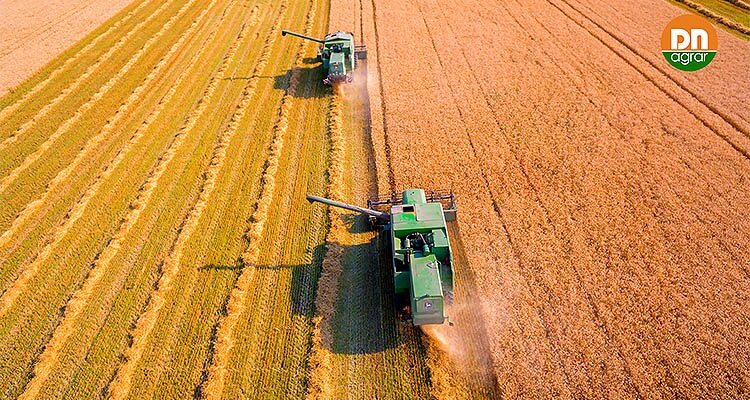 Through a focus on sustainable farming, DN Agrar is experiencing exponential growth 
With an integrated zootechnical farm in Romania, DN Agrar Group is one of the leading milk producers in Europe. Having debuted on the capital market in February 2022, as well as tripling its turnover in the same year, the first quarter of 2023 is proving even more successful, with a net profit growth of over 170 percent, turnover growth of nearly 48 percent and EBITA growth of over 75 percent.
Its main areas of expertise aside from milk production include logistics, agricultural services, vegetable production, and composting as a future business line. The company's commitment to both ethical and sustainable practices enable it to deliver high-quality products and services, thereby helping to establish a positive reputation in the industry.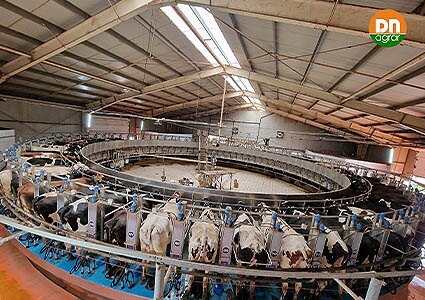 DN Agrar was founded in 2008 by Jan Gijsbertus de Boer. Having previously managed farms in the Netherlands and Germany, Jan was well-equipped to put his knowledge into practice in Romania, with a vision to establish a large-scale agriculture operation. It is part of DN Agrar Group SA, the leading milk producer in Romania, which manages a diverse portfolio of businesses across multiple domains. The group comprises 15 companies, including logistics, agricultural services, and vegetal production.
Meeting milk demand
"Jan Gijsbertus de Boer, the founder, recognized that rural populations were increasing, which was resulting in higher demand for food produce, and specifically, for milk," begins Peter de Boer, DN Agrar's Investor Relations Manager and member of the board of directors.
"With milk consumption increasing year-on-year, he saw an opportunity to invest in a large milk production site. He spent two years traveling across Europe to find investors to support his plans, and finally found success in 2011 when we purchased our first farm.
"From there, we experienced continuous success, which enabled us to purchase another farm. However, at the time, we had various investors, and many wanted us to integrate all our companies under one unified group.
"So, I entered the business to consolidate the companies and work towards establishing our position on the Bucharest Stock Exchange," he recalls. "We conducted an initial public offering (IPO), which raised five million euros – equivalent to around 25 million lei, our local currency – and eventually got listed on the capital market in February 2022.
"We then started the process of integrating the companies, purchasing more farms and eliminating some of our initial investors," Peter details. "I now take responsibility for everything relating to the Stock Exchange, from the relation with the investors, the communication with the capital market, to strategy and planning, digitalization and the implementation of new systems, essential to our goal of transferring to the main market of the stock exchange and opening to an even bigger pool of investors."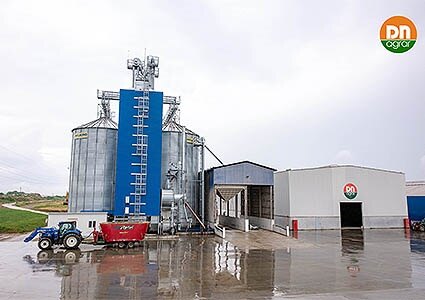 Today, the business is the owner of the largest integrated livestock farm in Romania and a leader in the production of cow's milk. "Our production output in 2022 was around 50 million liters of milk. Today our production is around 170,000 liters every day, and in the first semester of 2023 the quantity of milk delivered increased by approx. 16 percent compared to the same period of the previous year, a growing trend that is expected to be maintained," he tells us. "By the end of the year we expect to produce 200,000 liters per day," he adds. "As one of the leading milk producers in Europe, we must ensure the constant flow of milk meets demand, particularly considering Romania's fragmented agricultural sector."
Sustainable practices
DN Agrar's portfolio boasts four farms: Apold, Lacto Agrar, Cut, and Prodlact, with a new farm, Straja, currently under construction. "After construction is complete, the site will have over 5000 animals, and produce over 300,000 liters per day," reveals Peter. Being built in four phases, Straja will benefit from the business' young cattle breeding program, carried out at other farms, which will supply most of the milking cows needed. Of course, it will also adhere to the strict focus on animal welfare and sustainable practices implemented at all DN Agrar sites.
"We have full quality control over the welfare of our 12,000 animals," Peter confirms. "There are constant discussions about the ethics of large farms and it's something we're very passionate about; we believe that happy cows produce healthy milk.
Circular agriculture
"We have extremely strict standards and have cameras in place across all our farms to monitor both living conditions and the behavior of our workforce. Also, all our young cattle roam the fields of Prodlact Farm freely. The farm is staffed with a dedicated team that ensure animals are treated with respect, receive quality feed, and are kept in hygienic, spacious conditions.
"Business involves a consistent number of veterinarians in the field, who monitor our cows 24 hours a day, seven days a week," he explains. "The vets use heat measurements to analyze the health of our cows and visit the milking parlors three times a day to check for potential medical issues."
Moving towards the broader topic of sustainability, Peter is keen to share how the company is considering the ways in which it can reduce the environmental impact of its farming operations. "The fact that agriculture has an impact on climate change is undeniable," he proposes. "So, as an industry, we must strive to minimize the impact of our operations, and we're doing that on our farms, which comprise almost 7000 hectares of agricultural land in the group, as well as 3000 hectares outside the group.
"We embrace the concept of circular agriculture, using the manure from our cows to fertilize soil, for example. Having invested in numerous additional pipes last year, we recently purchased new machinery from the Netherlands to connect the pipes directly to the manure pool. This not only heavily reduces our reliance on chemical fertilizers, which is inevitably great for the environment, but also means we can produce fertilizer in-house rather than purchasing from an external source, so it's good from a business perspective too.
"We've also recently started work on constructing our own composting factory," Peter reveals. "This will allow us to reuse some of our waste and again, produce materials in house. We also engage in secondary activities relating to cereal production, harvesting crops like wheat, corn, barley, soybeans, and sunflowers, which allows us to produce animal feed internally."
Investing in growth
With a strong focus on efficiency and sustainability while still delivering high customer satisfaction, it is no surprise that DN Agrar is seeing exponential growth. "It has been an amazing opportunity to play a vital role in shaping the company's financial future – and even better to see such rewarding success in 2022," Peter reflects.
"Being one of the faces of the company is a huge responsibility, but one that has presented me with the chance to address change across the business, as well as contribute to some of the major global challenges we are currently facing around the globe.
"We will continue to work sustainably with animal welfare at the forefront of our minds," he concludes. "Although we're happy with our growth rate, we'll continue to make investments across the business, particularly in our farms, to enhance our efficiency and increase capacity."