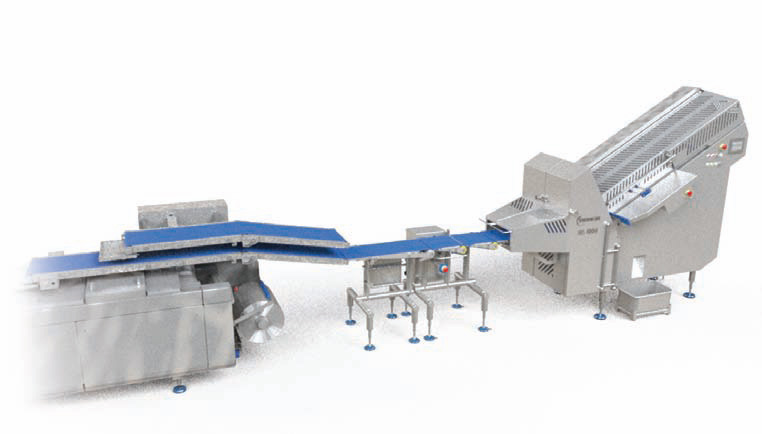 A cut above
Thurne-Middleby creates precision-engineered slicing systems for bacon, cooked meats and cheese applications
With over 45 years of industry experience, Thurne-Middleby Ltd has a proven international reputation in delivering high quality, precision-engineered slicing systems for bacon, cooked meats and cheese applications.
Since its formation as Thurne Engineering in 1967, the Thurne brand has developed a reputation as a leading name in the provision of high speed slicing equipment, through a succession of 'industry first' slicing machines that pioneer vision, scanning and computer technologies that benefit small family firms and large multi-site corporations alike. Through a series of mergers and acquisitions, Thurne Engineering joined forces with AEW Engineering and Delford to form AEW Delford Systems. AEW had previously excelled in the manufacture of high-speed bandsaws as well as automatic portion control slicers and saws, while Delford had earned a worldwide reputation for its pioneering labelling and dynamic weighing technology. During 2006 the business became part of the Marel group as part of the company's expansion in food processing equipment.
During the close of the first quarter of 2015, the Middleby Corporation acquired the assets of the Marel highspeed slicing business unit. The roots of the Middleby Corporation date back to when the company was founded as a bakery supplier in 1888. In 2014 Fortune Magazine named the Middleby Corporation as its fastest growing company, while today the business continues as a leading provider of commercial cooking equipment, industrial processing equipment and residential appliances.
As part of the purchase, Middleby took the decision to rebrand the unit under its original trademark of Thurne while continuing in the manufacture of the company's broad line of high-speed slicers and integrated slicing systems. The slicing technology developed by Thurne includes market leading, automated bacon, deli-meat and cheese slicing equipment that delivers clients unique solutions that reduce labour, increase production throughput and reduced food costs while assuring quality and precise portion control.
"Both Thurne and AEW began as Norwich-based engineering companies involved in producing process equipment for the food industry, with Thurne operating as a leader in technology for high-speed slicing," elaborates President at Thurne- Middleby Ltd, Peter Jongen. "Thurne was the first company to develop the 'vision system' with an aim to improve the accuracy of individual slices for deli products. Thurne is currently solely focused on concentrating on slicing technology, with its biggest market currently in the field of bacon slicers in the United States. The company also continues to have a strong presence in the UK and has always remained an innovator in food slicing solutions."
Thurne is presently highly active within the US, where its products are currently employed by nearly all of the country's large bacon processers. As part of the company's on-going growth strategy
for 2016 and beyond, Thurne is keen to expand its presence within the UK and Europe and will be attending the IFFA in Frankfurt exhibition for the meat industry during May 2016. The show will give the company the opportunity to both meet with current and potential future clients, as well as to demonstrate the technologies available to clients. "IFFA is one of the world's largest exhibitions in the meat industry, where food processing companies and manufacturers are all present," Peter says. "We will be in attendance and plan on displaying our IBS4600 precooked bacon slicer, which is a four-blade slicing machine. The machine itself was developed around eight years ago and we have an install base of 25 units at present, so it is not a new machine in that respect. Within Europe however, the IBS4600 is a relatively new development and a unique slicing technology, meaning that there is no competing machine on the market."
The IBS4600 is essentially four slicers in one, featuring four independent feeds, four independent blades and four independent cameras, which are combined with Thurne vision technology. As the world's first slicer to have four independent feeds, the IBS4600 represents a bacon processing revolution that is becoming increasingly known the world over. Each of the unit's independent feeds is equipped with its own vision system that gives weight control of individual slices, regardless of belly size. High yields with low giveaway are the norm thanks to the precision and control that delivers constant weight portions with remarkable consistency, while end user and consumer appeal is enhanced because the end product has a uniform appearance, texture and quality and can be sorted into fixed weight and count packs.
Through the invigorated marketing of its new and existing machines, Thurne is already expanding is presence within the UK market. During February 2016 for example, the company launched its IBS1000 Bacon Slicer with great success. "We launched the IBS1000 early in 2016, specifically for the UK food industry. We have sold more than half a dozen of the machines already and expect more sales to follow as there is great interest in the machine," Peter reveals. "The IBS is very efficient and therefore increased volume and yield. It is capable of high blade speeds and throughput to match production needs, while ensuring consistent slice thickness and integrity. The machine also has a small, space saving footprint and can produce a variety of retail and food service pack formats."
While the largest market for Thurne is presently within the bacon-slicing sector, the company continues to manufacture slicing solutions for the deli and cheese markets, where it began in slicers several decades ago. These include machines for slicing beef loins, cheeses and so on. Across all of its targeted market sectors, Thurne offers comprehensive aftercare solutions, which allow clients to order with full peace of mind and form a core pillar of the company's continued growth strategy. "We offer service level agreements in various grades, including taking full ownership of the machines. We carry out inspections regularly and deliver spare parts from Norwich to Europe and also have a service office based in Chicago to service North America. Thurne also has field engineers living in the US and the UK to ensure that we are always close to our customers," Peter concludes.
"I think that presently we are doing very well and we are keen to continue to grow within the UK, because although the US is a highly successful market for us, we want to expand the success in the UK and Europe. Our membership of Middleby is a great strength for us in this respect, as it is a strong company in food processing with various other companies within the group. This allows us to make use of its vertically integrated systems to strengthen our market leading position."