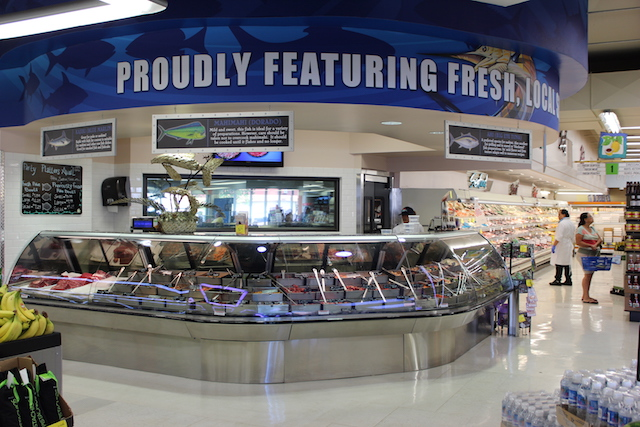 Times Supermarkets' entire staff has contributed to its success, its president says.
After 70 years, Times Supermarkets stands as one of the largest grocery retail chains in Hawaii. But the company also has the distinction of offering the most diverse assortment of ethnic products on the islands, President Chris Borden says.
Each store looks at the population within a three-mile radius of its location. "We'll cater to a subset of those ethnicities," he says, noting that this has driven some locations to offer Filipino cuisine, others to stock Hispanic items, and others to place emphasis on import product from Japan. "Our merchandise diversities are extremely different from one store to another."
Founders Albert and Wallace Teruya started the Honolulu, Hawaii-based Times Supermarkets in 1949. The two sons of Okinawan immigrants dreamed of creating a successful business, and since then, it has grown to 23 full-size stores and a fine wine/liquor store.
In addition to stocking a wide range of products, each store also employs a diverse staff that reflects the local ethnic populations. "We'll also give the stores more autonomy in how they merchandise," Borden adds.
For example, store managers are allowed to take suggestions from customers and employees in regards to what foods they stock. This prevents each location from being "a cookie-cutter store," he says. "Those are the types of experiences that we want to give our customers."
Times Supermarkets' locations also focus on contributing to their communities with donations to several charities. For example, "Our largest organization that we support is the Hawaii Foodbank," he says.
"We typically donate $170,000 annually," Borden says. "We also do a shopping program where we give $250,000 worth of athletic equipment to participating schools, just to give back to the youth of the community."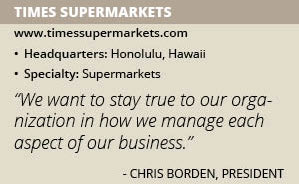 Staying True
A longtime veteran of the food retail industry, Borden is a native of Hawaii. "I was born and raised here," he says, noting that Times Supermarkets' entire executive management staff is from the region as well.
This has helped nurture a family-oriented atmosphere that puts a strong value on ethics such as being respectful and honest, and supporting its staff at its stores. "This is the type of structure and atmosphere we want to bring to our employees," he says.
"We hope that it will naturally resonate and flow down to our customers," Borden continues. "We want to stay true to our organization in how we manage each aspect of our business."
He praises his entire team at Times Supermarkets. "At the end of the day, it's every single employee that contributes to the success of the company," Borden says.
These include Director of Operations Floyd Mikasa, who has been with Times Supermarkets for 41 years. "He has been able to exemplify those values in day-to-day work with the stores and really help define and perpetuate our company values," Borden says.
Director of Center Store Carlos Baez also has been with Times Supermarkets for 16 years and has made an important contribution. "He's been able to diversify our ethnic offerings by creating relationships with different importers," Borden says.
He adds that Controller Sue Othani has been integral to the company on the money management side. "She really keeps our cash flow, expenses and capital in line allowing Times to be nimble and investment in areas of the business that help to perpetuate our value propositions and ultimately expedite the growth of our company," he says.
Adding Space
Times Supermarkets is currently in expansion mode. While the company is currently looking at sites for new locations, it is putting a greater focus on expanding its stores internally, Borden reports.
Today, the firm has seven stores it plans to remodel by expanding its perishable and kitchen sections. "They're still going to [meet] eclectic ethnic needs, but target more convenience," he says, noting that the company plans to differentiate itself by offering more locally created foods.
Borden sees a strong future for Times Supermarkets, which plans to continue updating and refining its facilities. "We're able to offer a unique shopping experience that our competitors can't," he says. "We'll reinvest in the stores, reinvest in our people and at that point really start to grow our footprint."