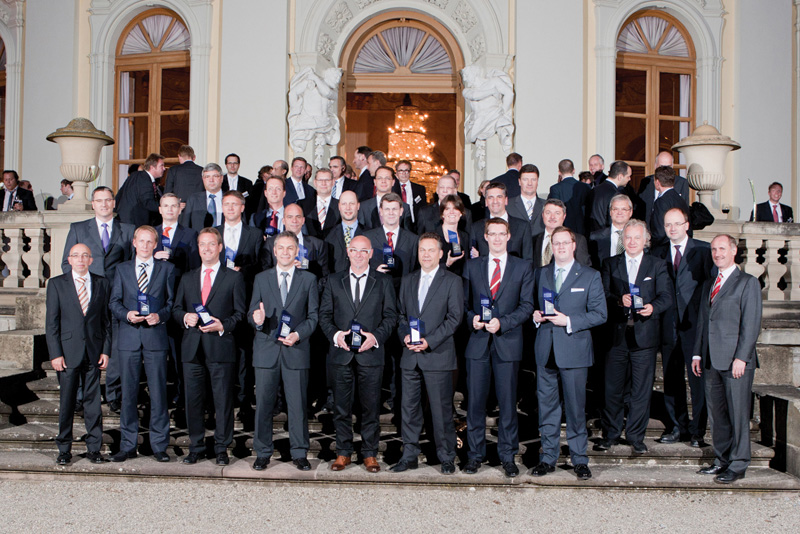 TimoCom Soft- und Hardware GmbH
Fully catered quality
Receiving the seal of approval for its TC eBid platform from BMEnet is only further evidence of TimoCom's expertise and unmatched know-how in the industry
June 17th 2010 marked another important milestone in TimoCom Soft- und Hardware GmbH's history. The BMEnet, a subsidiary of the BME (Bundesverband Materialwirtschaft, Einkauf und Logistik eV) AMMPL (Association Materials Management, Purchasing and Logistics), has recognised TimoCom for its European-wide tendering platform TC eBid. As a guide for companies, the BMEnet GmbH awards this seal of approval for software products, which offer integrated solutions to optimise trading. The seal of approval stands for proven quality, market transparency and solidity in software systems. TC eBid offers secure planning through long-term transport contracts and is a helpful tool to determine transport market price.
The BME (AMMPL) is a service provider to 7500 individual and company members founded in 1954. As a network provider, the association encourages companies and science on the procurement and supplier side to exchange information. The BMEnet GmbH awards the seal of approval for e-sourcing software, e-sourcing/IT service providers, catalogue management, desktop purchasing, e-procurement, contract management and content management. TimoCom can now also benefit from such a seal. Andreas Richter, BME's product manager speaks about TC eBid's qualities: "TimoCom's online platform reduces process costs with high standardisation and easy but thought-out intuitively used programmes. Furthermore, there is an extensive and pre-verified transport service provider pool, which increases market transparency. TC eBid ensures a solid price transparency and maintenance of market prices within the transport industry."
The seal of approval provides competitive advantages
The distinction is of great advantage to TimoCom. On the one hand, customers often prefer certified as opposed to uncertified products. On the other, because the assessment is based on a standard and neutral list of criteria, TimoCom is able to provide its customers valid evidence of its quality. Marcel Frings, TimoCom's chief representative, comments on the distinction: "We are proud to be able to prove our 'quality' to our customers and that the BME has recognised the potential of our products. TC eBid helps all those involved in transport to optimise their transport tenders and simplifies business between the transport and shipping industry. In the end, it makes businesses more productive, transparent and ensures process costs savings."
The belief that shaped the foundations
Since the inception of TimoCom, co-founder and CEO, Jens Thiermann, has always reminded all of his employees time and time again: "The only thing that doesn't change at TimoCom is change itself." More than mere words, TimoCom proves that it stays true to this motto because, despite the generally critical economic situation, TimoCom appointed 75 new employees in 2009 alone. After all, the company has set itself the goal of offering the 75,000 plus users of TimoCom's TC Truck&Cargo freight exchange the best service – ideally in their respective native language. The permanent focus on customers' needs, the courage to innovate and the necessary expertise have all played a decisive role in the development of TimoCom from a start-up to a medium-sized company established throughout Europe. Proven for almost 13 years and now indispensable in the transportation industry, TC Truck&Cargo has since developed into a complex transport network with plenty of extras and additional functions, such as TC Profile – the Europe-wide transport directory, and TC eMap – the calculation module.
TimoCom laid another milestone in October 2009 with its product portfolio with the introduction of TC eBid – the new tendering platform. TC eBid makes long-term contract business between companies and service providers with partial and complete loads far easier and more economical. Both user groups profit: TC Truck&Cargo users place their bid here completely free of charge; TC eBid customers, on the other hand, are able to offer long-term or project-related transport services to the numerous transport service providers registered with TC Truck&Cargo across Europe.
Utilisation of capacity and price optimisation through market transparency: these are advantages that not only make it easier to survive the tough transportation industry in the long term, but also to move a company forward. Like TC Truck&Cargo, TC eBid is based on the latest technologies, user friendly, available in 24 languages and is highly secure. All participants from the transportation industry are offered that decisive competitive edge, business opportunities and new certified partners across the whole of Europe. So on the whole, TC eBid provides a wide spectrum of services with which business processes can be shaped even faster and more efficiently.
Press contact:
TimoCom Soft- und Hardware GmbH
Corporate Communication Manager
Tim Muke
In der Steele 2
DE-40599 Dusseldorf
Tel: +49 211 88 26 69 13
Fax: +49 211 88 26 59 13
tmuke@timocom.com