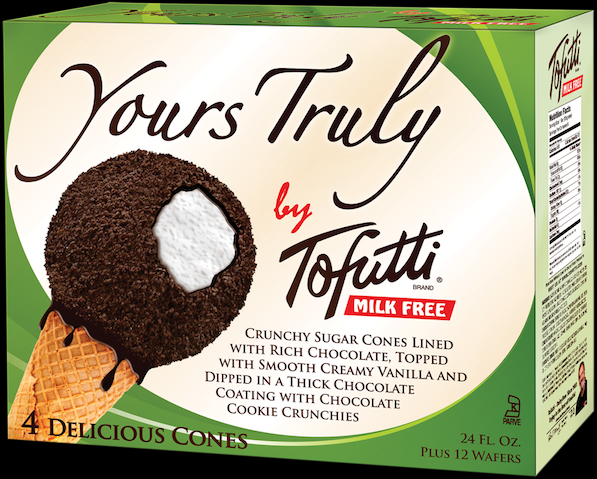 Tofutti has been developing soy-based, dairy-free ice cream and other food products for nearly 40 years.
For nearly 40 years, Tofutti has been selling and innovating soy-based, dairy-free frozen desserts and other food products throughout the United States and in more than a dozen other countries. The idea behind it came about in the 1970s, when Tofutti CEO David Mintz owned three kosher restaurants with catering services in Brooklyn. "Necessity is the mother of invention; if you need something, you'll find a way," he says.
Mintz's restaurants catered wedding receptions and bar and bat mitzvahs for local Jewish families and many people wanted ice cream as part of the selection. However, according to kosher standards, dairy and meat cannot be served together, which meant things like butter, cheese, milk and ice cream couldn't be consumed at most meals. This started Mintz on a quest to find a satisfactory, yet delicious alternative.
Tofu wasn't a well-known product at the time. It's a protein-rich food made from soybean milk, largely found in Asian dishes – and now, it has become a staple of many vegetarian and vegan dishes.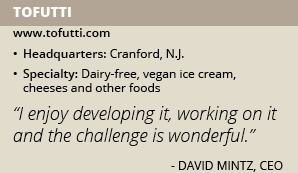 Upon discovering tofu, Mintz dedicated himself to learning all about it, even if it was tasteless. "I didn't give up and became tenacious," he recalls. "I would call it Tofu Time at my restaurant, and we'd work into the wee hours of the morning testing all different things for tofu, adding sugar and more."
Mintz experienced many failures in the beginning. During one experiment, his product exploded and left chunks of faux ice cream all over the ceiling of his kitchen. But determination soon paid off and he successfully developed a tofu-based product that actually tasted like ice cream. "I refined it and people thought it tasted delicious, even though it was vegan. The interest was suddenly diverted towards this product I was making," he says. "I needed to come up with a name. I thought ice cream was fun, so I was thinking confetti. So, I took the two words and combined it, and then I trademarked Tofutti. That name is known all over the world now."
Even More Products
When he realized how popular his products were – not only for people with kosher diets, but also for vegans – Mintz found ways to use tofu in a variety of products including Tofutti Cuties and Tofutti Fruttis, which are similar to ice cream sandwiches, as well as cookies, cakes, tuna casserole and even beef stroganoff, where it stood in for sour cream.
A decade after the company's inception, Tofutti created a new product called Egg Watchers, a cholesterol-free egg replacement made from processed egg whites. In the 1990s, the company added a low-fat yogurt substitute called Better Than Yogurt in a variety of flavors, a sour cream substitute called Sour Supreme and a cream cheese substitute called Better than Cream Cheese.
Now based in Cranford, N.J., Tofutti has a large R&D lab where the company continues to develop new products and new varieties for established lines, and improves items already on the market. Tofutti makes more than 120 products that can be found in most major supermarkets.
"There are 100 million people in the United States that have an allergy to dairy in one form of another," Mintz says. "Now, they can eat ice cream, cream cheese – you name it. Anything you need, we can make dairy-free. We get letters of thanks that they can now enjoy it. I enjoy developing it, working on it and the challenge is wonderful."
Although Mintz cannot choose between the products because "they're like my children; I love them all," there are a number of upcoming ones he is very excited to start producing. Dip-a-Dee-Doo-Dah is a trademarked product – with the OK from Disney to commandeer their song as the title. It is a chip and vegetable dip in several flavors, such as jalapeno cheddar, cucumber and dill, french onion and roasted garlic and onion.
Additionally, Tofutti is coming out with a vegetarian chicken parmesan. People in the test group were concerned about being served chicken until they realized it was vegetarian, Mintz notes. And coming to stores soon is a frozen breakfast wrap with fresh blueberries, strawberries or raspberries, along with Tofutti's cheese, high protein and probiotics all rolled up together.
"I'm getting younger every day," Mintz says. "I started when I was 50, so add on 35 years. This keeps me young and makes me feel good. We're going to keep on expanding. From this experience, I've learned that if you're really determined to succeed and work hard you will succeed."