The Sturgis family tradition of pretzel baking started in 1861 in Lititz, Pa. In fact, Julius Sturgis was the first commercial hard pretzel baker in the United States. "The whole idea there was that he could make pretzels, which retain their freshness for a number of days," explains Bruce Sturgis, his great-great-grandson and president of Tom Sturgis Pretzels. The original bakery in Lititz, Pa., is on the National Register of Historical Places, he adds, and now is operated as a museum.
Many of Julius Sturgis' 14 children worked for the company, and over the years, some family members started their own bakeries. At one time, Sturgis family members were operating at least three pretzel bakeries. One of those bakeries is Tom Sturgis Pretzels, based in Reading, Pa.; it was founded in 1946 by Julius' grandson Marriott "Tom" Sturgis, Bruce Sturgis' grandfather. Bruce Sturgis' father, Thomas, joined the company in 1950 and Bruce Sturgis started full time in 1981.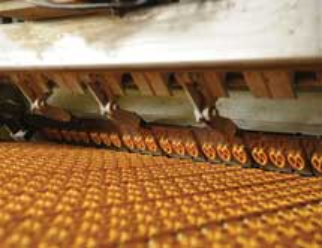 The company offers 21 types of pretzels and manufactures them under the firm's name, as well as under private labels for other customers, Bruce Sturgis says. Its most popular flavors – all introduced in 2008 – are cinnamon and sugar, hot cheese, jalapeño and whole grain. Regular cheese pretzels, baked for many decades with aged cheese, also have been a mainstay in Tom Sturgis' line. "People want flavors," Sturgis states. "A number of bakeries approach taste enhancement by adding flavoring on top. We've approached the issue by adding the natural flavors into the dough. It's just a different approach. We felt with our equipment, we could bake a better tasting pretzel if the flavors were mixed into the dough." Due to the recent health fad, the company also has started making low-carb and high-protein products, he adds. All its products are kosher.
Changing With the Times
The industry has become more challenging over the past 20 years, Sturgis says. "There were many more independently owned stores, where suppliers and customers could develop mutual trust and respect in order to best serve the final customer," he says. "Today, we're all dealing in a corporate world, but in reality, each locale is unique and serving customers well by taking a personal approach vs. a mass marketing approach that is so customary today.
"Our product is not a price-selling product," he acknowledges. "It is not low price, because we use high-quality ingredients, artisan methods and custom equipment. Our pretzel baking process takes longer than most other bakers."
Two out of its three baking lines use stone hearth ovens. "That has been significant," he says. "They in themselves are a higher cost to maintain because of the nature of baking on stone."
Persistence and using new technology have been keys to overcoming those challenges. The firm implemented a computerized baking line five years ago. "We designed it so that hopefully, we have the advantage of incorporating the old baking methods that are so critical in developing flavor," he says. "We put in a new line so we will be more efficient – energy and labor-wise."
Longevity also has played a role in Tom Sturgis Pretzels' success.
"Our claim to fame is that our family started baking pretzels in 1861 and we're the oldest pretzel company in the nation," he says.
Family Blood
Sturgis says there are many advantages to being in the pretzel industry, and that is why so many family members have been involved in it. For example, family members have an opportunity to learn from older generations.
"I worked with my grandfather for 20 years," Sturgis says. "My father, who is 75, and my mother continue to work here and mentor the others. My wife, uncle, niece and sister contribute in various capacities. We all felt not so much that pretzels are a great thing, but it's a good lifestyle."
Although he is president, Sturgis still enjoys the opportunity to do some baking. "Part of my responsibilities is to fill in for bakers who are on vacation and also to oversee the training of our bakers," he says. "Meeting with our customers has been an increasingly significant aspect of my job."