The story behind Tomahawk Steakhouse began in 2017 when Howard Eggleston launched the initial site in Potto, North Yorkshire. Since then, Tomahawk Steakhouse has taken flight – and hit the bull's-eye – thanks to its specialist offering of supersize tomahawk steaks, dry-aged Himalayan salt beef, as well as Yorkshire wagyu. The restaurant chain has become a staple across the Northeast of the UK – but it hasn't stopped there.
Now branching further afield, the company has locations in Middlesbrough, Beverley, Chester, Darlington, Durham, Newcastle, Nottingham, Ponteland, Potto, Saltburn-by-the-Sea, Warrington, Yarm, and York.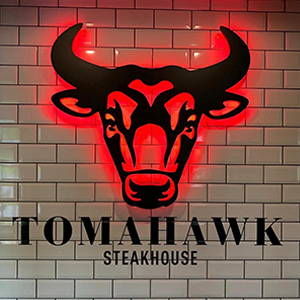 More recently, the popular chain has diversified with the opening of five Rio Brazilian Steakhouses (RIO) since 2019. Created with the aim of taking budding foodies on a journey into the heart of the Tijuca Urban Forest, which surrounds Rio de Janeiro in Brazil, customers can expect superb planted walls, multicolored flowered ceilings, and, of course, an exotic Brazilian Churrasco dining experience.
As Howard tells us, all of the group's RIO restaurants have gone straight to number one on TripAdvisor. By virtue of these expansions, the Tomahawk Steakhouse group now turns over around £35 million – and it's hungry for more. Indeed, rapid expansion plans are now firmly in place, with new locations in Harrogate, Morpeth, and Sunderland expected to open soon.
Talking us through his company's rise to success, Howard unpacks the decidedly humble origins of Tomahawk Steakhouse. "The truth of the matter is, in the beginning, we just wanted a really good steak and eggs with chips and brown sauce!" he explains. "But we couldn't find one nearby. Therefore, the only thing to do was develop our own restaurant serving just that!
"Since then, our mission has been to serve superb steaks in a relaxed environment that also has a very sharp focus on delivering a great customer experience," he goes on. "We want to create a place that encourages friends to grab a loving breakfast, light or long lunch, or fabulous dinner. Our venues, in addition, provide the perfect location for that very special date night."
Menu development
Though the group's growth has been incredibly fast, Howard suggests that's just how the world prior to the pandemic was. "It all felt very natural at the time," he reflects. "It was rapid – and likewise our reputation grew with each physical opening. Then again, rapid is our natural pace of business. We don't stop to enjoy the fruits of a new opening, we get out there again, looking at new sites to maintain the momentum. That said, I don't think any of us would have envisaged that, only five years later, we would have nearly 20 total venues open. But that's how we did it and that's where we are at."
But perhaps Howard is being modest. Due to the nature of its product, Tomahawk Steakhouse really doesn't have many competitors. "We serve dry-aged steaks whereas most other places sell wet-aged ones," notes Howard. "Although you will now find places like Miller & Carter serving a range of Himalayan salt dry-aged steaks on their menu. The difference, however, is that we have a secret sauce – one we use to glaze our steaks. So, theoretically, anyone could come along and serve the same steak from the same meat supplier and cook it in the same oven at the same temperature, but without the Tomahawk secret sauce, it would never taste the same!"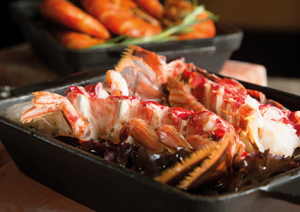 Despite this tried-and-tested approach, which fosters a unique sense of consistency across the near 20 restaurants under its portfolio, Tomahawk Steakhouse still sees its menus as a work-in-progress. "Indeed, we are constantly developing our menus," says Howard. "As a company, we are always on the lookout for inspiration on our travels across the country, especially when looking for new sites.
"Our team is comprised of massive foodies; they all get really excited when we discover new dishes or flavor combinations that work well," he continues. "We don't divert too far away from our customers' core palate, but we do try and introduce new dishes throughout the year to keep things fresh."
It's worth pausing on that team of foodies. For Howard, creating a unified company culture is a significant part of the business. "Over the years, we have witnessed the emergence of a strong company culture," he reveals. "Moreover, attitudes to people who work within the sector have changed massively in recent times. At Tomahawk Steakhouse, we have a fantastic senior team that makes sure all individuals have good job satisfaction.
Collaborative approach
"When it comes to new openings, we have staff training and people development days to break the ice," he adds. "We have a great monthly newsletter that goes out to all team members, keeping everyone informed about their own successes and new developments across the group. Indeed, all this has meant that we have found a more holistic approach to our staffing and company culture – it just works really well.
"Like any business, though, we can't be a success without our suppliers' success, so they are a hugely important part of that wider culture network. We work on a collaborative basis where we all benefit from each other's wins. In fact, we prefer to use the term trusted partners rather than suppliers."
As it stands, Tomahawk Steakhouse is in multiple discussions with landlords regarding four new venues, which the group hopes to open this year. Alongside that, Howard tells us he aims to increase its annual turnover to in excess of £50 million by the end of 2023.
"We have seen RIO make stronger returns than we initially forecasted for its first few weeks of opening, so we will be turning our focus more towards growing that individual brand (in addition to Tomahawk, of course)," concludes Howard. "If 2022 has taught us anything, it is that we have two brands that perform strongly in a competitive market and socioeconomic downturn. We look forward to watching them grow further."