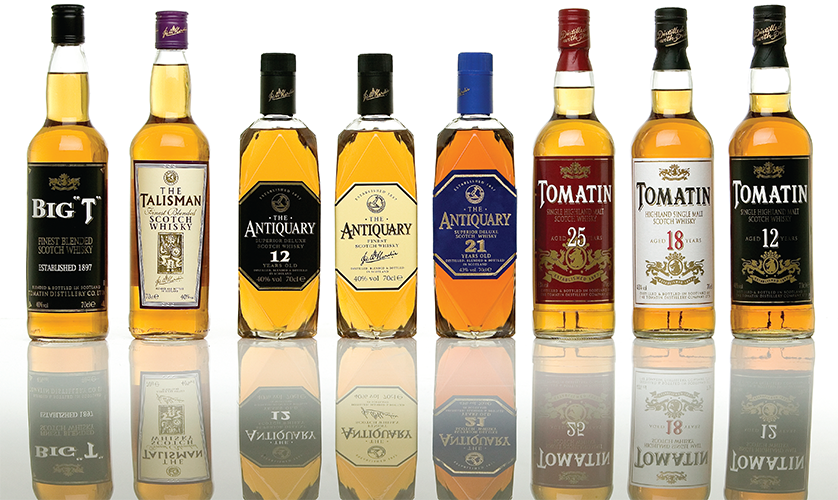 That's the spirit
Tomatin Distillery is looking forward to significant growth in major markets and new product launches
Stephen Bremner, the international sales and marketing manager of Tomatin Distillery updates Food Chain on the company's progress: "Eighty five per cent of our products are exported all over the world to regions like Benelux, France, Spain, China, India, Russia, Taiwan, Portugal and Singapore. Over the last year, we have expanded our export market and began distributing in Russia and India. Strict import legislation makes getting the brands from the UK to Russia quite a slow process, which can be very frustrating. There has also been a lot of new legislation there around the labelling of products, which means there has to be quite a lot of information on the label – this is an ongoing problem and yet to be resolved. All of this makes Russia quite a difficult market to deal with, and though the progress has been slow, it has been in the right direction. Despite all the legislations and frustrations, we are committed with a three-year plan. Seeing that the brand is growing nicely in the market, we are hoping that sales will rise quite significantly in the next three years.
"As for the Indian market, the progress is a lot slower. It is very difficult for a company of our size to penetrate the market because of the extortionate import tax of 550 per cent, which is why we decided to focus on the duty free sector. The idea behind that is to create enough brand awareness so when the tax situation is resolved a couple of years down the line, we'll be able to start dealing in the domestic market as well.
"However our current strategy is to concentrate all efforts on building the brand in our four major markets; the US, Japan, Sweden and Russia. There was a slight decrease in sales in the States in 2006 but we're expecting a big increase this year especially in the Tomatin Single Malt range, as the market is fairly buoyant. As for Japan, it has proved to be a very strong market for us for the past two years, and we predict the same pattern will continue for some time."
Continuing, Stephen comments on Tomatin's expansion plans: "We're trying to consolidate what we have and ensure that we can offer our customers a high level of service as well as trying to develop business in new markets, which we feel  will best complement our brand range. Our aim is to build brands and we're constantly striving to produce quality brands that complement our current portfolio. There are brand extensions in the pipeline that we feel will be great assets to our range, however our main responsibility is to our core brands such as our Tomatin 12- year old Single Malt and Antiquary 12-year old Deluxe Blends – these are our main focus and the life-blood of our company."
He adds: "When we launched an extension to our Antiquary range – The Antiquary Finest, this was very well received in certain markets especially Spain and Portugal and sales have definitely been very promising – it's a great addition to our range.
"Furthermore we have the Tomatin 18-year old Single Highland Malt Whisky that is available worldwide, although it's very popular in the Japanese market. The response we have received is phenomenal and the first batch we bottled has now finished. This whisky was recently highly commended at the World Whisky Awards, which is fantastic as this equates to a silver medal. Now that we've completely sold out our first bottling, we will look to start on the second edition this year.
"Tomatin 1974 Vintage, a product that was launched exclusively in Japan last year, was also very successful so in September we'll be launching a 1975 into the market. This kind of single cask vintage is very popular in Japan – it is a nation of collectors and rare and very old whiskies are very collectable, so it doesn't take a lot of effort to sell this kind of product in Japan."
Tomatin's brand export company, J & W Hardie turns 150 this year and to commemorate the auspicious occasion Tomatin is looking to launch a 30-year old Antiquary whisky by the beginning of autumn. "It'll be available worldwide but it will be a limited edition with a fairly small batch of approximately 1200 to 1800 bottles. It is currently still at the development stage so we're not 100 per cent sure exactly what the final product is going to look like but we're most certainly looking forward to unveiling the surprise ," states Stephen. "On top of that, we're also developing a 30 year old and 40-year old Tomatin malt and another four single casks similar to the 1975."
With 2006's exports being the highest they have ever been – 294.3 million litres – the whisky industry is very buoyant at the moment. Stephen concludes: "We're confident that Tomatin will continue to prosper for the next three to five years. With potential distributors knocking on our door, instead of the other way round, that tells you that the industry is definitely on a high and we're positive this is likely to continue."