Our restaurants are about passion," says Tony Vallone, one of the top restaurateurs in the U.S. today and one of the leading authorities on fine dining. "Whether it's my flagship Tony's, my casual Italian restaurant Ciao Bello, or my newly opened Vallone's, my focus is on quality ingredients, attention to detail and a creative dining experience for my guests.
"Many restaurants today are chef-driven or ingredient-driven," he says. "My restaurants are guest-driven."
As Houston has grown to be America's third-largest city and one of the country's centers for the arts, its restaurant scene has flourished. "Between the energy and medical industries," Vallone says, "there is more growth and business opportunity here than ever before. Our guests are highly sophisticated diners and travelers who know great cuisine and service."
Tony Vallone is the man who "virtually defined fine dining" in Houston, as a Houston Chronicle restaurant critic put it. He introduced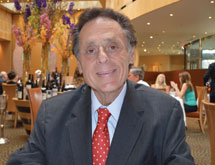 authentic Italian cuisine to Houston at a time when Americans had an entirely different perception of Italian food. With nearly 50 years in the business, he has cooked for seven sitting presidents and a who's-who list of international celebrities and business leaders. "When I opened my first restaurant," Vallone says, "I used to have to go down to the bait shops to find calamari. No one was using it for cooking."
Esquire restaurant critic and Italian food writer John Mariani featured Vallone in his 2011 book How Italian Food Conquered the World. In the book, Mariani cites Vallone as one of the pioneers of the new wave of Italian cooking in this country.
Vallone's flagship restaurant Tony's, "one of the Houston's most treasured restaurants," in the words of one the city's top food writers, remains the centerpiece of his restaurant empire.
But you will also find Vallone in the kitchen of his casual Italian concept, Ciao Bello, "my neighborhood Italian restaurant," as he likes to call it. Named "the best Italian restaurant in Houston" by the Houston Press in 2013, Ciao Bello is known for its house-made pastas and its Roman-style sottile, thin-crust pizzas.
His new steak, seafood and pasta concept, known simply as Vallone's, opened in late 2013 and has already been touted as the best steakhouse in Houston. "At Vallone's we have the best steaks in America," Vallone says, "including our signature 55-day dry-aged rib eye, which is butchered and aged in-house."
But the restaurant "is so much more than just a steakhouse," he says, noting that the pastas are all homemade and that the seafood is sourced both locally (from the Gulf of Mexico) and internationally, including sushi-grade tuna from the Pacific and lobster from the Atlantic, for example.
At each of his restaurants, Vallone works closely with his chefs and oversees every aspect of the guest's experience, from the floral displays to the many works of contemporary and modern art that adorn the walls of each venue, from the mise-en-place of each dish to the more than 1,100 lot wine list.
And while Tony's, with its focus on innovative and contemporary fine dining, is widely considered one of the top dining destinations in the country today, Italian gastronomy remains Vallone's biggest inspiration.
Vallone, who speaks Italian fluently and stays in contact with his relatives in Sicily and Naples, began traveling to Italy in the 1970s. Long before the current wave of Italian cooking in the United States, Vallone cooked with some of Italy's greatest chefs, from Venice and Bologna to southern Italy, where his grandparents were born.
"For Italian food to be truly authentic," Vallone says, "it must also be creative. Italy has the world's greatest food products — from Parmigiano Reggiano and Prosciutto di San Daniele to the world's best olive oils. It's how you use those ingredients that makes Italian cuisine so interesting."
Vallone's pastas are made using flour and mineral water imported from Italy. His sea salt comes from the salt flats of Sicily, "the best in the world," he says. And he sources and imports his own label of extra-virgin olive oil, also from Sicily. "Italy offers a garden of flavors on the palate," Vallone explains. "And that's one of the greatest inspirations for my cooking."