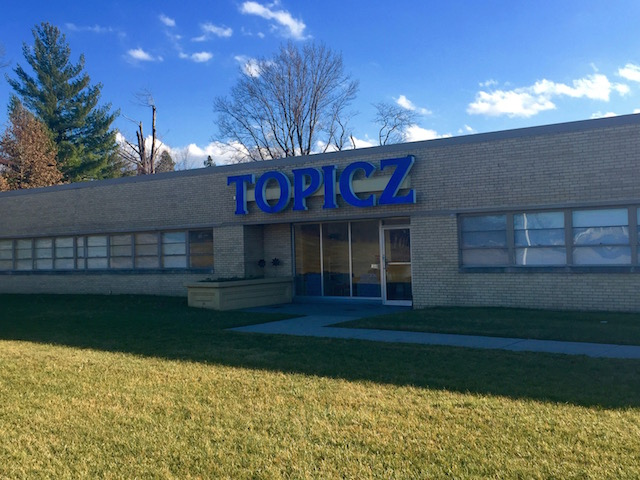 Topicz initiates software and fleet upgrades to increase efficiency while looking to gain marketshare.
Topicz has spent the past 90 years building its reputation as a convenience store specialist and tobacco shop expert, offering a full line of products and services. After 11 consecutive years of double-digit growth, the company is looking to expand its services to new markets.
Business and Product Development Director Adam Greenberg is the fourth generation of his family that will take control of the family owned business. His grandfather – Marvin Schwartz, company president – is training Greenberg to take over and bring Topicz to new heights. "I got us this far, and it's time to take another giant step and expand our horizons beyond convenience stores," Schwartz says.
The Topicz family founded Cincinnati-based Topicz in 1926 and operated it for the next 60 years until it was sold in 1975. A couple years later, management decided to liquidate its holdings and sold the company to Schwartz in 1983. "He took control of the 7,000-square-foot building in Cincinnati and Topicz at the time was the smallest of six candy companies," Greenberg explains. "Fast-forward 33 years to today, and Topicz is the largest candy and tobacco distributor in the area."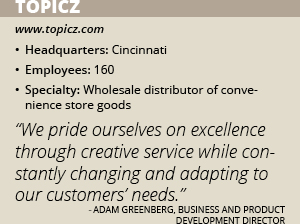 Topicz is a premier distributor of full-line convenience store products, servicing 900 customers in Ohio, Kentucky, West Virginia, Indiana, Illinois and Tennessee. The company owns a 120,000-square-foot facility that includes 8,000 square feet of refrigerated and frozen space. "Our primary customer base is purely independent," Greenberg adds. "We pride ourselves on excellence through creative service while constantly changing and adapting to our customers' needs."
Perfecting Service
Topicz employs 160 people, a number of whom have been with the company for more than two decades. "We've been blessed with longevity," Greenberg says. "With the team we have in place, there is camaraderie, and shared goals of growing our marketshare and creating a good, stable name here in Cincinnati."
Its 15-person sales team is responsible for visiting the company's accounts on a bimonthly basis. Four merchandisers at Topicz work with the company's customers to "reset" stores or change the layout based on sales and how products complement each other. Its warehouse employees undergo a 90-day training period to ensure product picking is done efficiently and accurately.
"We provide great customer service through training and our sales staff," Greenberg says. "For example, our sales manager used to work for cigarette companies and we combined her experience with our industry knowledge from the manufacturing side to bring greater expertise. We have built relationships with our customers over the years and loyalty is very important in the convenience store industry. They see how far and above and beyond we are willing to go to take care of our customers' needs. Making it personal goes a long way."
Topicz maintains long-term relationships not only through its own personal touch, but also by attending trade shows to meet with vendors and hosting weekly visits to discuss new projects and share sales. "We gain new customers through word-of-mouth and our sales reps cold-calling multiple times during the week," Greenberg adds.
The company will debut a new app for its sales representatives and customers this spring that will automate the ordering process and increase efficiency for both. "The app will allow sales to do everything electronically and process credits," Greenberg explains. "Customers will also be able to download the app and pull up their profile where they will be able to process their own credits, scan products they want to send back, manage inventory and print new shelf tags."
"This will do all the jobs that our salesforce used to do when they were calling on a customer, so now they can concentrate on offering new items," Schwartz adds.
The importance of technology cannot be underestimated in the convenience store business, Greenberg says. He adds that the company remains committed to updating its software regularly. "I think our IT individuals have become one of the most important people in the operation," he says. "We have spent a great deal of money on systems and procedures to improve accuracy and responsiveness."
Broadening Inventory
Topicz's inventory includes nearly 10,000 items to ensure it offers well-rounded categories. The company prides itself on staying relevant and offering the best-selling products in each of the top-10 convenience store categories.
In the past, cigarettes and tobacco products were the main products for growth, but Topicz is now focused on foodservice and fresh food programs to accommodate the changing industry. "The margin for tobacco and cigarettes is miniscule," Schwartz says. "In order to survive, we have to have a broader inventory."
Quick delivery of products is vital to its operation, and owning a fleet allows Topicz to deliver an order to its customers the next day. Topicz's transportation department includes 30 drivers and a fleet of about 27 trucks that are maintained internally. The company is updating its equipment to include dual-temperature trailers that will accommodate the milk and ice cream products it carries.
To continue growing, Topicz is looking at new lines of revenue by creating relationships with local schools and universities, and has partnered with the United Service Organizations to stock military lounges at the airports.
"That's something completely new and we are looking to as our market is expanding," Greenberg says. "I'm the fourth generation stepping into leadership in the near future, and am taking the business to the next level by expanding our customer base, tapping into new markets and building new relationships with vendors."