A slice of success
Wisconsin-based pizza franchise, Toppers, celebrates 30 years of incredible customer service and great-tasting toppings
A cult favorite on campuses across North America, Toppers is known for its fun, unique and innovative approach to pizza. When it was established in 1991, the brand pioneered fresh and inventive flavor palettes, taking the student population by storm. Today, the company runs 70 locations across 16 different states, and continues to put flavor first. Having delayed plans for a year in light of the pandemic, the Toppers' team now look forward to a 30th Anniversary convention in Las Vegas, as well as major expansion across the US.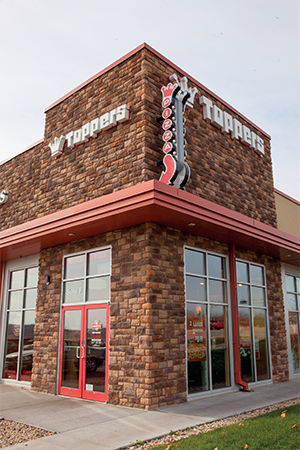 "Toppers started out in 1991, in Whitewater, Wisconsin. When we started out, the main things we wanted Toppers to stand for were unique toppings, and great house recipes. We wanted to offer products that other pizza places weren't," outlines Adam Oldenburg, Vice President of Operations at Toppers.
Founded upon an innovative spirit, Toppers' unique menu soon gained popularity, and the brand quickly developed into a franchise. "We were experimenting and innovating with our flavors, and we definitely developed a kind of cult following in campus markets. We opened in Whitewater, and went up to Stevens Point for our second store. From there, we started our franchising program, and opened up our La Crosse and Madison locations," Adam details.
Three decades later, the Toppers brand reaches all the way from Wisconsin to Texas, with dozens of locations in-between. The franchise model has been vital in growing Toppers' footprint, and selecting the right location is of utmost importance, as Adam reveals: "When selecting a new franchise location, one of the main things we look for is household addresses. We tend to look for anything that serves 20,000-to-30,000 households within a seven-to-nine-minute driving radius. We also look at other forms of available data, things like household income and competitors in the area.
"We like to think that if some of our close competitors are there, that we can offer our services next to theirs and win business that way. Of course, we want to develop into territories where we can have multiple stores as well. We often look into opening campus locations where possible, and smaller residential stores are always a good way to drive business."
With an ever-growing network of franchise restaurants, Toppers works hard to ensure the same great taste is available in every single location. The brand exclusively uses 100 percent Wisconsin Mozzarella on its pizzas, and its trademark toppings are carefully constructed by an expert menu innovator and recipe developer, as Adam discusses: "We do a lot of menu engineering based on the customer feedback we get, and that helps us when it comes to creating new toppings.
Taste trends
"Our director of menu innovation, Mac Malchow, does a lot of customer research, and he also undertakes panels in-store on a regular basis. He is always doing taste tests with different off-menu ingredients, which is something that customers really enjoy.
"We are in control of a number of our signature topping combinations, and we also take inspiration from elsewhere. We keep a close eye on which toppings are low sellers, and take them off the menu to make sure it's as streamlined as possible. We want to make room for new, innovative pizza ideas, and of course we keep our ear to the ground in order to look out for trending flavor combinations. There will be times where certain products are in vogue, for example there was a phase when everyone wanted brisket and cream cheese on their pizza. If we can hit those trends, we always do well."
Data technology
Bringing these great tastes to customers at the touch of a button is the Toppers' app, which launched in 2019. The proprietary software makes ordering simple, and keeps the brand in contact with its customers, as Adam enthuses: "The name of our app is PiZMET, which is a combination of 'pizza' and 'kismet', two things that summarize what Toppers is all about. We took on this project about six years ago, and finally rolled out the entire system three years ago.
"It has allowed us to control everything online, so when the pandemic hit we were able to switch to curbside pick-up with ease. We were also able to do contactless delivery before any of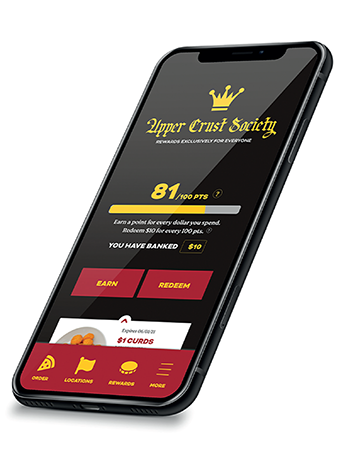 the big chains, because we were able to roll it out within two weeks. In that sense, the pandemic has actually been great for our business. We have out-performed our competitors by double digits on a quarterly basis, and we would be foolish to not think that the app was a huge contributor to that success."
Making effective use of the latest data technology has also allowed Topper's to market more effectively to its customer base. "Looking at customer segmentations, knowing what people order and when, allows us to market to those individuals in more personalized and specific ways. We also use all the information and technology we have at our disposal to remain as nimble as possible; we want to respond to trends, and meet customer needs without having a backlog of admin to get through," states Adam.
Despite having made significant strides since its inception in 1991, Toppers remains true to its Wisconsin roots. The company has a strong network of suppliers throughout its home state, as Adam asserts: "We have been working with PFG Roma for the entire 16 years that I have worked at Toppers, so we are a strong client of theirs. We continue to have a good working relationship with numerous other vendors as well, including Wisconsin Cedar Valley, who provide our 100 percent mozzarella cheese."
Combining local ingredients with fresh, on-trend tastes and great customer service has served Toppers well over the past 30 years. With major expansion in the works, and record-breaking figures in the last quarter, the company gears up for one of its most exciting years yet in 2022.
"We are planning on opening seven stores in 2022, in anticipation of some major franchise growth. We have had our best average unit volume in company history this year, so we are really feeling the momentum right now. We will be doubling down on our products and services, in order to maintain it," affirms Adam.
This years' successes will no doubt contribute to the company's long-term growth, as it makes its way to becoming one of the US's favorite pizza brands. The people behind Toppers continue to harness its potential, and there seems to be no signs of slowing down, as Adam concludes: "In five years, I would like to see Toppers reach 200 locations.
"We have signed a couple of area development agreements already, and we plan on opening those stores soon. I myself am a franchisee, and I've signed on for three more locations, which is very exciting. I think it speaks to Toppers' level of success that I'm now reinvesting into it. Ultimately, I would like to see Toppers become a national player in the takeaway pizza market, because we definitely have something new to offer."