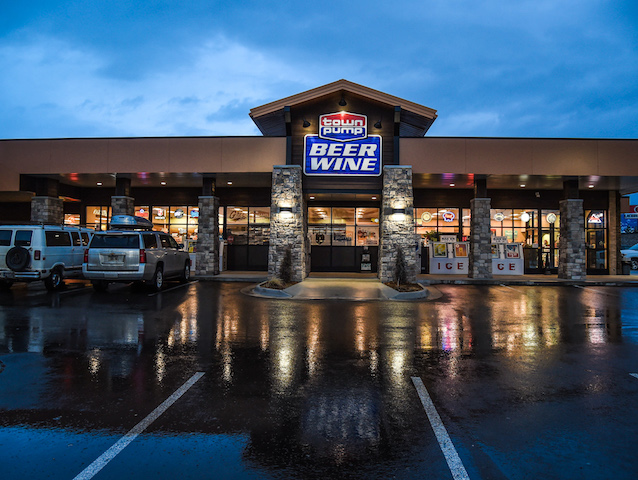 Town Pump's convenience stores serve Montana with diverse and extensive product selections, as well as friendly service.
Convenience stores may not come to mind as sites of grand innovation, but Town Pump leads its market in Montana in such a way. The company was started in 1953 by Tom and Mary Kenneally when they opened a small, full-service gas station in Butte, Mont. The innovation started early; Tom Kenneally Sr. would hand his wristwatch to customers to time his oil change – if the change took more than three minutes, it was free. In 1966, Town Pump became the first gas station in Montana to offer self-service gasoline and was the first to install bill acceptors directly into the gas pumps. The company established its convenience store business in the 1980s by investing in some of its existing locations, and it continually invests in its stores and Montana communities today to ensure it delivers the best quality and service, often in a way that is new and innovative to the market.
"We are still a family owned business and we have 102 convenience store locations in Montana," Director of Food and Beverage Leslie Goss explains. "We continually look at future growth opportunities, and we are known for our offering of goods and products. There is a lot we offer in our convenience stores, such as hot bars, beverage bars and fresh food, all of which is made onsite. We have about 500 menu item options."
In addition to convenience stores, Town Pump operates casinos, hotels and car wash properties, all of which are in Montana, except some of the hotels. The company operates 21 sites on the interstate roads, branded with Pilot and Flying J and offering amenities such as showers, laundry and lounges for truckers that provide a menu of hot food that is cooked to order. Town Pump's convenience stores, however, are where the company really shines in terms of product offering and service.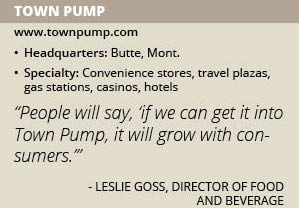 Town Pump locations offer an average of 40 doors of beverages, have 80 to 100 square feet of wine offerings. Within the past two years, the company expanded its brand of Stone House Coffee with more blends and popular flavors, while also branding its fresh food offering as the Stone House Deli. Additionally, Town Pump's pizzas have been so popular that it started offering individual slices, and its retail business has been expanded with more snacks, good-for-you foods, private-label candy, new sparkling waters and kombucha.
"We are really distinguished by having one of the largest product selections," Goss stresses. "We remain competitive on pricing but also stay ahead of the market with our offerings and overall selection.
"Additionally, we have the capabilities to quickly get something into the market," she adds. "Once we have authorized a product, it can be in our stores quickly, and then it opens the entire state for that product. We take pride in being first to market with new innovative products in all categories. We have enough volume to support new items, and as a leader in our state, we can try new things and get them on the market."
Culture of Growth
Town Pump supports its people, who it believes are key to its ongoing growth. "We strive to make an impression on our people that we really do want them to feel they can make decisions within their site that are profitable," Goss explains. "This is a culture of growth, and we strive to develop our staff for future opportunities, ensuring ongoing growth and knowledge. We always try to impress accountability, consistency and recognition within the staff. That has always been the overall focus here.
"When I came into the company 15 years ago, it was a part-time job, a mile away from my house," she continues. "But Town Pump was so supportive, I decided to leave my other job because I saw so much opportunity here. We want to support growth and we will support our people to do that. There is plenty done internally to support our employees because without the people in the field, we wouldn't have jobs in the office. The store staff keeps us going."
She notes that Town Pump is still very much a family business, and that is felt throughout the operation. The convenience store division consists of 10 people in operations, one regional manager, 18 district managers and up to 20 employees in the smaller stores, as well as up to 50 employees in the large stores.
"The district managers work with us to develop programs that might ease operations in the field," Goss says. "Our training department is within our HR department, and we conduct a lot of professional seminars for our staff. That could include how to deal with difficult people, our core values and the manager-in-training program. We are a very hands-on company as far as how well we know the people in the field and the interactions we have with them."
In addition to working closely with its employees, Town Pump enjoys supporting its communities. The Town Pump Charitable Foundation was established in 1999 to provide financial support to organizations in Montana, with a priority on supporting the basic needs and education for the state's citizens. Just this year, the foundation provided emergency grants of $15,000 each to the Bozeman Warming Center and God's Love Shelter in Helena due to the frigid winter conditions. It also regularly supports the Montana Special Olympics, food banks, Red Cross, job training programs and education programs.
Ongoing Expansion
Town Pump continues to grow throughout Montana, in terms of its overall footprint and adding to its already extensive product offering. The company aims to have four new convenience store locations open by the end of 2019, while also updating and increasing store footprints at some of its established locations. Goss says stores will most likely grow their cooler and beverage offerings, bulk grocery, the wine category and fresh food offerings.
The stores will be adding more cases to provide more fresh, grab-and-go goods, but Town Pump also wants to expand its offering of local goods. In the summer, Goss notes, Montana is known for "huckleberry everything," and Town Pump offers more local and specialty goods during peak travel times. The company also plans to expand the stores' bakery program.
"We partnered with Baker Boy, and that is a company that is great to work with in terms of development," Goss says. "We get all of our bakery products from them and frosting, so we rolled out larger bakery cases. Our staff comes in and does our baked product in the morning so we can offer donuts, cinnamon rolls and cookies." She notes Town Pump also is partnering with Johnsonville on its roller grill business to offer that brand's line of sausages.
"We will continue to expand and develop and inspire growth within our people to try new things," she says. "The focus we have on our people, that expands out to our relationships with the stores and the community. It makes me proud of this business as a whole."