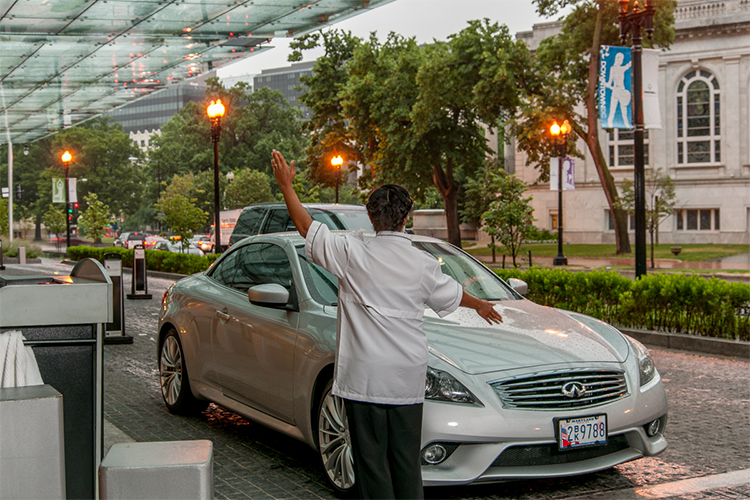 Towne Park makes the first and last impression on patrons at many of the country's most celebrated hotels and restaurants.
A $200 steak dinner might be worth every penny, but if a guest has to wait half an hour for the valet to bring their car around at the end of the night, they'll leave with a sour taste in their mouth.
Dedicated restaurants make up a small part of Towne Park's overall client base, but the valet company provides services to many world-class hotels, such as Fontainebleau in Miami, known just as much for its fine dining as its exquisite rooms. Although his company doesn't serve food, Towne Park President and CEO Chuck Heskett understands customers don't differentiate between the person parking their car and the one serving their dish. It's all part of the same experience to the guest. "We're an integral part of that pattern of people arriving and departing," he says.
"We're the first and the last touches," Heskett adds. "It's a critical piece to get right and it's why our company is hired. Anyone can park a car, but to create a great experience takes the right people, investment and training."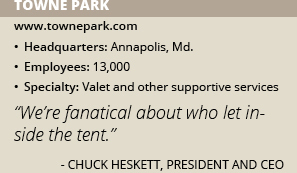 Betting On Itself
Towne Park started 30 years ago with one hotel in Annapolis, Md., and has since grown to 700 locations at hotels, restaurants and hospitals in 40 states. The company's 13,000 employees serve 15 million guests annually and have put Towne Park on track to reach $500 million in sales within the next two years.
The march toward a half-billion dollars in revenue is occurring through a mix of organic growth and acquisitions. In the past four months alone, Towne Park has closed on three acquisitions: M.V.P. Services in Cleveland, Valet Parking Services in Salt Lake City and Citipark, a provider of hospital and hotel parking solutions in New York, New Jersey and Pennsylvania. "It gives us a bigger presence [in existing markets] or a presence in markets we might not have been represented in," Heskett says.
Heskett credits Towne Park's uncommon business model for accelerating the company's growth and making it indispensible to clients. Most valet companies charge the location a fixed monthly service fee to operate the parking concession. In many cases, Towne Park does it differently.
Instead, the company works out revenue=sharing deals, which return a portion of valet fees back to the location and make Towne Park responsible for all the operating costs, such as uniforms and payroll. The setup makes Towne Park more accountable for the quality of service while also giving it more opportunity to be profitable if run efficiently. "Our whole business model is really a bet on ourselves and it's worked out wonderfully for us," he says.
Valuing People
The company takes a different approach toward each of its two types of clients: hospitality and healthcare. Each area requires a specific kind of personality and specialized training. In hospitality, Towne Park looks for valets and other associates who can enhance the guest experience and put a smile on their face.
On the healthcare side, employees must have more empathetic instincts. "The personality of our associates on the healthcare side really need to have a deep understanding of the core hospitality elements – service and generosity," Heskett says. "Unless you're giving birth, people usually aren't at hospitals for a joyous occasion."
Because its business involves direct interaction with guests, Towne Park puts great value on the quality of people it hires. Job interviews are held in group settings so that the company can see how applicants interact naturally and get a feel for their manners and confidence. "We don't have patents in our business, we don't have any factories," Heskett says. "All we have is our people. We're fanatical about who we let inside the tent."
Many associates may start off in minimum wage roles, but Towne Park provides several training programs to enable those who show dedication to quickly advance into salaried positions. Heskett says those employees with ambition to turn an entry-level role into a career tend to identify themselves quickly. "Anyone who is fulfilling their current jobs and expresses an interest in growth, those are the ones you want to invest in," he says.
At the same time, labor is the biggest expense for people-heavy companies such as Towne Park. When California raised the minimum wage significantly for most employers at the start of this year, Towne Park had to redo many of its contracts to reflect the change in costs and maintain its margins.
Expanding Services
Valet remains the main thrust of Towne Park's business, but the company has expanded its services as satisfied clients ask it to take on more support roles. "We started outside the door parking cars and driving vans, but as our services grow we've been invited inside the door," Heskett says.
Hotel services include self park, bell service to carry luggage to rooms, guest concierge and monthly parking. At hospitals, Towne Park now offers internal patient transport, employee concierge and shuttles. Through Towne Park's sitter service, hospitals can find a person willing to watch patients and notify the doctor if the subject becomes restless and begins trying to disconnect medical equipment.
It's a role that hospitals normally deploy a highly skilled and paid nurse on, but one that Towne Park associates can perform at a third of the cost. "We're really employing semi-skilled labor to enhance the patient and customer experience by allowing medical professionals to focus on the business of healthcare," Heskett says.
Towne Park goes beyond just trying to provide better service to guests, it collects vital data that measures its effectiveness and then shares that information with partners during monthly reviews. It begins with tracking metrics such as expected versus actual delivery times for valeted vehicles and extends to research into what guests are saying on social media. "We've always been data-centric and I think it's one of the ways we separate ourselves from the competition," Heskett says.
According to the company's internal analytics, Towne Park has a 12 percent share of the total parking services market in hospitality and healthcare. Those other services, such as hospital sitters, will help it to grow its revenue and there are still 10 states where Towne Park does not have a presence.
Heskett believes the company still has a lot of opportunity ahead of it. "At the end of the day, what we're really good at is people," he says. "When you have an engaged, happy workforce, think about the ways you can deploy them. I say the sky is the limit."