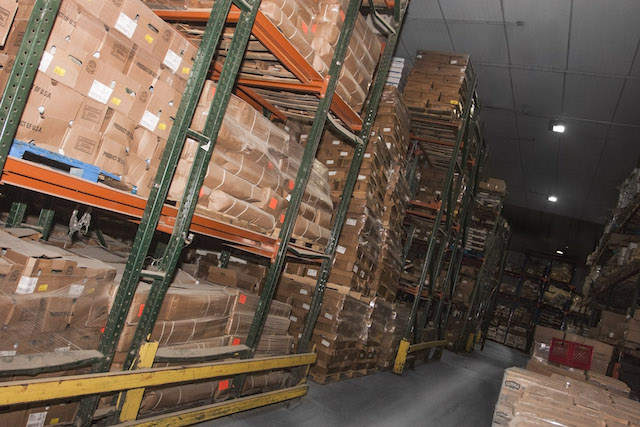 TraFon Group looks to expand while maintaining high-value, low-cost structure in an ever-changing market.
Puerto Rico has experienced a dynamic demographic shift over the past decade even as importers and distributors such as TraFon Group feel the pressure to maintain competitive pricing while the island remains in a recession. As a result, TraFon Group has put greater emphasis on building its Caribbean Cold Storage & Logistics business to meet evolving market needs.
"Puerto Rico has lost 500,000 consumers over the past 10 years and the demographics as a whole have changed," Senior Executive Vice President Javier Pietrantoni explains. "This change brings about a shift in consumption patterns in the market, both from a retail and foodservice standpoint."
Competitive pricing is key for TraFon Group to maintain its marketshare. The company services 38 customers in Puerto Rico through its cold storage and logistics business, handling more than 1,200 containers per year. "It's become an important business for us," Pietrantoni adds. "By adopting a competitive strategy centered on providing stakeholders a unique platform to benefit from our economies of scale, we are able to deliver service solutions that create value to our customers."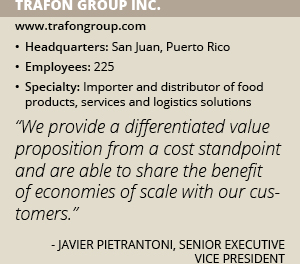 Benchmarked Costs
The Merchant Marine Act, also known as the Jones Act was enacted in 1920 and requires that all goods transported by water between U.S. ports be carried on American-made ships with an American crew. "Limiting the competitiveness of ocean carriers to bring cargo to Puerto Rico makes the cost of transportation expensive," Pietrantoni says. "Twenty years ago there were more than 10 ocean freight companies. Two years ago there were four or five and today there are three. With only two transport reefers available, importing frozen or refrigerated products is very pricey. It's critical to optimize the container, so understanding the subtleties of inland and ocean freight costs is imperative in the formula for success."
TraFon Group continuously evaluates the individual cost components of its operational activities and compares it among all players in the market to benchmark its cost structure. "By deconstructing our value chain, we were able to identify opportunities to become a more efficient operation. In that process we are able to bridge opportunity with viable service solutions. We provide a differentiated value proposition from a cost standpoint and are able to share the benefit of economies of scale with our customers," Pietrantoni explains. "We can do that because of our volume, size and processes. If you are in the logistics business, besides being able to provide excellent service and deliver a high-quality product in a timely manner, the only other differentiator is cost. We maintain our cost at a level that gives us a competitive edge."
If the Jones Act were not in place and TraFon Group could utilize any carrier, Pietrantoni says it would cost companies and the end consumer less for the products purchased. "Puerto Rico imports about 90 percent of what it consumes, so the Jones Act creates an unnecessary inflationary cost. Today, ocean freight rates from China are almost half when compared to ocean freight rates from Jacksonville, Fla." he adds.
Demographic Demands
TraFon Group, through its Packers Provision business, has been the island's exclusive distributor of Chobani since January 2016 and by June, sales had already exceeded the company's expectations. "In Puerto Rico, there wasn't a developed Greek yogurt category," Pietrantoni explains. "There was a clear market space for consumers craving a high-quality product."
As the population's attitude toward food changes, Packers Provision is focused on identifying – from a sociographic and socioeconomic perspective – where the opportunities are in the market. "That's how we go about evaluating the different brands we distribute," Pietrantoni says. "Consumer patterns, attitudes, behaviors, needs and wants, the size of the market and whether the category is trending up and down – there are needs not being attended to."
Packers Provision partnered with Chobani after seeing how the Greek yogurt brand took over the category over the past six to seven years in the United States and felt the model could be replicated in Puerto Rico. "We invested heavily on the launch of Chobani by hosting promotional and sponsorship events, tastings and media investments," Pietrantoni says. "We launched in January and in June it covered our sales plan for the year. It doubled our expectations."
Chobani is a good fit for Packers Provision, Pietrantoni says because the companies share a lot of the same values. "As a company, from its founder down is an exemplary company to do business with," he adds.
Operations Optimization
TraFon Group and its Packers Provision, Caribbean Cold Storage & Logistics and Star Meat business operations rely heavily on its warehouse and truck management systems. "The system provides us with all the necessary data to be efficient," Pietrantoni says. "When we receive product, the system tells us to what location that pallet has to go in the warehouse and rotates product accurately."
Trafon Group operates on a first-in or first expiration date/first-out system. Once all the product information is entered into the warehouse management system, product moves in and out depending on those details. Its hands-free voice recognition system allows pickers to call out an order number and the system will tell them where in the warehouse to go and the number of cases to pick. "It makes the process paperless and efficient," Pietrantoni says. "Our error rate is reduced to basically zero and we have eliminated the cost of miss picks."
The truck management system allows Trafon Group to optimize cases or pallets in its trucks for delivery, which is vital because the company's fleet is almost at full capacity. "All those different pieces and parts make the operation more efficient," Pietrantoni says. "The processes and systems are in place for a very versatile and effective system."
Moving forward, TraFon Group looks to continue expanding its customer base and portfolio of brands focusing on healthy, natural and organic products. The company expects volume to continue to increase and plans to expand or move into a larger facility. TraFon Group also plans to increase its fleet of 50 trucks by about 30 to 40 percent. "We are almost at 100 percent capacity," Pietrantoni adds. "All 50 trucks go out every day, so we need to expand our capacity."