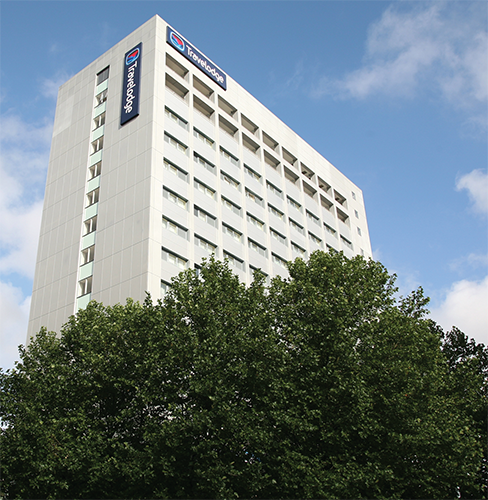 Olympian effort
Focusing on 2012 is only the start for the continuing expansion of Travelodge
Launched in 1985, Travelodge has risen to become one of the leading and most recognisable budget hotel brands in the UK. The company has 316 hotels currently operating in the UK, Ireland and Spain. Having just opened new hotels in Glastonbury and Swansea, Travelodge is expanding at a rate where one new hotel opens every eight days. Chief executive, Grant Hearn has great experience within the hotel trade, joining Travelodge in 2003 after being managing director of the Hilton Group for UK and Ireland. On Travelodge's success within the budget hotel market, he states: "Our relentless focus on price has struck a chord with the consumer and we are now attracting new customers from new markets every day."
In 2006, Travelodge saw a 17 per cent increase in revenue growth. Two interesting statistics accompany this growth. Firstly, in undertaking a £10 million price-cutting programme, Travelodge achieved room sales of £4.9 million, including rooms in the 27 hotels opened in 2006. Travelodge plans to continue this sale pattern by selling two million rooms at £26 or less throughout 2007. Secondly, Travelodge saw a 63 per cent increase in internet sales, which formed 83 per cent of total sales of rooms. In 2007, Travelodge announced the raising of £128 million via a sale and leaseback transaction with the Prestbury property group, £100 million of which was used to repay debt, with the rest being invested in developing Travelodge business strategies. As Travelodge's chief financial officer, Jon Mortimore explains: "There are significant opportunities to step up expansion in the UK both through accommodation and new revenues through our online business. This transaction provides us with the flexibility to bring forward and accelerate our growth plans."
The rise in internet sales has encouraged Travelodge to venture into the developmen  of services its website provides. The 'My Travelodge' aspect of www.travelodge.co.uk provides customers with a range of services – for instance, reserving cots, pre-paying for breakfast, and booking services for customer's pets. As chief operating officer Guy Parsons states: "The 'My Travelodge' page works both ways in that it offers customers a more personalised shopping experience while providing us with important customer data. Our online success to date has enabled us to maintain our low cost model and translate this into low prices for our customers." This service has many other possible applications, and it is no wonder that Travelodge's website remains the fifth most used travel website in the UK. Recognising this status has encouraged the website to develop sales of tickets specific to local events and attractions, offering overnight essential products, and third party tie-ups.
Equally based on high internet sales is the company's development of Travelodge Travel Insurance in April of 2007, in conjunction with leading insurance provider AIG, becoming in the process the first UK hotel chain to offer travel insurance. Grant Hearn explains: "Travel insurance is a natural fit with our business and given that it is largely purchased online, our two million monthly website users can now purchase an insurance product with a brand they know and trust." Designed in conjunction with Travelodge's budget hotel business strategy, Travelodge Travel Insurance is set to undercut the majority of other major brands on both single trip and annual international travel policies.
This expansion of the brand is part of Travelodge's business plan for the future. The company has announced plans to increase the amount of hotels it runs to 32,000 by 2010, as well as treble the size of its estate by 2020. Focus is being firmly placed on the 2012 London Olympics as well. Research into the impact of the Olympics on tourist commerce has shown a potential £2.2 billion legacy, if London achieves a growth rate of six per cent as Sydney experienced. Travelodge is requesting that the government support Olympic investment in the tourist and service industries by making a one off £25 million budgetary increase into the VistitBritain and VisitLondon campaigns for 2012, as well as a full-time Minister for tourism to oversee proceedings.
In a bid to become London's largest hotelier, Travelodge has announced a planned investment of £140 million in new facilities in the Greater London area for 2012, creating 7000 rooms for the anticipated tourist boom during and after the Games. As Grant Hearn announced: "This is a once in a lifetime opportunity for British tourism. As a result we are investing now in order to realise our goal of being the number one hotelier in London by 2012." Growth rates in the budget hotel sector have increased significantly over the last ten years, with business stays rising by 40 per cent, leisure stays by 80 per cent, and short breaks by 120 per cent. As Paul Harvey, Travelodge's director of property and development states: "The mid-market hotels are suffering from a severe identity crisis as they no longer offer real value to the customer. As the more mature hotel markets in the US and France have seen, the branded budget sector will dominate the industry, attracting most of the mass market."
Announced this year, and encompassing London's Olympic drive, is Travelodge's programme for expansion, which initially aims to open 4000 rooms – approximately 40 hotels – a year, starting in 2008. By this rate, Travelodge hope to have created 70,000 rooms in 1000 hotels by the next decade. This programme will invest £3.5 billion in new hotels, as well as creating 10,000 new jobs. For this, Travelodge expects to organically develop two thirds of new hotels, but is keen to use suggestions by its development team that allows the regeneration of office buildings, factories and mills to be converted into Travelodge hotels in minimal time. The memphasis is on acquiring a ten per cent share of the total UK hotel market, akin to the market share experienced by Tesco in the retail sector. Grant Hearn adds: "Travelodge's growth strategy is designed to deliver the same strong market position. We expect to serve around 20 million customers by the end of this programme. We are on track to deliver our growth targets and will open 3000 rooms this year with London being a priority city. We will open 1000 new rooms in the Capital during 2007, meaning we are well on our way to becoming the biggest hotelier in London by the Olympics 2012."