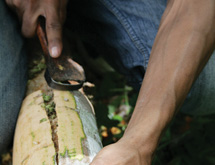 When CEO Francois Bernard joined the spice industry about 20 years ago, business insiders hadn't considered grinding spices at the point of origin to eliminate the costly and often untraceable practice of using second-tier grinders. In fact, the concept was so novel, Bernard remembers how his peers laughed at the concept and barely gave Tripper Inc. and its vanilla and other spice products from Southeast Asia any chance of survival.
"When we started grinding at origin, people were making fun of us," Bernard recalls. "Back then, no one was offering products from origin. When I told them I would be involved with this product, I was the laughing stock of the group."
Almost 15 years after launching the origin-to-source business model for Tripper Inc., history continues to prove that Bernard was ahead of his time, and the competitors who took his concept as a joke are scrambling to catch up.
"Now others see how using the source of origin in the spice-growing areas can bypass the middleman, so the gamble I took 15 years ago paid off," he boasts. "In the world of spice, there is not one company doing what we do."
Bernard launched Tripper Inc. in 1995, just two years after he moved to the United States from France. At first, the company focused on vanilla bean, but it soon added cinnamon, nutmeg, mace, cloves and ginger sourced from Indonesia. A few years later, Bernard established PT Tripper Nature in Indonesia, where he grew up, to serve as a company at origin to source, process, pack and export sweet spices.
"Our concept from the start was to bring spices from farmers to end-users and trying not to have added costs in between people and our products," Bernard says. "What we offer is the products of Indonesia at the price that is going on in Indonesia. Granulation is the new way of doing business in the spice world – going to the source of origin and buying from the source of origin."
Francois' brother Olivier Bernard joined the company in 2000, and he used his experience in the fragrance and flavors industry to develop oleoresins and extracts from sweet spices to add to Tripper's portfolio. Again, the focus was to add value and create high-quality spice ingredients. Today, the company adheres to quality standards such as ISO 22000, GMA SAFE, USDA Organic/EC/JAS Organic, halal and kosher.
With François Bernard's extensive experience in the spice market and his ability to anticipate the market's direction, and Olivier's capacity to develop new products and markets such as Asia, the company's foundation suddenly became more solid. But that wasn't enough. Through a long and thorough lean process beginning in 2009, the company increased its efficiency, allowing it to invest in equipment and qualified people as well as new technologies. The company was now in a position for rapid growth.
Along with spices, François Bernard says Tripper Inc. will add teas to its portfolio. The company offers special tea grounds from its existing spice lines, but it will ramp up to offer traditional teas as well as additional resins and extracts from its spice offerings.
Out in the Open
Since Tripper serves as supplier and distributor of its spices, Bernard says his company has complete control over its products. This forces other spice firms to cloak the sources of their raw materials lest their customers try to go directly to the producers.
"To be strong in this market, my competitors have to hide their suppliers," Bernard says. "I'm my own supplier, so my customers have total traceability of product all the way to the farmers.
"If I'm just buying ground cinnamon and reselling it and I gave out supplier information, my customers could take my customers away," he adds. "If I'm controlling everything from one side to the other, customers could see our suppliers at any time and we remain totally transparent and traceable."
By maintaining control of its supply chain through vertical integration, Tripper has plenty of benefits over the competition beyond traceability and transparency. For instance, Tripper can adjust to price fluctuations better than competitors with outsourced operations because it doesn't have additional costs throughout its supply chain.
"When prices drop, which can happen over a period of three months, it is not so dramatic for us," Bernard says. "For other supply chains, everyone takes a little cut, but we can keep on selling.
"Typically in the spice world, when you buy a product from a farmer, in general there will be eight or nine people who will hold the product," Bernard adds. "There's a farmer that sells [product] to a collector, who transports it to a city and sells it to a person to pack it inside a bag, who then ships it to the United States, where it is sold to a broker, who sells it to an end-user. For us, we still have margins in there to move the product ourselves."
Tripper Inc. is better equipped to control the quality of its products. When other cinnamon distributors buy a product from a supplier, it may be freshly ground, but oftentimes there's no way to determine how long the cinnamon had been warehoused before it was ground. Tripper, however, guarantees its cinnamon is sold within six months of its harvesting.
"Sometimes people think they're getting fresh product, but they're not even capable of knowing how long ago the product was harvested," Bernard says. "We offer product that has been harvested within the last six months, so it hasn't been sitting warehouses for years before it gets sold."
International Cross-training
Tripper Inc.'s success is based on a business model that blends the best of American customer service and Indonesian expertise with spice production and harvesting, and that isn't by accident. Bernard has installed an exhaustive cross-training policy that regularly sends employees from the United States to Indonesia for an immersion in all things spice from the growers' perspective while brining Indonesian employees stateside to learn how to best serve customers.
"We have policy that our employees are not assigned to any one of our offices, and at any time they can be moved to any of the offices we have," Bernard says.
Tripper Inc. launched this training program 10 years ago when Bernard realized his Indonesian employees needed training in American-style customer service. "In Indonesia, there is no idea of customer service, but America is the king of customer service," he says. "We identify potential salespeople within our Indonesian network to send to America to go to a few trade shows and meet and greet customers."
For American employees, Tripper educates them on how a 24-hour spice production and harvesting business operates in a nation without the vast infrastructure of roadways, power generation and other amenities that is taken for granted in the United States.
"One of our guys here spent three or four months in Indonesia learning about logistics," Bernard says. "Another important thing they'll see is the roads and how trucking companies have to deal with them, and then they understand the problems they have in Indonesia."
Over the next few years, Bernard says Tripper Inc. will add more added-value finished products to its portfolio of natural products. This diversification will keep Tripper Inc. profitable for years to come, he believes.
"The success of our company will be kept very safe," he says. "We only can make natural products, so we're going to keep manufacturing those natural products with more added value."