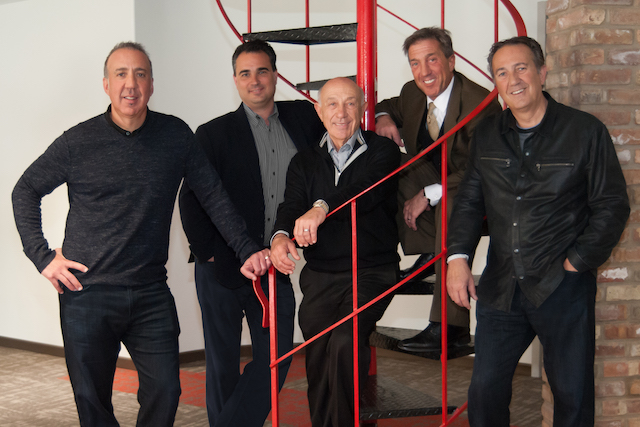 Tukaiz's Backstage technology and integrated workflow enables marketers and franchisees to acheive their marketing goals.
Whether you drive, bike or walk to work, you are passing the work of Tukaiz everyday! As a marketing partner for three of the top 10 QSRs, like Taco Bell, and many of the nation's leading brands in other industries, such as Redbox, Tukaiz is responsible for the creation through production of traditional and digital marketing within its campus in Franklin Park, Ill.
Tukaiz is a single-source marketing provider, with a unique business model that integrates – advertising and creative, software development, print and digital production, and inventory and fulfillment to provide a seamless experience for organizations, their franchisees and their partners. Purchased in 1963, by Frank Defino Sr., Tukaiz has thrived as a family business for 54 years due to its continued customer-centric culture and dedication to innovation.
Today, Defino Sr. and his three children and son-in-law – Vice President and Managing Director Frank Defino Jr., John Quinto Defino, Vice President and Managing Director Dan Defino and Chris Calabria – own and run the company.
This translates "to the ability to make decisions and adapt instantly to better service our clients as they look to evolve and react to trends," Frank Defino Jr. says. Whether this entails building disruptive campaigns, developing custom software, investing in equipment or designing partner automated workflows, Tukaiz recognizes the need to truly partner with clients to support their growth.
As a partner to clients like Taco Bell, Burger King, Johnny Rockets, Wingstop and even entertainment giant Redbox, Tukaiz has proven the balance of a small business attitude and global corporation size capabilities delivers a unique, best-in-class experience. In fact, Tukaiz has been an integral partner to companies like Redbox, delivering breakthrough ideas and strategies to maintain success during its growth from one location to over 40,000 locations today.
QSR Focused Innovation
Over the last 50-plus years, Tukaiz has expanded the in-house services offered to evolve with marketing needs, including the addition of one of the nation's largest digital print production departments, an inventory and fulfillment center, advertising and creative services, and custom software development. "Throughout the growth and expansion, our strategy was to ensure our footprint and our talented staff remained centralized within a single campus (to what is now a nine building campus with over 250,000 square feet). This, unlike other providers, allows our teams to truly align and integrate their respective talents to deliver a seamless and more effective solution for our client partners," Dan Defino says.
By integrating the marketing experience from strategy to final delivery within a single-source, Tukaiz is acutely aware of trends and challenges for QSRs and CDRs, especially as it relates to franchisees and local marketing. "Not only were our clients charged with 'doing more with less,' but many faced growing pains – with the inability to scale and react fast enough within the demands of the industry while maintaining the brand and the consumer experience," Defino says. It was for that reason that Tukaiz designed and developed a proprietary marketing management solution called Backstage by Tukaiz. It was designed specifically for the food and beverage industry and their marketing specific challenges.
Enabling Marketers and Franchisees
With its first release in roughly 10 years, Backstage has continued to evolve in order to adapt to the growing needs of both corporate marketers and franchisees. For example, managing the implementation of national promotional campaigns no longer needs to be a tedious, manual process involving spreadsheets and in-accurate information – instead this can be an automated process that includes the store-profile based ordering, production and fulfillment or designing and delivering custom local marketing for franchisees can be completed in as little as 72 hours.
"We are proactive in nature and continue look to better align with our partners in order to design solutions that leverage our technology (Backstage) and our integrated service model to support the growth and evolution of client partners," Defino says. Through this customer-centric dedication and industry experience, Tukaiz has partnered with many of the leading restaurant brands to support as they built and expanded their locations throughout the nation, including Wingstop, one of the fastest growing chains in the industry.
With an expertise in the marketplace, Tukaiz is dedicated to partnering with both newly established and world-recognized brands to continually define, enable and achieve marketing success – both locally and nationally! For more information, please contact Dan Defino at (847)288-4971.