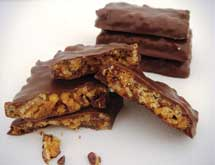 As a private-label company, Tumbador Chocolate enjoys certain advantages that chocolate brands do not, CEO Michael Altman says. "There is no question that it opens up many, many doors for us," he says.
The company is a high-end, all-natural, private-label chocolatier based in Brooklyn, N.Y. In addition, "We are a turnkey service company, which includes product customization and packaging design," Altman says.
"Our private label customers can select from a broad array of packaging options with minimal commitment to quantity," he says. "For larger volume customers, we design and build packaging according to their specifications from 'scratch.'"
Altman founded Tumbador Choc­olate in 2006, after being approached by a friend to invest in his chocolate factory.
Eventually, Altman decided to go into business himself, figuring he would be more successful by investing in better chefs and facilities.
This included his current business partner, Jean-François Bonnet, a former executive pastry chef at Restaurant Daniel, a renowned restaurant in New York City. Altman was introduced to Bonnet by the editor of Chocolatier magazine, who gave him a list of top pastry chefs.
After hearing the idea for the company, Bonnet took it under consideration and came on board, Altman says. Altman chose to serve the private label market, and today, Tumbador Chocolate's clients include four- and five-star hotels, gourmet and specialty grocery stores, retail and Internet operations, corporate gift and special event markets.
"With private label, I did not have to spend the money needed to build a brand, which really can be a black hole," he explains. "I decided that private label would be an advantageous way of developing market share and becoming profitable faster."
Altman's plan has paid off. While Tumbador Chocolate had revenues of $800,000 in its first year, "This year we will have $2.5 million in revenues," he reports. "We project we will have $5 million next year. We're in rapid growth [mode] right now."
He adds that Tumbador Chocolate sets itself apart with its quality of ingredients and level of service. "We pride ourselves on striving to raise the bar," Altman says.
"For instance, while many companies make basic chocolate bars, we don't," he says, noting that the company's products include such classics as mallows, smores and toffee crisps.
"We try to look at goodies and treats that we remember from childhood and redevelop, elevate them, if you will, with an adult slant," he says. "But then again, kids love our products, as well."
Bonnet adds that he also is proud of the company's ability to bring a professional sheen to its client's projects. "We had a few customers that have brought us something really homemade," he says. "We polished them up and made them more refined."
Trusted Employees
Before starting Tumbador Chocolate, Altman gained experience in the information technology industry and worked many years at a computer staffing company. "I helped this particular company go from $12 million to $100 million in seven years," he recalls.
Afterward, Altman started and later sold his own computer firm in 1999. Although the food industry is very different from the technology industry, he has not found the transition to be a rocky one, thanks to his ability to attract strong associates like Bonnet.
Altman also credits Lisa Ainbinder, who directs the company's marketing and sales. A veteran of the food industry, Ainbinder's experience includes NY 4 star restaurant kitchens, food and equipment sales/distribution, consulting and food imports.
"I put complete and utter faith in her abilities and her knowledge in the food business to go out and sell that product," Altman says. "If you're going to hire people and you're going to invest in the company, you are basically investing in those people as well."
A Life in Food
A native of France, Bonnet says that he has had a lifelong connection with food. "Being French, it was always very present in the house," he recalls, noting that food often brought his busy family together.
"Every holiday, every Sunday, my parents worked," he recalls. "Every occasion we did have time together, the meal was the main focus of our gathering."
After starting in the culinary and pastry arts in the south of France, Bonnet came to America and held the position of Executive Pastry Chef at NYC's Monkey Bar, Ritz-Carlton Central Park, Cello and Restaurant Daniel.
As executive chef/partner of Tumbador Chocolate, he has full creative and quality control of all production. This includes sourcing and specifying ingredients, product testing, research and development, and the creation of new products.
In addition, when recruiting people to work in the company's kitchen, Bonnet says he strives to find people who share his same philosophies. "To me, the resume is not the right thing to use when you consider a person's talents," he says.
Instead, a potential employee will spend a day with Bonnet in the company's kitchen where he can assess strengths and talents by his or actions. "We have people from all backgrounds and I think that's what makes us successful – not everyone has graduated from culinary school and not everyone has worked in restaurants," he says.
"We still have the same amount of fun and creativity," he says, noting that Tumbador Chocolate also provides a good working environment.
Bonnet adds that he also has enjoyed working with Altman and Ainbinder. "The three of us are a team," Bonnet says. "Michael understands our customers' needs. Lisa brings the sales and the ideas that push our product and company forward."
When operating a company like Tumbador Chocolate, Bonnet recommends that executives put their egos aside.  "For example, it's hard to create everything yourself. We encourage our Sous chefs to further their personal achievements and create and produce their own chocolate," he says.
Coping and Growing
Tumbador Chocolate is currently coping with the high cost of chocolate, Altman says. "We're able to overcome some of the financial issues that come with that," he says. "That's probably the biggest headache in our business today."
The company manages this by buying larger quantities directly from manufacturers, Altman says. "We're able to negotiate with our vendors so we'll get a higher quantity of chocolate," he says. Currently, the company buys couverture from two firms: Guittard Chocolate Co. and Callebaut.
"Some of our confections contain absolutely no dairy and others are completely vegan," he says. "We are going after the vegan market by using completely dairy free couverture in our pareve line of chocolate."
Another challenge that Tumbador Chocolate has encountered is the perception that chocolate is a candy and not a luxury product. "The trend is definitely changing – people are looking at dark chocolate now as a health choice," Bonnet says.
Altman predicts a strong future for the company. While it now serves clients in the United States, Canada and the Caribbean, Altman expects to grow to beyond North America. In fact, the company is working on products to sell to other countries.
Altman also adds that Tumbador Chocolate will one day develop its own brand. "We'll do that when we really have developed our customer base," Altman says.