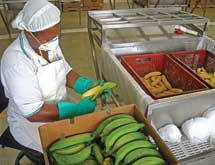 Attention potato chip and other crunchy snack food lovers: Turbana has introduced a scrumptious new contender to the snack food arena. Touting 30 percent less fat than potato chips, no trans fat and zero cholesterol, Turbana Plantain Chips are a crispy, healthful and natural snack that could soon be knocking out consumers across the United States and the world.
The Turbana brand has been growing and importing fresh bananas and plantains throughout North America and Europe for 40 years. The company is a global player with synergy from dual ownership: Uniban, the largest grower-owned banana company in the world, and Fyffes, one of the largest tropical produce importers and distributors in Europe. Turbana is the largest importer of plantains in North America and one of the largest importers of bananas in the world. It operates 50,000 acres of grower-owned and -operated farmlands in Urabá, Colombia, and is the largest fair-trade exporter in the world. "And provides the best-quality plantain in the world," boasts Juan Escobar, vice president of sales.
In 2007, Turbana's parent company Uniban decided to expand its reach beyond the fresh banana/plantain trade and launched a manufacturing arm that would create a value-added product using plantains. "We thought of ways to add value to the plantains we were grow­ing beyond whole fruit exporting" says Marion Tabard, marketing director. "In this way, we increase our growers' income, providing them with an additional outlet for the plantains that don't meet export standards – such as the shape and length requirements – while creating a healthful, value-added product."
Chip Innovation
The concept of the plantain chip is not new, but Turbana wanted to explore ways to produce the best-tasting plantain chip for the market. In 2008, the com­pany finished building a state-of-the-art facility in Urabá that would produce a new revenue stream while giving the growers a way to increase their income. The research and development department experimented with various cooking methods as well as flavor combinations to create the Turbana plantain chip.
Touted as a delicious yet healthful alternative to potato chips, the plantain chips feature a list of natural ingredients that is distinctively short: fresh harvested plantains, vegetable oil, salt and natural flavors. A complete lack of pre­ser­vatives, additives and gluten just adds to the experience. "The Colom­bian plantain is known for its quality worldwide because the farmlands are rich in key nutrients," Escobar says. "Also, the fruit itself is high in Vitamins A and B, potassium and fiber."
Turbana's chips are available in six delectable flavors including natural, chili, lime, chili-lime, garlic and sweet that were developed to appeal to a wide range of tastes.
Offering an alternative to potato chips or crackers, the Turbana plantain chips excel as dipping chips with a variety of dips, sauces and salsas, topped with cheese or even added to soups and salads for "an extra kick of flavor, crunch and fun," claims the company.
While other plantain chip makers position their chips to appeal to ethnic com­m­unities only, Turbana plantain chips are attempting to cross the cultural divide.
Marketing Director, Marion Tabard, perceives the brand as an articulation of consumer's changing tastes, a search for new experiences and responsible corporate behavior. "Turbana Chips are a crossover snack; they appeal to both ethnic consumers and the mainstream as a viable alternative to traditional snacks." "They pack a punch of flavor, texture and crunch," Tabard adds, "while being manufactured in an environ­mentally and socially favorable manner."
As part of branding, the company has created the "Simply Platanicious" trade­mark to describe the experience of the fresh, crispy goodness of Turbana Plan­tain Chips. Named after Max Plata­ni­cious, the enthusiastic snacker shown on the front of each package joyfully pop­p­ing chips into his mouth, it symbo­lizes the pleasure of eating the Turbana plantain chips that are simply delicious.
Helping Local Families
The introduction of plantain chips to its product line is also firmly motivated by the social programs the company supports. The chip plant not only provides an additional outlet for plantain farmers, it also provides employment for many local residents, many of whom are single heads of households and widowed mothers.
Urabá is a region of contradictions—a tropical paradise where many of its people lack even basic necessities.  "Turbana believes in sustainable corporate responsibility," Tabard asserts. "Through our parent company Uniban and our social foundation FundaUniban, we have been actively involved in improving the quality of life in the banana and plantain growing regions by ensuring sustainable growth through social, educational, housing, economic and infrastructure projects."
"Since the beginning, our philosophy has been to help the communities help themselves by teaching and empowering them to sustain meaningful development," Tabard claims.
During the past 40 years, plantain-farming families have become the pillars of the region's socio-economic stability by improving their quality of life, educating their children and providing employment for several generations.
Turbana's support to the plantain farmers comes in the form of training, resource management, and lending for operational, housing and farming improvements. The company also maintains a comprehensive quality program that motivates farmers to harvest the best quality fruit, improve food safety, protect the environment, and grow professionally, thus fomenting a comprehensive development of the farm, the fruit and the family.
Pampered Plantains
Not just content to create another ordinary plantain chip, Turbana invested a great deal in its manufacturing methods. The manufacturing facility offers quality and consistency in cooking, chip size and packaging to ensure an eight-month shelf life. "The equipment in our facility was designed and built precisely for our plantain chip production—from the cutters to the fryers to the flavoring machines."
"One of the big advantages of Turbana plantains is their freshness," Escobar asserts. "The chip plant is with­in a few kilometers of the farmland so all product is received at the factory within six hours of being harvested." He claims that other plantain chip manufacturers will peel their fruit prior to shipment and the fruit may sit for up to 10 days. "Because plantains tend to oxidize a fair amount once they're peeled, they have to be soaked in water baths to prevent discoloration," he says. "That won't ever happen to a Turbana plantain—because our manufacturing plant is so close to the farmlands."
Once green plantains are received at the manufacturing facility, they are inspected for quality. For sweet plantain chips, the fruit is aged in maturing chambers until it reaches the desired sweetness. For savory flavors, the plantain is put into production on arrival.
The fruit is manually peeled and placed into the cutting machines and cut to coin-shaped disks. A pressure-washing system sprays the fruit with water to remove any latex left by the peelers. The plantain disks are conveyed to the deep fryer and, once cooked, are sent to a cooling chamber. A physical inspection process discards burnt, soggy and broken chips. From there, salt or other flavorings are added, depending on the batch desired.
The product is weighed and then passed through a metal detector before being packaged. Finally, the chips are fed by the packaging machine into bi-oriented polypropylene aluminum bags which are then filled with nitrogen gas to ensure the product's freshness, and then sealed. The bags also shield the chips from sunlight, which can affect the flavor and texture.
A major component of the fresh flavor of the chips is the cooking oil. "Our vegetable oil is tested every 15 minutes to ensure taste quality," Escobar notes. Doing this ensures a better taste and a more healthful product.
"I believe these quality measures set us apart from competitors," Escobar asserts. If you did an apples-to-apples comparison to other plantain chips, you would see a marked difference in the consistency of the chip's cut and a fresher flavor, while ensuring minimal oil absorption and improved crispness."
To promote increased product aware­ness, Turbana is taking an alternative approach to market its plantain chips. "Instead of placing these chips in the snack food aisle – where they may get lost among all the other chips – we decided to position them in the produce section of stores near the bananas and plantains on standalone racks," Escobar says. "Not only will consumers recognize the Turbana name, this strategic placement promotes the chips as a more healthful choice." Another non-standard area of the store where the company encourages placement is near the deli sections to encourage impulse buying.
Current distribution areas include Puerto Rico, U.S. Virgin Islands, Barbados, Trinidad, Jamaica and Cay­man Islands. In the United States, distribution is targeted mainly in New York, New Jersey, the Carolinas and South Florida. Future distribution plans include Illinois (Chicago), Texas (Hous­ton, Dallas and El Paso), Cali­for­nia (Los Angeles and San Francisco), Maryland (Baltimore), Washington, D.C., the Vir­ginias, Georgia (Atlanta), and Cen­tral and North Florida. Starting in 2011, the com­pany will also begin implementing dis­tribution efforts through KEHE Foods, Romeoville, Ill., and United Nat­ural Foods (UNFI), Providence, R.I.
As for Turbana, the introduction of the plantain chip is only the beginning. "We're experimenting with other types of fruits and vegetables to create new products for future growth," Escobar says. "We're planning to expand our line with one or two products every year to become the market leader in this product category."