Turtle Creek Casino & Hotel revamps its food and beverage program to entice gamers and local foodies to its updated steakhouse.
When Richard Hamper joined Turtle Creek Casino & Hotel five years ago as its director of food and beverage, he knew turning the program around would be no easy feat. "When I came in it was a casino that had a very poor reputation in the quality of food and service that was delivered," he remembers. "The food product was at best atrocious and throughout my 45 year career this was the most challenging operation I came into."
After decades of working for Ritz Carlton, Fairmont Hotels and the Wynn Las Vegas and Encore Resort in Las Vegas, Hamper was ready to come home to Michigan as he approaches the end of his career. "I always wanted to work in Vegas and I'm glad I did because as good as I thought I was coming from those first two hotel companies, I found out I was pretty good," he says. "I have never worked with finer professional people in my career than I did in Las Vegas. It was cutthroat and ultra competitive, but the grade of professionalism and creativity is unmatched."
A chance conversation with Turtle Creek CEO Richard Bailey turned into a job offer to be the new director of food and beverage, and Hamper accepted the challenge. "What a great opportunity for my last run to get this turned around," he says. "So far, we have moved in the right direction and I am satisfied with the results my team has produced."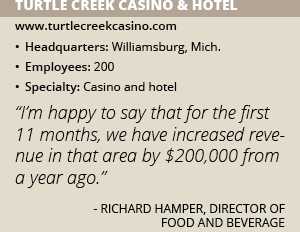 First Things First
Turtle Creek's culinary staff had little skill at the time Hamper joined the team. All food items were prepackaged and went into a steamer or deep fryer before being served in the buffet or steakhouse. "The grades of beef in the steakhouse were marginal at best and there was no consistency," Hamper says.
Based in Williamsburg, Mich., the pool of skilled employees is small and reduced even further by the fact that every employee must be at least 18 years old to work in the casino environment. Hamper overcame this obstacle by teaching his culinary team the skills they needed to succeed.
"What I did first was focus on the existing staff I had and developed the culinary team," he remembers. "We got rid of the prepackaged products and I hired a new executive chef from within who I worked with closely for the first two years. We wrote recipes together, trained staff, changed inventories and changed our food products. They weren't great, but they were getting pretty good and had the desire and passion to learn."
After getting the food right and his culinary team up to par, Hamper was able to become more creative with the food and beverage program by adjusting menus and remodeling the food outlets. "Today this food operation does about $6.5 million in revenue per year," he adds. "When I came onboard the net loss was almost $4 million a year."
Rewarding Remodels
Turtle Creek invested nearly $1 million in a complete remodel of its steakhouse, Bourbons 72. The steakhouse opened in June 2016 and is primed to host the casino's larger players and couples looking for a night out and unforgettable meal. "I'm happy to say that for the first 11 months, we have increased revenue in that area by $200,000 from a year ago," Hamper says. "We are really building a good, repeat guest base in that area."
Bourbons 72 features U.S. Foods Stock Yard Meat all prime grade hand-cut steaks and chops seared over an open flame and premium coastal seafood freshly prepared with contemporary flair. The steakhouse offers a unique pricing structure on its wine program, running a 50 percent markup rather than the 100 percent most restaurants charge. "We want guests to come in and have this great meal and be able to afford a bottle of really great wine along with it," Hamper says. "I didn't want it to be a wine museum with all these really great wines collecting dust – I want to sell the wines."
In addition to remodeling Bourbons 72, Turtle Creek plans to begin renovations next year on its other three food outlets: The Coffee Spoon, The Deli and Seasons. Seasons is a buffet offering breakfast and dinner, but after the remodel it will become a continuous service restaurant with breakfast, lunch and dinner menus as opposed to the buffet. "We don't have to have a buffet just because we are a casino," Hamper notes.
Turtle Creek is looking to transform The Deli into a bistro-type spot that continues to serve quick bites, getting customers their food in less than 10 minutes. The Coffee Spoon is located on the third floor of the casino, which is also the lobby level for the hotel, but Hamper says it may be relocated to the entrance of the casino. "We should increase business by about 30 percent because it will be a lot more visible to a lot more guests," he adds.
The Grand Traverse Band of Ottawa and Chippewa Indians, a federally recognized Native American tribe in northern Michigan, owns and operates Turtle Creek, as well as Leelanau Sands Casino and Lodge and The Grand Traverse Resort and Spa. Hamper says the tribe plans to continue keeping its product fresh, exciting and unique.