Two Brothers Brewing Co. brings people together around its food and brews with a new restaurant that showcases all of its talents.
When brothers Jim and Jason Ebel founded Two Brothers Brewing Co. 20 years ago, they did so with the goal that their beer would bring people together, spark conversations and enhance their experiences. "Having lived in Europe, I saw beer and wine as something that brought families together," Jim Ebel says. "I loved that people would talk, laugh and socialize over a meal while they were having a beer, and we were really interested in bringing that back to our company."
Ebel traveled Europe while studying abroad during college, an opportunity that allowed him to really discover beer. When he returned to the United States, craft beer wasn't what it is today – there was really nothing to speak of at the time. He began home brewing while Jason worked at a small brewery in Colorado. Then in 1996, the brothers opened Two Brothers Brewing.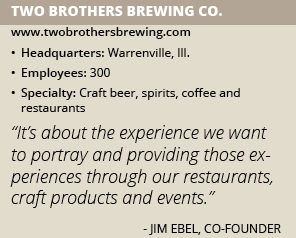 The Ebel brothers started with an $80,000 Small Business Administration loan and used modified dairy equipment to start brewing. "Twenty years ago, everyone was using dairy equipment that had been modified for brewing, and that's exactly what we did," Ebel explains. "Our grandpa was a dairy farmer and he had retired, so we went right to the barn and stole the dairy tanks. That was a huge help to us in getting this thing off the ground."
Today, Two Brothers Brewing specializes in craft beer, roasted coffee, spirits and restaurants. "I think we have an advantage today because of our heritage; we have a lot of history," Ebel says. "We have been around and kind of proved ourselves in a way. We are very involved in the communities we do business in and have had a lot of awards over the years at significant events – the Great American Beer Festival and the World Beer Cup – that portray the quality that we have."
A Brew and a Bite
Brewing was the only focus for Two Brothers Brewing for the first 10 years, despite how much the Ebels wanted to open a brewpub when they first started. "We quickly realized [when we started] none of us knew about the restaurant business and we didn't have the money," Ebel says. "After 10 years, we were able to buy the building [in Warrenville] we are in now and decided we would try a restaurant."
Located at the brewery, Two Brothers Tap House is a casual pub featuring elevated bar food made from scratch and all ingredients sourced within a 200-mile radius. "We use organic ground beef for our hamburgers and brine the brisket for our Reuben," Ebel says. "We are a scratch kitchen, so we make everything but the bread, mustard and ketchup."
Eight miles from the Tap House, Two Brothers Roundhouse opened in 2011 in Aurora, Ill., in a historic building. "We wanted to create a lot of distinction so people had a reason to move around between the two," Ebel says. "We created a lot of sharable small plates and more entrées instead of sandwiches. I love the small plates and think it goes back to creating interaction and experiences in the group. I think that's important."
In January 2015, Two Brothers Brewing opened Two Brothers Tap House & Brewery in Scottsdale, Ariz., which is a mix of qualities of both Illinois locations. The restaurant features more entrées and more closely resembles the Tap House restaurant, Ebel notes.
Something New
Two Brothers Brewing's restaurants have become a fairly significant part of the business, Ebel notes, which is why in September the company opened a fourth location in Naperville, Ill. The Craftsman By Two Brothers is completely different from its previous three restaurants and the focus is not on its craft beer.
"We have six draft lines in the whole building," Ebel says. "We decided we wanted to focus on food and other liquors, have a wine list that's more extensive than our other locations, and high-end farm-to-table food."
The three-story building allowed Two Brothers Brewing to create a distinct space on each level that shows off everything it makes. The ground floor features a bakery where the company makes all its own pastries, as well as a café. "Two Brothers Coffee Roasters started two years ago and is growing like crazy. The café is a great way to show off the coffee and introduce it to new people," Ebel adds.
The dining room on Craftsman's second floor features farm-to-table entrées, and the third floor is a cocktail lounge, which Ebel says is unique to Naperville. "We are getting ready to install our still for our new project that is going to be Two Brothers Artisan Spirits. That will be a great way to show off the spirits that will be available in the first quarter of next year," he adds.
In addition to developing its restaurants, Two Brothers Brewing recently purchased 20 vacant acres in Warrenville where it will build a campus from the ground up. The new space will allow the company to bring all of its production to one site, which it expects to start planning early next year.
The Craftsman has enough points to be LEED Gold certified and Two Brothers Brewing's new facility will be the ultimate in green building, Ebel says. "We buy all renewable energy at all our facilities, there is a lot of recycling, composting and paying extra for energy-efficient equipment, so it's something that we are passionate about and execute as much as we can," he adds. "We have never built a building from the ground up, so this is our opportunity and [the campus] will be the most extensive green building that we have built."
'Quality is Imperative'
"Quality is imperative; it should be expected. There is nothing special about quality anymore, and saying you stand out because of 'quality' is pretty meaningless now," Ebel says. "It's about the experience we want to portray and providing those experiences through our restaurants, craft products and events."
Two Brothers Brewing events are centered on giving back to the communities in which it operates. Its summer festival features food, beer and music, and all profits are donated to a local charity and the Make-A-Wish Foundation. The company in November hosted a celebrity bartending party where the profits also went to a local charity. "There are a lot of out-of-the-box thinkers for the types of events that get done," Ebel says. "We are always doing something; we are philanthropic and the events are a great way to support the community that supports us."
Moving forward, Two Brothers Brewing plans to maintain its craftsmanship in its coffee, beer and spirits, while continuing to focus on its restaurants, seeing a lot of potential for brewpubs across the country. "We love the challenge of it, are getting better at it and want to see that grow," Ebel says. "We have a couple places in Illinois and in Phoenix, Ariz., that we are researching to continue giving people the opportunity to experience Two Brothers."