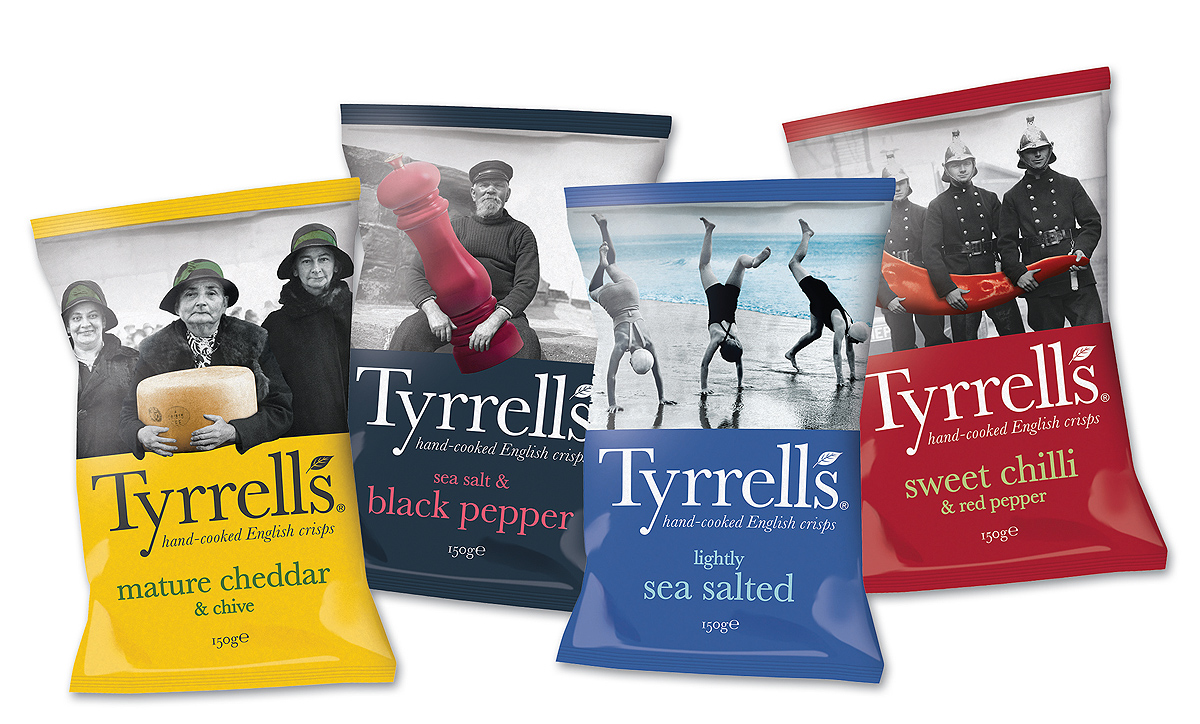 Exceedingly English
Sourced from the rich, red soils of Herefordshire and its surrounding area, Tyrrells' famously hand-cooked English crisps bring together first-rate flavours and peerless potatoes to create a variety of quality snacks
From its hop yards and apple orchards, to its tranquil hills and valleys, Herefordshire is a vibrant county that possesses arguably the finest countryside the UIK has to offer. It is here, among the
numerous rich fields and bustling pubs that one will find Tyrrells Court Farm, home to one of this country's fastest growing manufacturers of crisps, Tyrrells.
Planted and picked locally, typically within no more than a 30-mile radius, the potatoes that go into creating Tyrrell's range of crisp flavours are sliced, cooked and packed at its farm, always by hand in small batches, and with the skin left on. "As you will know, all potatoes are different, but what we do is pick those special varieties that we know fry well," explains Tyrrells' Marketing Director, Adam Draper. "We wash, chop and fry all of them, keeping the skins on, which results in a crunchier crisp when cooked.
"Where we differ our processes slightly is that we fry for longer, giving our crisps a very distinctive curl. From there we put the crisps through a centrifuge to dry and spin off any excess fat to give us a non-greasy product. From there we season the crisps with natural ingredients, before sealing them within foil lined bags to preserve freshness. We have continued to perfect the technology we use, investing around £2.5 million in new capital into our facilities, some of which was used to install straight line automation systems which have resulted in less broken crisps and better quality control across the board."
Flavour range
Over the years, the company has been bold enough to experiment with different ingredients, creating some unique flavours including black truffle and sea salt, Sunday best roast chicken, Aberdeen Angus beef and English mustard, and ham and cranberry. As Adam goes on to reveal, however, the more traditional flavours continue to hold their own when it comes to their consumer's preferences. "People have always had a preference for the staple crisps flavours of salted, sea salt and cider vinegar, and mature cheddar and chive, while we once went through a stage where we would literally try to make anything for anyone.
"We have since consolidated this somewhat, but what this means is that the flavours we do make are even better and have become strong sellers in their own right. The most recent example of this is our posh prawn cocktail flavour, which is the first premium version of one of the nation's favourite flavours and is exclusive to Waitrose, Ocado and select independent stores, and this has gone down extremely well indeed."
In recent years, Tyrrells has also extended its expertise into complementary snack categories, namely popcorn and vegetable crisps. In the case of the former, its Poshcorn offering has gained strong market penetration in what is an increasingly challenging market, while its range of vegetable crisp flavours, made from combinations of beetroot, parsnip, carrot and sweet potato, are
entirely unique to the industry and have made it the market leader in this segment.
Overseas expansion
In the UK, where the market for crisps continues to grow in size, Tyrrells has managed to remain a strong, respected brand name that is associated with quality products. The same is becoming increasingly true overseas, where the brand has been welcomed with open arms. "Today we can be found in every major supermarket in France, in major retailers across Germany, Belgium and the Netherlands, as well as the leading chain in Israel," Adam confirms.
Quality products
"The brand travels really well, with consumers in the aforementioned countries being attracted to the quirky, slightly posh and a little bit ridiculous British stereotype that we have no shame in playing upon," he continues. "Of course, more importantly than that, what we have is a fantastic product and that means more to people than the image we project. In addition to our export sales, we have also been successful in acquiring a business in Australia called Yarra Valley as well as German organic crisp makers Aroma Snacks, whose sales we have assimilated."
Since the turn of the year much has been made of the acquisition of the owners of Tyrrells, Amplify Snack Brands, by the American chocolate giant Hershey. Nevertheless, as Adam highlights, for the brand and its people it is a case of business as usual. "We have a great combination of our people, our brand and our embracing of innovation here, which naturally makes us a business in demand, but our focus is purely on meeting the needs of our customers and growing our market share. We have taken a big step in that direction with the launch of our first television advertising last year in the UK, and this year in France, and will continue by working closely with our customers as we pursue a future where we expand further across Europe and potentially in the United States as well."