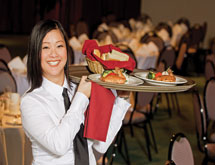 U.S. Foodservice – Milwaukee Division
One of the country's largest foodservice distributors believes it is successful in part through its dedication to offering service "beyond the plate." "To exist in today's world, showing up to the party isn't enough, you have to bring your 'A' game," U.S. Foodservice says. "You have to have unquestionable products and service. You have to fuse strong and enduring connections – with business partners and the communities in which they live."
The company offers more than 43,000 national, private label and signature brand items and other services to more than 250,000 customers.
The Rosemont, Ill.-based company employs 25,000 associates in more than 60 locations nationwide, including its Milwaukee regional office in Menomonee Falls, Wis.
U.S. Foodservice distributes food and related products to neighborhood restaurants, hospitals, schools, colleges and universities, hotels, government entities and others.
The company offers national, local and regional manufacturer brands as well as its own extensive product line.
"We are dedicated to being the most trusted, respected, knowledgeable and service-oriented partner one can choose," the company adds.
"We believe in making a difference and going beyond the plate to help customers win."
Range of Services
U.S. Foodservice knows the food service industry is tougher than it seems, so it strives to make business easier for its clients through a focus on service and problem solving.
"Our company helps operators, owners and managers meet and exceed the expectations of their guests on a daily basis," the company explains. "We specialize in giving [clients] the time to focus on guests by taking the guesswork out of distribution."
U.S. Foodservice offers customers help not only with their menu, but also with promotions, food safety, insight and trends, staff issues and other ways to generate traffic to their business.
In addition to its extensive food offerings, U.S. Foodservice also provides a wide array of related items including tableware and paper products, giving its customers a single source for all their needs, it says.
"Wherever your business falls in the foodservice sector, we have the knowledge, the products and the commitment to get you where you need to be," the company adds.
Training and Safety
U.S. Foodservice's food-handling processes are among the best in the industry, and far exceed federally mandated Hazard Analysis and Critical Control Points minimum standards.
"We protect our products throughout the entire distribution process, constantly checking to ensure the 'cold chain' is never compromised," the company says. "This is achieved through stringent standards such as Food Safety & Quality Assurance and our continual investment in food-safety technology."
The company also supports the National Restaurant Association Educational Foundation's ServSafe® Food Safety Training and Certification program, and offers its expertise to customers.
Healthy Choices
U.S. Foodservice's products include food and other items that are good for both eaters and the environment.
The company regularly monitors federal regulations regarding the food it provides to schools, and is able to react quickly to changes, it says.
"We know what's good for the student body," the company adds. "Our products include organic, vegetarian and vegan choices, as well as the latest in healthy products and school-friendly programs."
On the "green" side of things, U.S. Foodservice offers a line of products under its Monogram Sustain™ line that take a renewable resource approach to foodservice disposables.
"We're bullish on healthy sustainable products; they're good for the environment, good for producers and good for consumers," U.S. Foodservice says. "We hope to use our position in the industry to continue to plant the seed in our industry's agricultural, manufacturing and packaging practices."
Items in the Monogram Sustain™ line are made from corn, sugarcane or potatoes, and contain biodegradable, compostable, petroleum free, non-allergenic and nontoxic materials, it adds.