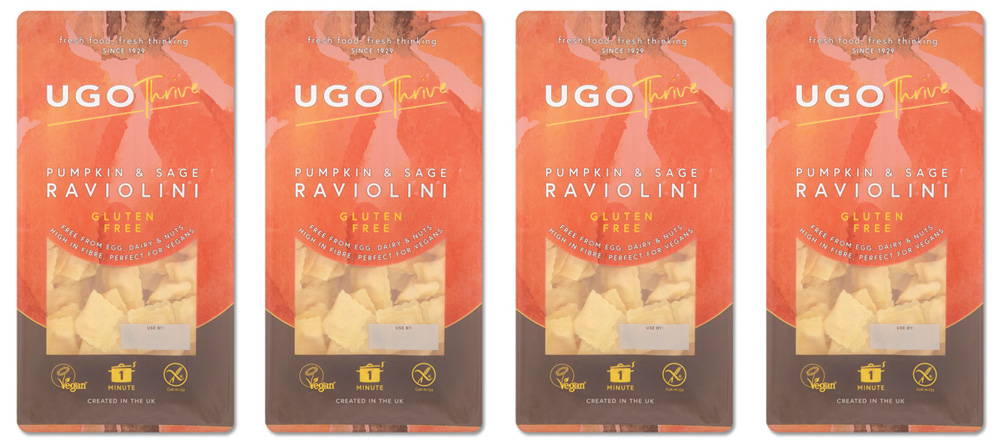 Fresh thinking
The UK's longest established fresh pasta and noodle company, Ugo Foods Group is now embarking on the next phase of its development with a new Chief Executive Officer appointed and exciting product innovations on the horizon
When Sophia Cooke, newly appointed Chief Executive Officer of Ugo Foods Group, describes the heritage of the business as 'incredible' she is certainly not lying. If anything, that word may even downplay the near 90-year history of the Ugo family and its involvement in the food industry. A story that began with a 14-year-old teenager by the name of Luigi Ugo leaving his home in Tortona, Italy, in 1921 to travel to London where he opened one of the few Italian Deli's in the UK, based in Gerrard Street, Soho, London. He started out by making fresh pasta by hand, selling to local hotels and restaurants, and ultimately led to the group being recognised today as the longest established fresh pasta and noodle company in the UK.
Sophia's own journey has seen her build up a wealth of knowledge and experience within the retail sector, formerly holding the position of Tesco's Head of Customer Strategy for its convenience foods division. "Throughout my career I have always found myself being drawn to interesting, unique and challenging opportunities, especially those in the food industry as it's a passion of mine," she states.
Moving forward
Such an opportunity arose when Sophia met Paul Ugo, whose own vision, passion and determination transformed Ugo Foods from a £300,000 business into a £20 million operation during his 25 years at the helm. Sophia first took on the role of Ugo Food Group's Commercial Director, and in the space of 18 months Sophia, Paul and the team made huge strides, all whilst Paul was mentoring and preparing her for the time she would step into the leadership role of this near century old family business.
Today, the business produces both private label and branded products, and encompasses its flagship pasta brand, Dell'Ugo, its wellness free-from brand Ugo Thrive, and Pan Asian brand soon about to launch. "Ugo Foods Group, and its respective brands, represents a completely unique offering in the chilled food arena," Sophia continues. "Thanks to the efforts of Paul and his dedicated team this is an exciting, innovative and fast-paced entity, one that does not have barriers to new concepts and ideas and is not afraid to take chances. What's more is that we are a company that employs genuine foodies, people with a passion for creating exceptional food of the highest quality."
Now firmly installed in her role as Chief Executive Officer, Sophia's attention is on how to take Ugo Foods Group forward, and that work begins with some exciting new products to come in the next few months. "For one thing," she explains, "we have our Ugo Thrive 'free-from' brand, which continues to win a number of major awards, and we will continue to leverage the success of this range to create products that are not just free-from the top 14 allergens, but have positive health benefits and, above all, taste delicious.
"We have had fantastic success with our vegan friendly products, including the launch of the first free-from pasta suitable for vegans within the Ugo Thrive range and the first premium filled naturally vegan pasta within our Dell'Ugo range. Meanwhile, within our Dell'Ugo gourmet range, we plan to launch several new high-end products, along the lines of our bestselling Crab and Crayfish Raviolo, and we want to further enhance the popularity of our pesto and bread products to help customers find superb quality, incredibly convenient meal solutions and brand experience."
Brand development
The company also continues to prosper from favourable consumer trends towards Asian foods, both through their Asian brand and its unique noodle recipe which they supply globally to the Wagamama chain of restaurants. "The Asian food side of the business is a real opportunity for us, and one with great potential to create products that are bang on trend."
Whilst Ugo Foods Group has celebrated fantastic success over the years, Sophia is convinced that there is even greater potential for further development. "To me, pasta remains something of an underutilised category, which has in part become very own label focused and commoditised," she says. "As such, we feel that there is still the opportunity to create a step change in the marketplace and we want to achieve this by focusing on our values, ethics and the quality of our pasta products as well as the huge benefits that come from our products being made in the UK.
"Supported by a wonderful set of family values, we create superb quality pasta, noodles and dumpling products, all made in our factory in the UK. We are constantly pushing the boundaries when it comes to our products, packaging and the way we do business, which has consistently been responsible and sustainable, and it is important for us to get our message out there as much as possible. There will be a big focus on driving the brands forward in the months ahead, constantly innovating along the way in the same way that has proven so successful for Paul and the rest of the Ugo family to date."
Paul Ugo added: "I am delighted that Sophia has taken on the role of CEO, to implement our strategy and vision for the company, which aims to cement us as a key player within the Chilled Foods industry. We are utilising the experience we've built up over the past 90 years and the state-of-the-art facilities that we have today to execute our ambitious growth plans and continue to consistently deliver quality. My son, Charlie, recently stepped into the role of Head of Operations, which is leading us into the Ugo family's 4th generation behind this incredible business. I will continue to have a strong presence, particularly around new product development and quality assurance."