Vegetarian, vegan, raw, semi-vegetarian, fruitarian, pescetarian, pollotarian, macrobiotic – who knows which college students are eating what this week or next? Factor in the propensity for experimentation with diets during college years, and how is a college dining program supposed to know what to serve?
UMass Dining Services solves this conundrum by offering healthy food from sustainable sources in great variety on its main campus in Amherst, Mass., and four smaller campuses. It serves four dining halls and a university club on the main campus, along with offering catering, a delivery express, several food trucks and stocking a convenience store.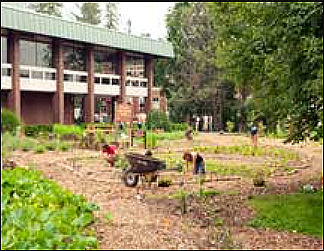 The second-largest college dining program in the country – Penn State is the first, says Ken Toong, UMass Dining Services executive director of auxiliary enterprises – UMass serves 28,000 students on campus, 16,075 of whom are on the campus meal plan. "We are one of the largest campus dining locations in the country in terms of revenue and the number of students on the meal plan," Toong maintains. "We serve over 40,000 meals a day."
UMass Dining Services does all this while supporting itself. "We do not get a penny from the college," Toong emphasizes. "We run the whole food business. Any profit we make, we put into service and into facility improvements."
These include continuing renovations of campus dining facilities. A new library café will be finished in April and another café finished next year. "Our students want a good place to eat and meet as it is a great way to build community," Toong points out. With his dining program being self-sufficient, he needs to attract customers as any other retail business does. Major renovations of six facilities are planned for the next six years.
Healthy Eating
Toong takes seriously his mission to keep his customers healthy in their parents' absence. Without directly insisting on the students' consumption of their vegetables, he provides fresh produce and whole grains throughout the campus on salad bars and in the recipes his chefs prepare. He also employs a dietician, strives to reduce students' sodium intake and promotes healthy fruit drinks. "We have a progressive campaign to ensure the food is good and good for them," Toong emphasizes.
To accomplish this and create interest, he relies on simple cooking and healthy eating. "We cut down the processing in the food preparation and use fresh ingredients and a lot of just-in-time cooking," he says. "We offer lots of choices." These include a world of cuisines, including many Asian ones, such as Cantonese, Malaysian, Japan­ese, Vietnamese, Mediterranean and others that use more vegetables and grain. He also invites guest chefs to the campus to prepare innovative dishes that provide variety for the students.
UMass Dining Services even publishes a cookbook. "Parents send us a couple hundred recipes a year," Toong maintains. Dining services also has 25 student ambassadors. "Fifty percent of the job is like a mystery shopper – nobody knows who they are," Toong maintains. "They talk to their friends on what they are looking for and make sure it's right and what they want."
Grow Your Own
Local sources are used for eggs, produce, free-range turkey, honey and maple syrup. The campus even has its own permaculture gardens and herb garden. "It's very important for us and the students to support the locals," Toong stresses.
There are two permaculture gardens on campus. The one-quarter-acre Frank­lin Permaculture garden – which was planted on a former campus lawn – is maintained for free by student volunteers, some of whom are studying horticulture and agriculture.
"We really appreciate support from everyone, because at one point, it's a piece of lawn, and then you change it not into a parking lot, but we changed it into a garden," Toong says. "It's just beautiful, and now it's become a tourist attraction. Our mission is to use it to get new students to tour the place."