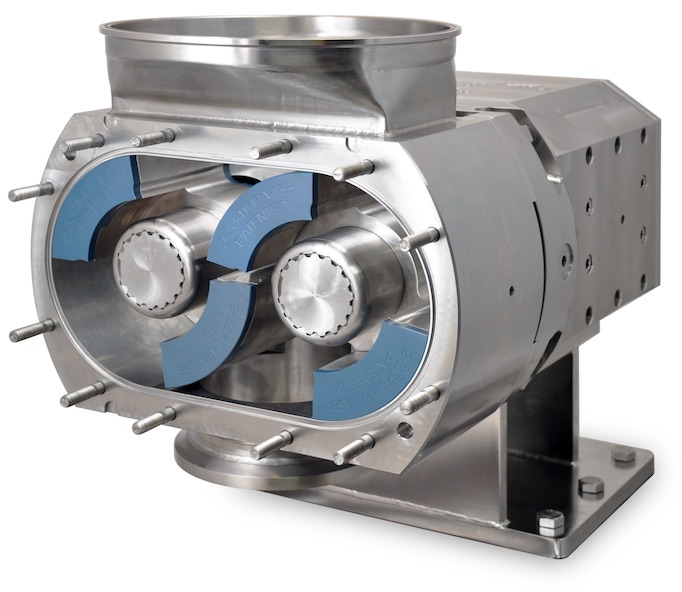 Unibloc-Pump leads its industry with innovation and strong customer service.
Unibloc-Pump is known primarily for its namesake product, but it also has a reputation for providing strong customer service. "There isn't a more ready, willing and able company than Unibloc," Southeastern Sales Associate Eric Soderstrom declares.
When people call the company about a question, they do not get transferred to multiple different departments. Instead, "You get answers," he says, adding that the longevity of Unibloc's employees enhance the client experience. "They have that one-on-one connection with our customer base."
Based in Marietta, Ga., Unibloc manufactures premium sanitary pumps, strainers and valves. Soderstrom's father, Harry Soderstrom, started the company more than 35 years ago and provided valves to clients in the pharmaceutical and biotech industries.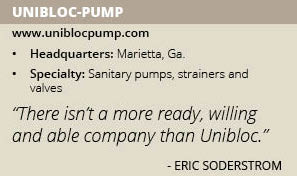 Although the firm enjoyed success, he noticed a demand for higher-quality pumps. "He pioneered the first, fully-machined, stainless steel pump," the younger Soderstrom says. This provided an advantage over previous pumps, which were partially made of cast iron.
"They would get rusty in any kind of moist environment," he recalls, noting that his father wanted to create a longer-lasting product that was made completely of stainless steel from front to back: "A high-end pump for high-purity applications." The pump also accommodated all of the sanitary needs of the pharmaceutical and biotech markets, which made it applicable in the food and beverage industries. "That became our signature product," Soderstrom says, adding that Unibloc sells to many OEMs that have become repeat clients.
"Once you sell it to them, [the pumps] do a lot of that heavy lifting for you," he says, adding that Unibloc's clients today also include Coca-Cola, Tyson Foods, and Nestlé Waters North America Inc. "Many breweries use our pumps as well. We are also moving towards being the leader in the sanitary food transport pump market."
Making it Simple
Soderstrom has worked for his father's company for nearly 12 years. "I grew up seeing these products," he recalls, adding that he helped the firm build its valves and pumps before going to college.
Another factor in Unibloc's success, he adds, is its focus on product quality, which has helped drive customer loyalty. "If you're good at what you do and stand behind your product, they'll come back," he says. "Once customers start using our pumps, they tend to keep using them."
He adds that Unibloc recently developed a new pump line that accommodates any seal type without modifications. "This allows one type of pump to handle almost any product or application," he says. "For example, a plant may have different products that require different seal types, and this allows us to offer one pump and maximize its versatility.
"That saves the customer a ton of money and simplifies the pump," he says. "That helps us simplify the process, reduce maintenance and the overall cost of ownership while maintaining up time."
Problem-Solvers
Unibloc operates with a business model that is focused on solving its customers' problems. "Oftentimes, that requires us to go off the beaten path to get results," Soderstrom says.
"If you want different results, you've got to do something different," he explains. "We're always a fan of going down the unbeaten path to solve problems across industries."
A recent example of that, was when the company aided its clients in the meat and poultry industry who were having problems with pumps that needed to be taken apart and cleaned every day. The process, he notes, can take its toll on the pump itself.
"So we developed our QuickStrip technology that allows you to take the pump apart without any tools at all, simplifying sanitation," Soderstrom says. "It greatly reduces the wear and tear on the pump. This makes our pumps more fine-tuned to handle rugged environments."
Driven to Succeed
Soderstrom is proud of Unibloc and how it has succeeded as a family owned company after nearly four decades. "I personally have watched it go from being a one-man show of my dad doing it on his own to a fully flourishing company that has an extremely bright future," he says.
He praises its team members, including Senior Applications Engineer Calle Danielsson, who was one of Unibloc's first employees. "He's been here longer than anyone else except Harry," Soderstrom says. "You won't find a more dedicated person that is truly driven to help customers."
Soderstrom sees more growth ahead for Unibloc, as it plans to expand its product line and grow its marketing efforts. Previously, the company relied heavily on word of mouth and the quality of its products to build its reputation.
"We're now looking out to go after things a little more aggressively and want to let people know we're a major player and we're here to stay," Soderstrom says, noting that Unibloc will lead with its innovations. "We have a lot of engineers that are going to make or tweak products to make them better or longer lasting."