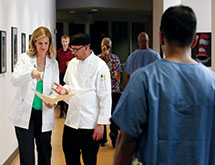 When Unidine developed its Fresh Food Pledge the dining management company had to think about what "fresh food" really was. Other businesses may stretch the definition, but for Unidine Founder and CEO Richard Schenkel it boiled down to the simple concept of cooking from scratch. "It's really what separates our brand and our competitor brands," he says. "It's the only way we operate our business."
The approach has led the Boston-based company to an average growth of 25 percent each of the past seven years. "When we started 14 years ago the movement toward wholeness and fresh wasn't as strong as it is today." Matching its customers' desire for healthy eating has driven much of that success. "We really are a disrupter in our industry," Schenkel adds.
Schenkel has spent his entire career in the food and dining management services industry. Prior to Unidine, he was CEO and president of a regional health care service management company and a food service management firm and held various executive level positions with two international health care service firms where he directed operations, sales and marketing. Through those roles, Schenkel identified a void in the marketplace in the late 1990s. After conducting market research, Schenkel took a leap of faith and in 2001 founded Unidine – initially known as Summit Dining Services – to provide dining management services with a commitment to fresh foods. From its start, Unidine was designed to provide a viable alternative to dining services for senior facilities and hospitals as Schenkel believed the global providers that dominated the market were utilizing a procurement-driven, one-size-fits-all approach that poorly represented the industry. By blending culinary artistry, clinical nutrition expertise, and strong management with the flexibility to customize each dining program for the community it serves, Unidine seeks to differentiate itself from its competitors.
While the company's roots are in Boston, early growth came from senior living communities in the Midwest and Mid-Atlantic, and expanded to hospital and corporate clients throughout the U.S. Today, Unidine manages locations in 22 states and the company serves approximately 40 million meals annually.
Unidine is privately held, which Schenkel says allows it to prioritize customers rather than shareholders. "We can operate with a different lens than our competitors and spend our time focused on clients," he says, adding management works directly with each client.
Schenkel attributes the company's success to three factors: being in the right market segments, a pure focus on food and dining service, and the ability to recruit the best employees.
In July 2014, Unidine acquired Food and Management Enterprises (FAME). This brought Unidine's business into the education market while increasing its footprint on the East Coast. FAME was a good fit for Unidine in terms of culture, Schenkel says, and the similarities have put new locations on a path toward adopting what is internally referred to as "The Unidine Way."
Multiple Markets
Providing dining services means Unidine must cater to a wide breadth of diners and client demographics. Eighty-five percent of clients are healthcare institutions and senior living facilities and the remaining 15 percent are corporate or educational. Customers include companies and organizations such as Trinity Senior Living Communities, Presence Life in Chicago, the Atlanta area's Northeast Georgia Health System and the U.S. Department of Labor. Unidine addresses the specific needs of each kind of client by segmenting the lines of business.
"It allows us to deliver the best resources for each market need," Schenkel explains. Senior living, for example, operates similarly to a wait staff and dining room experience, while the education and corporate accounts use a model that is more like retail. But regardless of the business segment, Schenkel says Unidine's aim is to be seen as a complement to the customer's operation. "We look for clients who value dining service as an amenity to their populations," he adds.
The Unidine Way
Unidine has developed its mission, values and culture around providing a high level of service that matches its quality foods. "The Unidine Way is how we want to lead our team members, how we want to convey our business and how we want to operate," Schenkel says of the philosophy.
Ingraining that culture into employees' working lives is critical to Schenkel. Every Unidine facility spends 10 minutes each day discussing culture and the founder himself preaches culture and the company's history at monthly orientation sessions. Schenkel believes stressing the importance of the mission helps to ensure consistent quality across the company. Each location has daily lineups – twice daily when there is a night shift – to convey culture, celebrate successes and discuss daily food preparation plans.
To enforce those standards, Unidine seeks out employees who have a passion for food and the background to match. "We want [chefs from] culinary schools and larger facilities that know what food quality is about," Schenkel explains.
The ingredients are just as much a part of that food quality as the cooking. Aside from peas and lima beans, Unidine uses no frozen ingredients. Beyond taste, Schenkel says that commitment creates a mindset that further informs what goes into each meal. Unidine's Oh So Good program expands upon healthy eating by meeting specific published nutrition guidelines
With 180 menus, each client can pick from a selection that best suits its needs. Unidine's operating system offers 20,000 recipes and 1,400 SKUs with locked order guides to ensure each location is requesting only items that meet Unidine's standards. To procure all those fresh ingredients, Unidine utilizes a segmented distribution network, buys all its produces from regional suppliers stretching across the nation and each location uses local dairy sources. Most other items are obtained through distributor Sysco.
Unidine's approach and commitment to fresh, quality foods has earned the company and Schenkel numerous recognitions. In 2011, Schenkel was named the Ernst & Young Entrepreneur of the Year for building an innovative, customer-centric organization. Clients also soon began being noticed for Unidine's food. The Long Term Care & Senior Living Link Conference honored Trinity Senior Living Communities with the 2013 Spirit of Innovation Award for the Puree with Purpose program, which the senior living group developed through a partnership with Unidine. In 2015, Unidine added another award as the company placed 14th on Food Management's Top 50 Contract Management Companies. Further, Unidine was ranked 38th in revenue and 39th fastest growing on the list of the largest private companies in Massachusetts in 2013.
Continued Expansion
As the company gets larger, Unidine is seeking new ways to improve its operations. A standardized point-of-sale system is rolling out and will be implemented in 80 to 100 locations by the end of the year. Schenkel says the system will help Unidine be more efficient at product movement, better move managers between locations and improve the handling of transactions.
With a footprint that now extends from Boston to Colorado, Unidine is reaching for its own manifest destiny as it finalizes plans to expand to the West Coast using its successful formula.
"We're looking to move to the $500 million and billion-dollar mark," Schenkel says.