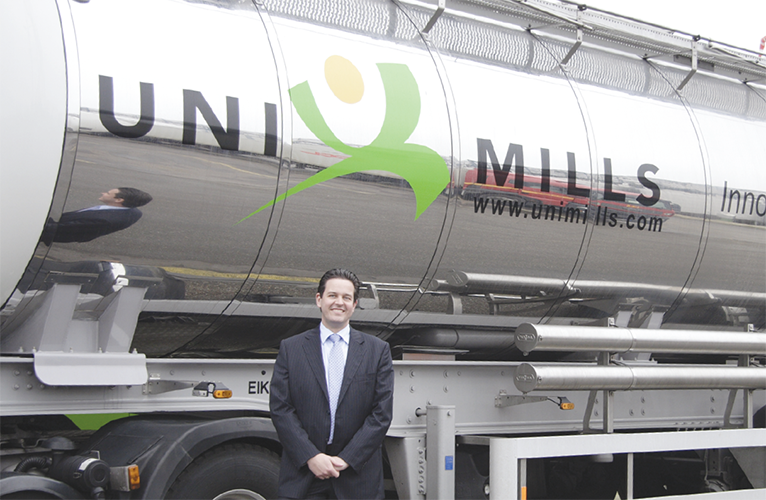 Sweet success
Launching a revolutionary product was Unimills' answer to its customers' demands
In every field of industry, there is one organisation whose name is the hallmark of ultimate achievement, setting the benchmark by which others in the field must be judged. Unimills BV, located in Zwijndrecht in the Netherlands, is today Europe's leading supplier of tailor-made vegetable oils producing more than 450,000 tonnes of products per year. The company has experienced a number of changes over recent decades but 2002 brought about the biggest change for Unimills when it was acquired by one of the top 20 companies listed on the Kuala Lumpur Stock Exchange, Golden Hope Plantations Berhad (GHPB). Owning 198,000ha of plantation land, the plantation giant, GHPB, has been at the forefront of the Malaysian plantation sector for nearly 163 years and is a global leader in sustainable plantations, commodities, oils and fats.
In June 2006, GHPB signed a four-year collaboration agreement with the Dutch Food Valley organisations led by NIZO food research. "This agreement will allow the customers of Unimills to tap into the unique food innovation expertise and facilities of the Food Valley organisations. Unimills can now offer effective innovative power as a codeveloper of new food products which fit into a healthy lifestyle. The agreement will boost innovation projects in the areas of margarines, spreads, bakery, spray-dried products and ice cream, resulting in shorter lead times and higher success rates than before," states Alexander van der Klauw, the general manager of Unimills.
He continues: "This is an important investment by a major Malaysian company into Food Valley, supporting the strategy of Unimills based on innovation, responsibility and partnership with our customers. We aim to excel as a co-developer of food products and to be the preferred supplier of tailor-made vegetable oil based ingredients. This agreement provides the food customers of Unimills unique innovative power; it combines the rich science-based expertise of our R&D people on fat physics, chemistry and processing with the famous food innovation expertise and state-of-the art food application facilities of Food Valley."
The first result of this collaboration was launched on August 29th 2006 by the brand name Cremex. Alexander comments: "With increasing demands from a number of our international customers for products, like ice cream, that have a positive effect on consumers' health, without them having to make concessions with regards to taste and enjoyment, we knew we needed to address this concern. Today most ice creams on the market are based on either coconut oil with a saturated fat level of 92 per cent or dairy butter with 63 per cent saturates and four per cent trans fat, Cremex products not only fit well with the healthier alternative trend but the use of Cremex products will now make it possible to make creamy ice creams with zero per cent trans fats.
"Nutritionists increasingly emphasise that the human body needs vegetable oils and fats, especially as they provide unsaturated fatty acids and they deliver the fat solubl vitamins A, D, E and K. Oils and fats are in most food products and are key in providing good taste and required texture, therefore, consumers don't tend to go for 'lite' products. What we are aiming for are new formulations based on healthy vegetable oils and fats that do have the right nutritional balance and simultaneously provide the desired taste and texture of foods.
"When we attended the Food Valley conference and the Health Ingredients Convention in Hanover, we offered guests to our booth two ice creams – one made from dairy fat and the other Cremex. The votes on which ice cream tasted the best were an equal 50-50. This not only means that there is hardly a difference in our Cremex ice cream, but we also that were successful in what we set out to achieve."
Alexander adds: "Being a part of GHPB means that we are the core business and in some cases, considered pioneers especially in our innovation process. Due to GHPB's long-term view, they have been supporting us in terms of investment and the Food Valley collaboration, their most recent support has been proving extremely successful. If you analysed the success rate of our projects, it's definitely a lot higher than it used to be, which is also a lot higher than the average in the industry. So if the current results of the collaboration is anything to go by, we will most probably extend the four-year agreement."
With thoughts on the future, Alexander highlights the condition of the market: "We see more separation between the companies that are working towards lowcost and those that are working towards more innovative products. I believe there will also be an increasing amount of partnerships formed with our customers because companies are losing their oils and fats expertise or finding that in order to take that next step in food development and design, they require more detailed knowledge on oils and fats – for the medium-sized players, this is a luxury they cannot afford to have on their payroll. I believe that the collaboration with Food Valley will continue long into the future and it will not only benefit us but also our customers and their consumers."