With new technology, United Restaurant Group has modernized its look and feel.
United Restaurant Group (URG) CEO Tony Grillo was no stranger to the restaurant and retail business when he decided to join the company in 1995. After holding management and buyer positions for Macy's on Herald Square in Manhattan, Grillo decided to try his hand in the culinary world. Partnering in a 300-seat upscale restaurant in the heart of Georgetown was just the beginning of a successful career in the food industry.
When the opportunity came up to partner with URG, an up-and-coming franchisee of TGI Fridays, Grillo took interest. "The organization really offered a culture that was a nice combination of entrepreneurship and corporate stability," Grillo recalls, who was a father of three young children at the time. "For me, it was a great opportunity to learn about franchising, so I took it."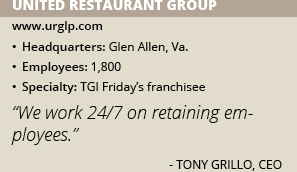 In 1995, Grillo found himself with 4 locations, all struggling with operations, brand standards and profitability. By implementing brand standards, creating a culture driven work environment, and stabilizing operations, URG has since grown to 27 locations throughout Delaware, Virginia, North Carolina and South Carolina. It is among the largest franchise groups within the TGI Fridays chain.
Rolling with the Times
Grillo says keeping URG nimble and flexible enough to keep up with guest's preferences in the ever-changing casual-dining space has been his biggest challenge. "I would say there has been an influx in fast-casual dining," Grillo notes. "Over the past five to seven years, there has been substantial increase in fast-casual outlets such as Chipotle and Panera, as opposed to more traditional casual dining such as TGI Fridays." Regardless of changing customer preferences, the goal remains the same. "We want to be the best operation under the TGI Fridays umbrella."
To maintain and expand their appeal to a broader group of potential customers, Grillo and URG have undertaken substantial steps to modernize the interiors and exteriors of its restaurants. In 2013, URG refinanced with GE Capital, consolidating debt and increasing capital for remodeling and technology upgrades, initiatives that are already starting to pay dividends.
The first noticeable change is technology. In keeping up with modern consumers, TGI Fridays was one of the first-casual dining groups to launch a smartphone app in 2014. This has allowed customers to not only pay their bills from their smartphones, but also place their entire order for pick up, and redeem valuable coupons right in the palm of their hand. Some locations within the URG system have also started to test different delivery apps, such as UberEATS.
Perhaps more significantly, URG recently signed a partnership agreement with OpenTable, the industry's largest on-line restaurant-reservation service. The service works well for URG's customers and restaurants. Customers can search for restaurants and reservations based on dates, times, cuisine and price range. For subscribing restaurants, it provides an electronic reservation book (ERB) that manages restaurant host stand operations. According to Grillo, this has opened up a whole new world of potential customers to TGI Fridays. Grillo has been told that 70 percent of OpenTable users are new to TGI Fridays.
People First
Grillo has long recognized the importance of a strong unified team, and makes every effort to make URG's employees feel welcome. "We work 24/7 on retaining employees," Grillo says. "We want to be the employer of choice throughout the mid-Atlantic. We recognize that a lot of our team members need flexible scheduling to accommodate school, family life, or second jobs. We work with them and adapt to their scheduling needs as much as possible. We try to adjust start times of our managers to allow for more family time."
Indeed, many people have been hired expecting temporary work, and have instead found careers with URG. "When it comes to looking for really good managers, we prefer promoting from within," Grillo says. "And if we find really good people, we do what we can to keep them." Grillo prides himself on having no shortage of strong tenured team members that have made URG what it is today.
Giving Back
United Restaurant Group prides itself in community involvement and giving back. Whether being a sponsor of a basketball camp for under privileged kids, hosting an event to raise awareness for our local wildlife, and even donating $30,000.00 last year to Share Our Strength, a national initiative that no child should ever be hungry. Grillo is always ready to share his successes. TGI Fridays is an internationally recognized brand, however, Tony Grillo's TGI Fridays are locally owned and operated and each member of his team is a member of his Fridays Family.
For Grillo, the reasons for URG's growth have been based on a simple philosophy. "All of the decisions we make are based on answering a simple question: 'What would the guest like?'" he says. Answering those questions accurately continues to help URG grow and evolve.