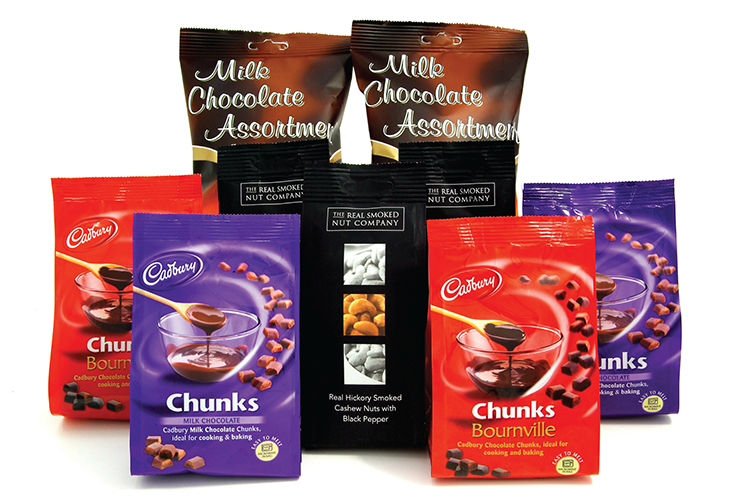 Universal Flexible Packaging
Top of the pops
Being at the forefront of industry innovations comes natural for Universal Flexible Packaging
Based in Leicester, Universal Flexible Packaging is one of Europe's leading providers of malleable packaging solutions. The business has established its position in a competitive market by offering quality customer service, and through a strong knowledge of the market. Initially starting as a supplier of film materials, demand steadily increased from clients to have their products packaged on location. Ten years later, the company prides itself on providing value-added services for customers, as its facility has everything needed located under one roof. With a commitment to innovation keeping Universal Flexible Packaging at the cutting edge of the market, the company's family-owned image gives confidence to a large array of clients, ranging from smaller suppliers to large businesses that need multiple packaging lines.
The company has grown from humble surroundings, as sales director Roger Williams comments: "When we started, about 14 years ago, from our managing director's garage, we focused on buying and selling printed flexible films; then we progressed and decided that in order to expand, we would need to rent some premises. One of our customers asked if we could pack the product as well, to save him time and costs. To meet this request, we invested in a vertical form fill machine and put it into our facilities. We have grown from there, moving from being purely a film supplier, to custom packaging of goods as well. Now, Universal Flexible Packaging has about eight machines
"We specialise mainly in food now, whereas before we focused on a number of areas," Roger continues. "We have EFSIS Higher Level accreditation to package and handle food, and we mainly concentrate on dry foods. This means items such as confectionary, pulses and snacks. We pack for major UK manufacturers and we also print for a large number of companies in both the UK and Ireland. The range of services that our business provides means that we are always in demand. Our global sourcing enables us to offer competitive prices throughout the UK. The business is always looking to develop and acquire the latest technological developments within the industry. Roger explains: "The business has acquired the new Amcor FlexCan, which is innovative, as this seems to be a factor that our clients request at the moment. Push-Pop is also another technique we specialise in; it is funshaped portion controlled pack, and it is basically useful in snack-on-the-go market as a potential desktop snack that makes it easier for customers to use.
"We are always open to the many innovations in the field of package design, so should a new approach arise that we are capable of utilising, then we will attempt to purchase the technology, or adapt the technique. The business recently developed the contract manufacture of popcorn but this is only the start of the story. We developed a tubbing line, where we can pack popcorn into tubs, thus accommodating one of the major multiples. I believe that following this there should be a period of stabilisation, where we get everything on stream that we have invested in, and reach some stability in the business."
This modernising approach to improve the competitive nature of the company has resulted in the agreement of a number of significant contracts, as Roger outlines: "We recently undertook a nut packing project for a major multiple which is always busy at this time of year, and which emphasises our open approach to market demands. We have eight machines here, and on occasion we will work on a project non-stop until it is finished. This dedication is vital to be successful in this industry. There is a lot going on at the moment that I can't elaborate on, but we will really take any job offered to us as we have the capabilities to complete any task that the customer sets.
"There are many opportunities in the market at the moment," he adds. "There are always people that have new products on the verge of being released, and clients that have packaging-related needs. I think the investments that we have made and the machinery that we have introduced will help Universal Flexible Packaging meet the developing requirements of the markets in which it deals. For instance, investing in the Push-Pop machine was a significant step, as we get a lot of clients that want to try different options in regards to packaging."
A significant aspect of the company's progress is focused on making Universal Flexible Packaging's output more environmentally friendly, as Roger explains: "The only way that the packaging industry can become more environmentally conscious is by concentrating on manufacturing films. There are all sorts of biodegradable films that you can get for packaging, along with many other uses. We are doing a lot towards highlighting the 'green' nature of the film and its applications, but it costs more at this time. We must educate the market in the true benefits of paying more, to get the better and more environmentally sound packaging."
However, there are other major challenges within the industry at this time. Roger elaborates on how Universal Flexible Packaging aims at responding to the conditions: "The company is always facing challenges. A major issue at this time is the cost of supplies such as films. Also, we have to face the challenge of competition from countries in the Far East, such as China. However, we feel that we can cope with that competition, primarily because of the service that we can offer, and the solutions we provide.
"I think that the main aim is to expand our services contract packing arm of the company. It would extend our one-stopshop service much further, and would help us to offer a more complete service. As we continue to monitor the market, then this sort of investment may happen in the coming years," Roger concludes.