University of Colorado Housing & Dining Services
Healthy brain foods include wild salmon, blueberries, green tea, coffee and dark chocolate. It is possible this is what the citizens of Boulder, Colo., are eating – for the past two years, Forbes has ranked Boulder, Colo., first among the 25 "smartest cities in America." Of course, students at the University of Colorado (CU) at Boulder know their brain food comes from the school's often-honored dining services program.
Just last year, Food Management magazine named CU's dining program the "Best of Show Winner" for its "innovative concepts, execution, menus and oversight." The menus are diverse, but maintain a high level of quality, and the school hosts a number of special food celebrations. Each month, for example, the school's Center for Community (C4C) hosts the Executive Chef's Table – a three-course meal with Dining Services' Executive Chef. CU explains the executive culinary team prepares a special menu that includes a number of items not featured in the regular menus, and limited seating is available. During one month, the menu included tapas of brie triangles with orange blossom aioli and gazpacho with garlic crostini; goat cheesecake with smoked tomato chutney and salad of fresh wrapped vegetables; flounder wrapped in potato, carrot sabayon, brussels sprouts with yams and fish quenelle; a vegetarian option of tofu wrapped in potato, carrot sabayon, brussels sprouts and yams; and key lime tartlets with passion fruit puree.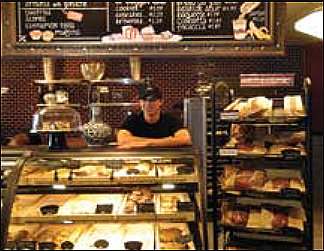 The dining services program explains these high-quality menus align with its values of continuous improvement, "passion in all we do" and great customer service.
"Housing & Dining Services is an innovative and transformative organization that creates dynamic residential living and learning communities using practices that are socially just and sustainable," the program explains. "We are characterized by our dedicated, knowledgeable and caring staff; our attractive facilities; exceptional dining experiences; state-of-the-art technology; and quality conference services. We promote experiences to support and challenge students to create the tools to build their lives and achieve academic success."
Green Goods
In naming Boulder the smartest city in America, Forbes cited its intelligent university population as well as the city's environmental awareness. CU is proud of its focus on environmental sustainability, and the housing and dining services program plays an important role in this, as well.
"CU is a campus highly committed to sustainability, and was even voted the Best Sustainable Campus by Sierra Magazine in 2009," the school says. "A variety of programs are in place to support this initiative in housing and dining services, and we continue to expand options each year."
For example, in terms of reducing waste, CU's housing and dining services collects pre- and post-consumer waste, along with used fryer oil, cardboard, glass and plastic. During the 2010-2011 school year, the department composted 143 tons of food waste, collected 4,533 gallons of used cooking oil (to create biodiesel fuel) and recycled more than 150 tons of cardboard, glass and plastic.
"Our campus is among the top in the nation for its sustainability, conservation focus, and environmental stewardship," CU says. "The campus' short-term goal is to achieve the Governor's "Greening of the State Government" executive order, setting targets for energy and water reductions, attaining zero waste and reducing petroleum consumption. Our long-term goal aims for a carbon-neutral campus, as stipulated in the Chancellor's pledge to American College and University President Climate Commitment."