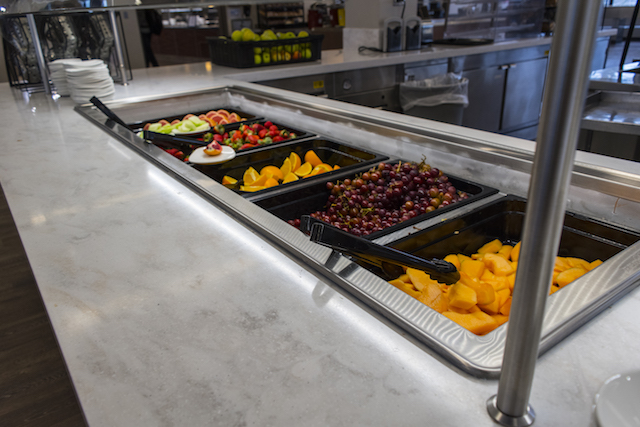 University of Michigan Dining
University of Michigan Dining: The nexus between campus food programs and ongoing student success.
At the University of Michigan, the school's dining program is focused on student success through education and engagement. The operation believes a partnership exists between all areas of the student experience — academics, social, housing — and Michigan Dining (MDining) has stepped up to help students as well. With nutrition, wellness, interesting choices and, of course, deliciousness as the focus, the program is using its team and resources to support students and customers in the way it knows best.
"We think student success includes wellness, nutrition and performance in all areas," says Steve Mangan, senior director, MDining. "It's important for all students to have the resources to meet their individual goals and successes. We also have to think about how dining supports the campus sustainability goals, and ask where is the nexus on community-building on campus, in Ann Arbor, in Michigan, nationally and internationally. The university has initiatives on equity and inclusion on campus, and we have a diverse staff, so we've looked at how best to engage with international students and student organizations. It's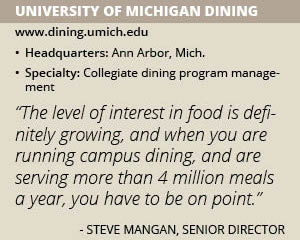 learning from all that and finding how to support academic partnerships."
MDining was established four years ago when all of the related departments consolidated into one in an effort to establish a "really strong dining program," according to Mangan. The operation has nine dining halls, as well as retail cafes and markets that provide gourmet coffee, made-to-order sandwiches, smoothies, pizza and fresh salads. Its branded concepts include Café 32 and JavaBlue coffee cafes, The Pantry, U-GO's, Victors market and Fireside Café, which features five restaurant platforms and a rotating entrée selection. Additionally, Fields Café opened in 2015 and is a farm-to-table restaurant offering handcrafted food made from fresh, locally and sustainably sourced ingredients.
The university has a database of more than 10,000 recipes using 40,000 ingredients, and daily offerings include gluten-free, halal, vegan and vegetarian selections. MHealthy dishes are designed to be lower in fat, sodium and sugar than traditional offerings, and MDining strives to deliver menu creations that serve diverse appetites and preferences with locally grown produce, meats and regional dairy.
"We have to have great food, wellness and nutrition to meet the needs of our students and customers," Mangan says. "This brings purpose and joy into the work. It also brings an aligned vision because we're starting to think about getting beyond just food to the nexus of the food program that makes for student success."
Increased Engagement
MDining wants to support students and the goals of the university, while also contributing to overall community improvements.
"We want MDining to be the Learning Lab for real life challenges and opportunities," Mangan says.
For example, the department is working with a professor in the School of Public Health to conduct research on sugary drinks vs. healthier drinks. Meanwhile, some of the university's engineering students are working with one of the dining program's equipment suppliers to study a new kind of microwave that is fueled by radio waves and is using a different frequency and level of energy.
MDining recently completed a case study with the business school regarding the department's procurement changes over the past few years. Because MDining employs thousands of students each year, it's working on other ways to bring the learning environment out of the classroom.
"We have to show our value on campus as well as to integrate ourselves with the bigger mission of the university," Mangan says. "That is the culture change we're looking for, and a lot of people see that, but we continue to evolve."
Part of MDining's visibility comes in part from changing how people think about food and sustainability. The department strives to be a leader in local procurement, as well as in waste management and recycling efforts, and it has hosted a number of "zero waste" events, according to Mangan. Additionally, MDining is making major inroads regarding catering on campus. Now, for example, the department caters a large convocation picnic for incoming freshmen, and it is helping students organize tailgates.
"Catering is a great tool to build community, educate on our sustainability goals, and engage campus partners at all levels," he explains.
"Students have an ever-growing knowledge and sophistication about food. They are looking for quality and are conscious of what they want. They are willing to spend for quality and will walk away from things that aren't meeting their needs. The level of interest in food is definitely growing, and when you are running campus dining, and are serving more than 4 million meals a year, you have to be on point. We want want to honor the diversity of our student population with authentic dishes to meet their individual ethnic and food choice needs."
Mangan notes that diversity, equality, inclusion and food security are major focuses for MDining, especially as it aligns with campus goals. "We are starting a food pantry and working with one of our student organizations to best determine how to support students who are food insecure," he explains. "But it's not just dining, we are taking an institutional approach by working with the dean of students, CAPS, university healthcare, the School of Public Health, student government and financial aid. We are starting to look at the cause and how we as a community can lead in innovative ways to reduce insecurity.
"It is key that we center on the institutional mission of supporting students and being engaged with the community," Mangan adds. "We look at our impact, not just locally but globally. That is part of the university's mission and the student life mission, and we have to find ways that food can align with that."