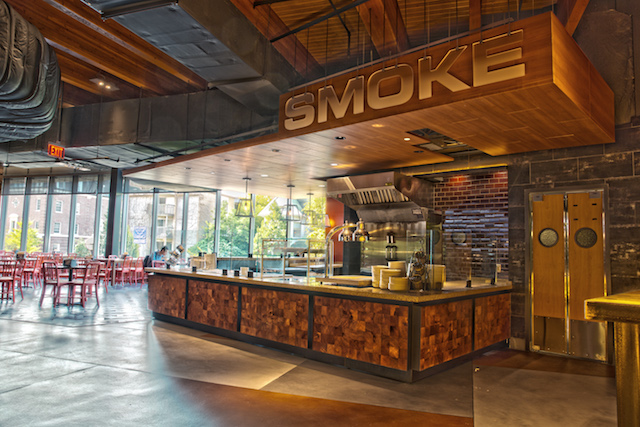 University of Michigan Dining
University of Michigan Dining envisions the next generation of collegiate dining as it focuses on designing a world-class dining hall and implementing new programs.
As the University of Michigan is considering the development of the next generation of collegiate dining halls they are considering developing programs that will integrate student success, diversity, equity and inclusion, food insecurity and new technology.
"The new dining hall will be there for decades to come. We have to consider what's ahead of us in technology, labor resources, and robotics" Senior Director of Dining Services Steve Mangan says. "We have to consider whether the systems we have now will take us into the future and how we start thinking about the use of technology, food production, catering systems and how they integrate together and remain flexible enough to be sustainable. The rate of change is rapid. We are looking at how we make decisions now that can be long lasting."
Michigan Dining (MDining) has evolved in the last five years from a transactional partnership with its students and customers to one that's transformative, where student success is at the center of its program and decision-making approach. The operation believes a partnership exists between all areas of the student experience. "We think student success includes wellness, nutrition and performance in all areas," Mangan says. "How can dining play a transformative role? We think about how food impacts their lifestyle, diet and if they will be interacting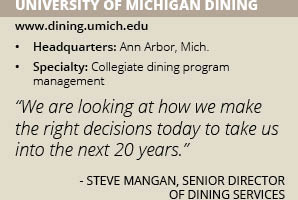 with food somewhere in their career." There is a nexus between food and the university's mission in the areas of sustainability, diversity, equity and inclusion, academic partnerships, community building and wellness and nutrition as it relates to academic performance. 
MDining has nine dining halls, as well as retail cafés and markets that provide gourmet coffee, made-to-order sandwiches, smoothies, pizza and fresh salads. Its branded concepts include Café 32 and JavaBlue coffee cafes, The Pantry, Maizie's Kitchen and Market, Blue Cafe and Market at Mosher Jordan and Fireside Café, which features five restaurant platforms and a rotating entrée selection. Fields Café opened in 2015 and is a farm-to-table restaurant offering handcrafted food made from fresh, locally and sustainably sourced ingredients.
The university has a database of more than 10,000 recipes using 40,000 ingredients, and daily offerings include gluten-free, halal, vegan and vegetarian selections. "Menus of Change, developed by Stanford University and the Culinary Institute of America, is a philosophy of reducing red meat consumption, increasing whole foods and plant-based meals to ensure health and wellness while balancing the environmental impact. We have moved in this direction allowing students better choices in regards to their individual food plans" says Keith Soster, director of student engagement and sustainability. 
 University of Michigan President Mark Schlissel established a carbon neutrality commission to look at how the university can become carbon neutral in the next 10 years. Knowing that food affects everything aligned with reducing waste, water and energy, MDining began working on understanding what carbon tracking looks like to become more sustainable while offering students healthier choices.
 "We see students interested in eating better, not only for health and wellness, but also to improve the environmental impact," Soster adds.
 Marketing Manager Kelly Guralew- ski agrees, adding that students overall are more comfortable and willing to share their thoughts and opinions. "They are coming to the leadership team to talk about how food can impact the environment and what we can do to balance food consumption with the environment," she says. "They have a voice and are willing to come talk to us and make changes on campus."
Revamping Retail
MDining retail and catering division will implement Sustainable Mondays this fall, following a successful implementation in residential dining. The focus on plant-based proteins and food items to provide students an opportunity to try new things they wouldn't normally choose. The division also developed a low-carbon impact menu to bring greater awareness among faculty and students.
Michigan Dining opened a new café in June at the University of Michigan Museum of Art and will open its major catering outlet in the newly renovated Michigan Union. In addition, MDining will launch a fast-casual burger concept and Union Blue Market, which will be a new take on c-stores.
In the engineering building robotics department, a new café will open in February that will showcase technology-forward programs and be the incubator for technology in the food program, says Autumn Battin-Flores, senior associate director of retail and catering. "Traditional service will be offered during the day and in the evening, it will transition into a self-operated approach," she adds. "We are working with the faculty to explore robotic delivery around campus that will be homegrown from within the university's engineering department."
The University of Michigan developed a global chef program a year ago, inviting chef experts in world cuisine to come to campus and train our team on authentic techniques and production. "There are several benefits to this concept,"  Battin-Flores says. "Some students welcome the flavors from home, while others get to experience food they might not have tried before. Collectively we're building community and engagement. All of this supports our diversity, equity and inclusion efforts."
In alignment with the University of Michigan's goals of diversity, equity and inclusion, MDining in collaboration with cultural organizations on campus celebrate heritage months and engages students of different ethnicities and the catering staff to develop tastings and authentic menus. "We have been using internal teams and chefs that have either come from different areas or countries to provide authentic experiences to the students," Battin-Flores says. "In addition, it also gives experience to the staff to be able to create something different."
There are also sustainability wins, as well. "Many international dishes are plant forward, which touches on the reduction of greenhouse gases, reduction of red meat consumption, increasing vegetables and plant-based proteins, and ultimately improving health and wellness," Soster adds.
World-Class Dining Hall
MDining is in preliminary discussions for building a new dining hall on campus that it envisions as the model for the future of collegiate dining. The university will build the new dining hall paying close attention to sustainable construction and materials, as well as energy usage, water conservation and minimization of food waste.
For the dining program, Mangan envisions an electric kitchen, using solar and wind generated power, of which Michigan has a significant amount. The university is also looking to determine how it can deliver the same level of quality with fewer people as labor issues and recruitment remain a concern. "We will work towards a more efficient design, and piloting things like robotics now will help with decision making in the future," Mangan says. "We will also look at a different approach to commissary and central production, which will be in the equation as we design this dining hall."
For example, the food halls today have a significant number of grill stations being manned, which Mangan says is inefficient. "We envision moving into something where there is a central cooking station – one that is still transparent," he adds. "These are all things that will come to the fore when we start designing the new dining hall."
As plans for the dining hall move forward, MDining will focus on its mission of inclusivity, supporting academic partnerships and student input as it expects the structure to be a collaboration among all sustainable parties on campus.