University of Nevada Dining Service
In the past, the dreaded "freshman 15" was almost a big a source of concern for college students as their grades. On their own for the first time in their lives, young adults confronted with the freedom of college life stood the risk of gaining additional weight from a steady diet of pizza and breakfast cereal. Today, however, young people are better informed about proper nutrition, and college dining programs are working hard to give them the opportunities to make the best dietary choices.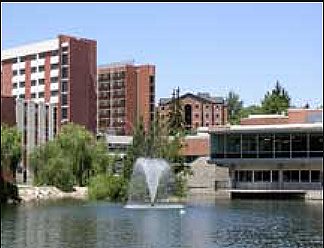 One example of this trend can be found on the campus of the University of Nevada in Reno, Nev. There, Director Russ Meyer says the university has worked to provide students with healthy choices while still providing them with the option of good old-fashioned comfort food. Meyer says the university has invested heavily in upgrading and updating its dining options in its residential dining hall as well as its eight retail locations so that it can better serve the 2,200 students it feeds daily. In addition to the growing emphasis on healthy eating, Meyer says the university also is reacting to the growing prevalence of food allergy issues among its students. The end result, he says, is a program with greater diversity and better overall choices for students.
More Options
Meyer says the changes that are going on at the University of Nevada all begin with listening to students and finding out what they need and want from the dining program. "We have a resident dining committee that meets every other week, and I think at every meeting there's a menu item that we add," Meyer says.
The two biggest trends affecting the university's dining program today are providing healthier options and addressing special dietary requirements. "Especially in our resident dining program, we are starting to see a lot more food-sensitivity issues," Meyer says.
To help students who have specific food allergy issues, the university has instituted filters on its online menu. This way, a student who has a gluten allergy can choose the option to see only those menu items that are gluten-free.
As far as healthier menu options are concerned, Meyer says the university has been careful not to establish a specific "healthy" menu, but rather fold those menu items into the regular menu. The university also has expanded the number of vegetarian and vegan options for students. "The difficulty is that students still want to eat burgers, pizza and chicken fingers," Meyer says.
Fresher and Faster
Another trend that is being reflected in the university's dining options is the move toward fresher foods. Meyer says today's college students have greater expectations for fresh food than previous generations, to the point at which they will pass up wrapped sandwiches in a cold case, even if the sandwiches were made less than an hour beforehand. "If they don't see it being made, they don't consider it fresh," he says.
In response to this, the university has tweaked some areas of its dining service while overhauling others. Meyer says certain areas of food prep have been remodeled to allow students to watch their food being prepared. In other cases, premade sandwiches are being wrapped with the tops of the buns not quite completely on the sandwich. Meyer says this gives the students a clearer impression that the sandwiches were indeed just made. "We've had to get a little creative in the way that we present food when we can't make it in front of a student," he says.
The university also is incorporating more fresh foods in another way. Meyer says it is working with local fruit and vegetable producers to establish a greenhouse on campus where produce can be grown. Not only will this produce be fresher, Meyer says, but it will help reduce the university's carbon footprint by reducing shipping times. "We hope to be able to take advantage of a lot of what they grow," he says.
With constant improvements being made to the menu, the University of Nevada's dining program is working on making improvements to its physical locations, as well. Meyer says its retail locations are in the process of being revamped, with many areas being reworked to incorporate more made-to-order fresh foods as well as improve existing services. "We've really had to focus on how to serve people faster so we can serve more of them," he says.