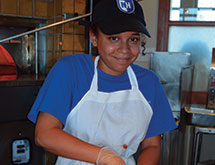 University of New Hampshire Dining
University students sometimes have difficulty planning ahead. Their meal plan is to eat. But at the University of New Hampshire in Durham, nearly 11,000 out of approximately 13,500 students – 80 percent of them – participate in the variety of meal plans available there. "The typical school participation for meal plans is 50 percent," Director of Dining Hall Operations Jon Plodzik maintains.
Only 5,800 students live in dormitories on campus. The rest live in apartments with kitchens, but they still eat on-campus. Out of a total of approximately 2,000 faculty and staff, 482 are enrolled in a meal plan. "They might buy 150 entries in the dining hall for a price," Plodzik explains. "We do a payroll deduction and take the cost of the plan over eight paychecks. So it's a great value for them. We have our regulars that come every night."
Some community members living in the area who are retired faculty members also have meal plans. "We attract so many people that we are adding another 360 seats onto our main dining hall, Holloway Commons or 'HoCo,' over this summer and into the fall," Plodzik says.
"People are blown away the first time they come in by the number of choices that they have," he declares. "This is nowhere near what college dining used to be. This is a whole different game. We're really known for our allergen-safe options. We have a station here on campus that is open to everybody which eliminates all the major allergens and gluten with a full menu."
Other dining facilities on campus include Philbrook Hall, which has the allergen-friendly station, a Mongolian Grill and late-night dining at Philly. Stillings Hall has rotisserie selections, a Sunday wing night, deli sandwiches, pizza and a vegan station. The Dairy Bar, located in a restored train station, serves ice cream and breakfast and lunch items.
Continuous Food
A feature of University of New Hampshire Dining is its continuous serving of food from opening at 7:15 a.m. to the last dining hall closing at 11 p.m. "Breakfast runs right into lunch, lunch into dinner, and we keep going," Plodzik says. "It's very much like a cruise ship. Because we're open continuously and because it's unlimited, we have a lot of depth in our menu. Each property has a chef that is responsible for the menu in their venue, and they report to a gentleman who works for me – the assistant director of culinary."
Variety is the spice of each dining hall. "Each chef has the ability to sprinkle in a lot of their own flavor of what they like to have," Plodzik says. "Each property runs a different menu cycle, so there's never a reason to say Wednesday is mac and cheese in every dining hall. It never happens for us because the chefs make their own menu cycles."
Another unique feature of the university's dining halls is that they all are run as buffets. "Some components are assembled for diners, such as the stir fry bar is made-to-order, but almost everything is not preportioned service – they help themselves," Plodzik says.
The advantage of the buffet style is lower labor costs. "Over time, diners do moderate themselves so they don't overeat – occasionally people abuse it – but for the most part, people take a standard portion to begin with," he says.
'Really Good Negotiators'
University of New Hampshire Dining uses software to project its food usage. Plodzik reports that his food costs are approximately $9 million this year to serve 80,000 meals weekly and rising at an all-time high year-over-year of approximately 6 percent. "The way we deal with that is two-fold," Plodzik says. "One is about the product specifications and being really good negotiators with a lot of our vendors so we get the best price upfront. We have so much volume coming through the program, that allows us to set up rebates and preferred pricing.
"The other is menu management and the menu grid," he notes. "So we know we run shrimp on our menu every single day in the stir fry. The way to control that is we build it in as a regular so they get used to it and don't overconsume it."
The program is not a loss leader. "Foodservice is self-sufficient," Plodzik maintains. "It contributes a fair amount back to the university to cover overhead."
Plodzik intends to focus more on ethnic dishes for the increasing number of students from abroad and adding more retail food locations to campus, along with remodeling.
He attributes the success of foodservice to its culture, such as a recent company outing to a trampoline park. "One of the things that separates our program from a lot is that people genuinely enjoy working in this venue," he asserts. "It comes from a management style where individuals feel they have a voice and are valued. I think it's a very subtle but significant difference."