Plant-based progress
Aiming to elevate the nostalgic flavors of traditional New York delis, Unreal Deli pioneers a new kind of plant-based meat alternative, made entirely out of whole foods
With its emerging range of plant-based meat alternatives, Unreal Deli puts a twist on your traditional family business. In 1907, Morris Gross immigrated to the US from Romania, and began working in a traditional New York deli. The establishment remained in his family for three generations and, with his great-granddaughter, Mrs. Jenny Goldfarb, has found a new lease on life as the vegan and kosher-friendly Unreal Deli.
Finding its place at the center of an emerging market in the food industry, Unreal Deli is the leading providers of premium vegan deli meats across the US. The company has recently been named the 'Best Plant-Based Meat From Fast Food Chains' by Thrillist, and was ranked as the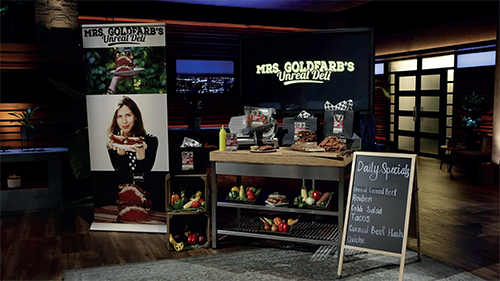 highest-selling meatless deli meat by Amazon.
The enterprise first began with Founder and CEO Jenny Goldfarb's move to California, where she discovered the benefits of a vegan diet, but still pined for the New York deli flavors that she remembered from her childhood. "What started in Jenny Goldfarb's home kitchen made its way to [the American reality show,] Shark Tank, and is now in thousands of nationwide grocery stores, old school delis, sub shops, and cool sandwich chains," reveals Ally Iseman, Director of Marketing & PR for Unreal Deli.
Impressive recipes
By breaking into numerous markets, from independent shops to fast-food chains, Unreal Deli proves the versatility and quality of its products; the company now offers three different kinds of delicious plant-based deli meat alternatives. "Our flagship product, Unreal Corn'd Beef, was the first commercially available vegan corned beef on the market," confirms Iseman.
"We quickly made sure to follow that up with our Unreal Roasted Turk'y, and this year's release of our brand-new Unreal Steak Slices, as announced by Forbes magazine," she adds.
As shown on the company's website, all three of the Unreal Deli meat alternatives are perfect for traditional deli-style sandwiches, complete with a sub roll, lettuce and tomato. There are, however, many more ways to use Unreal Deli meats, as showcased by the company's impressive selection of recipes.
From the seasonal 'Thanksgiving Sammie', topped with Unreal Deli Turk'y, vegan gravy and spinach, to the signature 'Corn'd Beef Hash', there are plenty of options to choose from when incorporating this meat-free alternative into everyday meals. In addition to its selection of recipes, Unreal Deli offers insight into how to cook with specifically vegan and kosher ingredients to support those transitioning to a meat-free diet.
It is clear that Unreal Deli values great tasting food, but it is also passionate about whole-foods. "Using only whole ingredients that you can pronounce, we're here to prove that the best deli is now made from plants.
"We use locally sourced ingredients that are recognizable to everyone – no chemistry degree needed to know what goes into our slices! We offer meat from a farm, not a factory, and all of our products are vegan and kosher," states Iseman.
Recent food trends have seen a rising demand for food transparency; this includes locally sourced goods produced under ethically maintained and operated circumstances. As Goldfarb notes: "We work to have meaningful relationships with our suppliers. Buying from the US, we always know where our crops come from, and increasingly, we work to secure local, whole vegetables and protein-rich grains from organic sources when possible."
As it aims to make plant-based foods more transparent, Unreal Deli also works to reduce the consumption of animal products more broadly. "Our ongoing growth is the result of a clear mission, which is driven by the desire to save our health, the health of our planet, and the lives of our animal friends," Iseman asserts.
"Even PETA has taken notice, naming Unreal Deli as one of their top plant-based deli slices. Made with premium, whole ingredients sourced from local farms, our company is committed to showing the world that the finest deli requires no compromise," Goldfarb adds.
New York roots
Whilst the company is no doubt bolstered by its broader mission to promote socially responsible food consumption, Unreal Deli would not be the same without its founder, as Iseman observes: "Another driving force behind the success of Unreal Deli is the tenacity and inventiveness of Mrs. Goldfarb, who, in addition to being a hard-working mother of three, runs multiple manufacturing plants and oversees the Unreal Deli operation. Backed by over 100 years of family deli history, her New York roots are what truly bring this product line to life.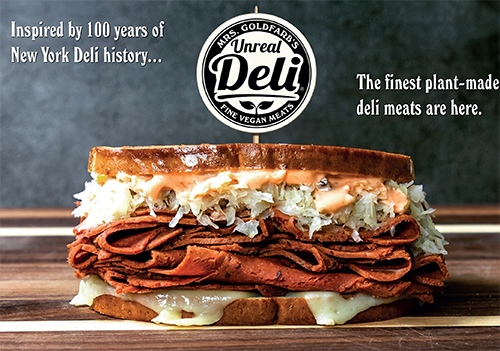 "In addition, the quality of our products keeps the company growing at an exponential rate. Good food speaks for itself, and our founder's growing legion of adoring fans all around the country just proves how good our products are," she continues.
Unreal Deli meats have seen a rise in popularity since the company established itself in 2019. The meat-free slices are currently available in a number of retailers across the country, as Goldfarb summarizes: "We're currently available in well over 1000 retail locations nationwide, including but not limited to: H-E-B, Giant Food, Ralph's, Wegmans, ShopRite, Albertson's, select regions of Whole Foods, and more.
"We expect that our retail footprint will more than double in size when we announce our newest retail launch in early December, with our biggest grocery partner yet," she adds, alluding to further exciting developments for Unreal Deli in the not-so-distant future.
Now reaping the rewards of its dedication to home cooking, great-tasting foods and ethical production, Unreal Deli moves into a new manufacturing facility. "What started in my home kitchen is now moving into its first 25,000-sq-ft plant in LA," Goldfarb announces.
"Our operations there will be up and running by the end of 2022. We will also be setting up some east coast manufacturing, and following on from that, we are looking to expand into international manufacturing."
New chapter
Growing alongside the company is its dedicated team of meat-free fanatics, who are just as invested in the mission of Unreal Deli as its founder. "We all participate in our Employee Stock Ownership Plan, so everyone feels like they're invested in a piece of Unreal Deli," Goldfarb explains.
"We also understand that our employees are real people, who require benefits and time off so they can be satisfied with their work-life balance," she mentions, highlighting the importance of a healthy and positive company culture within Unreal Deli.
Having established itself as a main player in the whole-food revolution, and the movement toward plant-based diets, Unreal Deli now sets its sights on further expansion. "We are working on new meats in different flavors. We want to grow our range so that our customers can access a more diversified selection when it comes to healthy plant-based alternatives.
"We are also looking to get into thousands more service delis and restaurant locations. Beyond that, even, we are looking at international distribution," details Goldfarb.
It is clear that the Unreal Deli story is just beginning. Based on 100 years' worth of New York deli heritage, the company continues to stay true to its roots whilst also opening a new chapter. As Goldfarb confides: "In the future, we see Unreal Deli as a multinational corporation, with production across the globe. We also hope to continue serving satisfying sandwiches in restaurants, retailers, and everywhere in between.
"Anyone who enjoys Unreal Deli directly contributes to climate sustainability, animal welfare, and global health. Eat good, feel good, and do good," she concludes.
www.unrealdeli.com