Food-cutting technology specialists Urschel Laboratories Inc. opens a more than $100 million facility for further growth.
Frozen French fries, vegetables and a host of other packaged foods are typically sliced, diced or shredded before they find their way to grocery and convenience stores shelves. Many of the machines used to perform those functions are designed and manufactured by Urschel Laboratories Inc.
The company specializes in food-cutting technology that is used by some of the largest food manufacturers including Frito-Lay, Campbell Soup, Tyson Foods and ConAgra Foods. Numerous small grocery stores also purchase Urschel Laboratories' equipment to produce deli products, such as potato salad. "The product is large when it goes into our machines and small when it comes out," CEO Patrick Urschel says.
Urschel Laboratories has about 6,000 domestic clients located throughout the country. The company also maintains sales offices in Europe, Asia and South America to oversee its international trade, which makes up more than 50 percent of its business, Urschel says. The company sells its food-cutting technology in approximately 120 countries, he says. The company manufacturers about 50 precision-engineered reduction machines designed to slice, dice and shred numerous food products. It also produces machinery used in the pharmaceutical and chemical markets. "The vast majority of our market is food," Urschel says.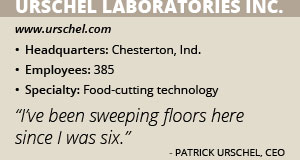 Urschel Laboratories sells the bulk of its machinery to three food industry segments: companies that produce fresh-cut fruits and vegetables, meat and cheese producers, and bakery and snack companies, Urschel says. In the meat industry, for example, Urschel Laboratories provides the machinery used to slice bacon, cured ham, liver, lobster, pepperoni, hot dogs and table-ready meats. The snack industry uses the company's equipment to process nuts or potato chips. Indeed, potatoes make up a significant part of the company's business, as it provides the machinery used to produce crinkle-cut and waffle-cut fries, Urschel notes.
Four Generations Strong
Urschel Laboratories is a fourth-generation company founded in 1910. "My great-grandfather William founded this company," says Urschel, who has served as CEO for four years but has worked in other capacities for nearly two decades. "I've been sweeping floors here since I was six."
Urschel's father, Bob, preceded him as CEO and remains active with the company, serving as chairman of the board. Urschel Laboratories got its start when William Urschel invented a gooseberry destemmer, a hand-cranked machine designed to save harvesters time. He established the Urschel Gooseberry Snipper Factory in a small shop next to the family's kitchen and sold the machines to Michigan canners.
Gooseberry stems and blossom ends had been removed manually up to this time. One Gooseberry Snipper could do the work of 100 workers. William Urschel's sons, Joe and Gerald, began designing food-cutting machinery and were awarded with more than 70 patents during their lifetime.
Significant Growth
Urschel Laboratories opened a $104 million, 385,000 square-foot facility in August 2015 on 160 acres in Chesterton, Ind., after realizing it could no longer expand the previous manufacturing plant in nearby Valparaiso. That facility opened in 1957 and underwent 28 expansions, Urschel recalls. "We were landlocked in that location," Urschel says. "After several months of debate, we decided a new location was best."
The new facility offers room for future growth and provides more space for each department. "We've enjoyed steady growth for decades," Urschel says. "Each department is 40 percent larger. We have a lot of extra floor space, which will allow us to invest in new manufacturing technologies."
Urschel Laboratories is an expert in more than designing and manufacturing food-cutting machines. The company tests machines for clients to ensure the application is properly suited to meet their needs. Additionally, technicians work in-plant with customers to help develop specialized solutions. Urschel also offers technical training via the phone. The company also maintains approximately 16,000 spare parts in its inventory.
A repair services team thoroughly inspects and repairs damaged or worn parts such as gear boxes, crosscut spindles, Comitrol® spindles and impellers, and sharpens Urschel knives. "We can supply all parts, even for our older machines," Urschel says. "We have a pretty vast spare-parts inventory."
Urschel Laboratories does face competition, but most rivals typically specialize in manufacturing machines for a single sector in the food market. The company's closest competitor is located in Belgium, but the gulf between the two companies is wide. "We do more European business than they do worldwide," he says.