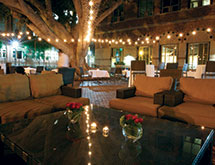 The University of Southern California's (USC) hospitality department understands that students, faculty and visitors are not there just to eat. But that doesn't mean the foodservice available to them on the campus is simply rudimentary or low quality.
"People come here to learn, but our food, beverage and event service mission is to create the best experience possible for people while they are here on campus," Assistant Vice President of Retail Operations Kris Klinger says. "We really try to differentiate the venues we have here from other campuses and schools. The depth and breadth and complexity of things we do and offer to our campus community is above what other campuses provide."
USC Hospitality operates residential dining halls as well as restaurants and retail cafes located in USC's Tutor Campus Center and select academic buildings. The department's offerings include concepts unique to the university as well as franchises such as Starbucks, California Pizza Kitchen and Panda Express. "Not a lot of campuses have restaurants at the level we have that offer unique food and beverage options," he adds. "We've created concepts and business plans for each of our non-franchise restaurants that allow us to be clear on the kind of experience each provides."
The department regularly examines its concepts and adds food and beverage offerings to dining halls and restaurants based on student interest and dietary needs. This includes offering vegan and gluten-free options as well as "allergy-free zones." "We are intentional and strategic in what we do and make sure we're accommodating as many different demographics and needs as possible," Klinger says.
In addition to its catering and restaurant offerings, USC Hospitality also operates a Radisson Hotel on the campus. "We're very proud that our offerings enhance the USC experience," he adds.
New Concepts
One of USC's restaurants, Moreton Fig, offers seasonal farm-to-table cuisine to students, faculty, administrators and the public in a stylish, vibrant setting. The restaurant was named "best restaurant near a cultural institution" by The Huffington Post website in 2014, Klinger notes.
The department's most popular concept is Seeds Marketplace, a retail café with service stations offering salads, sandwiches and other made-to-order foods for students on the go.
USC Hospitality recently made it even easier for students and others to pick up food and beverages from Seeds Marketplace and its other concepts. The department is partnering with Tapingo, a smartphone app offering mobile ordering to students. The app also learns user preferences, such as coffee drinks ordered on a weekly or daily basis. "We're always looking for ways to improve," Klinger says. "We want to increase our use of technology to create new opportunities for our customers."
The department partners with vendors and various other university departments including academic colleges, athletics and student affairs when it adopts new technology or introduces new dining concepts. "We value our partnerships with different organizations and try to get them involved in projects as early as possible so we can understand their needs," he adds.
USC Hospitality continues to grow its offerings. "We want to develop brands and concepts that stand the test of time," Klinger says.