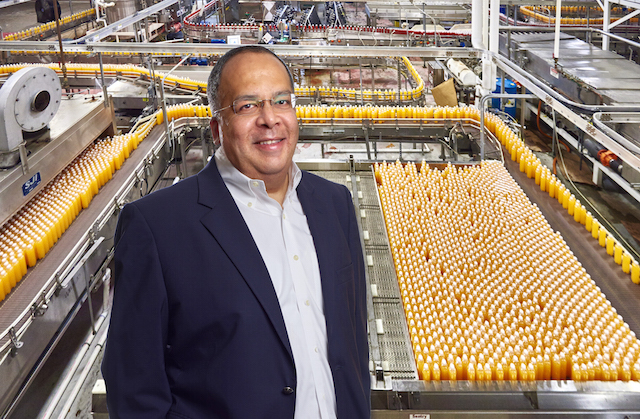 USHydrations doubles in size and plans to launch its own branded products.
A premier manufacturer of water and carbonated beverages, USHydrations is making a big splash in the market this year. The Pittston, Pa.-based company, claims some of the most prominent national and global brands as its clients. It has doubled in size in the past three years and plans to launch its own branded products this summer through a new company named Ayvo Hydrations LLC.
Founded in 2016, Ayvo is a new beverage company focused on offering healthy water beverages derived from natural, high-quality and minimally processed ingredients. Its protein water products will be available in the United States this summer under the Ayvo brand – meaning "guilt-free." USHydrations, its sister company, will manufacture Ayvo's products.
"We want to diversify into other segments in the premier water category that will allow us to capitalize on our strengths," says Prashant Shitut, president and CEO of USHydrations and president of Ayvo Hydrations.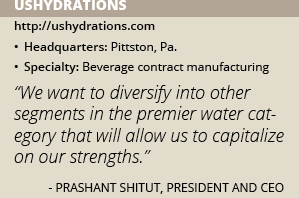 Shitut has more than 25 years of experience in senior management that includes overseeing manufacturing operations and technology. He started at USHydrations in 2014 as its head of operations. Within a few months, he became its president and CEO. During his tenure, the company has made substantial capital investments to improve its manufacturing capabilities and capacities.
In recent months alone, the USHydrations has spent more than $15 million on capital investments – mainly on processing and packaging improvements and manufacturing equipment. "We've made a lot of changes," Shitut says. "It's a top-notch operation."
One in a Million
USHydrations manufacturers more than 1 million bottles per day at its 300,000-square-foot, state-of-art manufacturing plant in Pittston. Occupying a site of roughly 50 acres, the 24/7-hour plant produces a variety of carbonated, flavored and vitamin waters, as well as high pH spring water.
The facility is within easy access to several major interstates and many large distribution centers on the East Coast. This is a major plus because it reduces shipping costs to its clients in those geographic areas – from Philadelphia to New City, Boston and beyond.
"We are within a one day's travel to over a 100 million people in the northeast corridor," Shitut says. "We have a strategic location." The attractive geographic location, diverse product and packaging options and the company's high-capacity production make it a preferred beverage partner for many global brands, he adds.
In addition to the manufacturing plant, USHydrations maintains state-of-the-art quality control testing labs, storage facilities and natural spring water sites in northeastern Pennsylvania. Its natural springs lie deep within the earth in the mountains of Pennsylvania. The springs are closely monitored and have the lowest dissolved solids count in the industry, according to the company.
USHydrations is recognized for its commitment to quality and for producing a safe product that meets or exceeds quality benchmarks. Meticulous testing of water and formulas throughout the production process is a must. USHydrations says its in-house testing labs are among the most scientifically advanced in the industry. Its labs have an SQF Level 3 certification along with certifications from the Food Marketing Institute, Orthodox Union and the U.S. Army.
The company's spring water is sourced from within 24 miles of its production facility in Pittston. Its products include spring, distilled, purified and carbonated waters. When its clients demand it, USHydrations has the ability to add flavorings, nutrients, vitamins and minerals as well as electrolyte and high pH enrichments.
When it comes to packaging, USHydrations is known for its ability to customize. It offers clear or registered shrink wrap and multi-pack arrangements from six to 36 packs. Its bottle size options are 500 milliliters, 700 milliliters, 750 milliliters, 1 liter, 1.5 liters and 17 ounces.
USHydrations also offers sophisticated labeling equipment that includes pressure-sensitive and roll fed options. Standard batching capabilities for both liquid and solid additives are available. In addition, the company has the ability to fill unique and custom bottle designs and offers flexible sanitary controls that permit selective micro-filtration exposure for both source water and the finished product.
"We are looked at as a very credible, reliable and strategic partner for brand owners," Shitut says.
A Farmer's Dream
One of the largest players in the premier beverage contract manufacturing business, USHydrations was founded in 1996 as Nature's Way Purewater Systems Inc. Roughly four years later, Sandy Insalaco Sr. – who had previously owned a 14-store grocery chain – took ownership of the company. He is currently chairman of the board at USHydrations and the company's primary investor. In addition, he's a principal in the Insalaco Development Group that develops, owns and operates commercial real estate in Pennsylvania, New York and New Jersey.
Son of an Italian immigrant, Insalaco was raised on a large family farm in Harding, Pa. Along with his father and siblings, Insalaco would deliver the family farm's fresh produce to area supermarkets. But he had bigger plans and a dream. Over time, the family produce trade blossomed into its own grocery business.
Taking his passion for customer service and knowledge of how beverages are displayed and moved off the shelves in the marketplace, Insalaco quickly grew the company by adding a larger facility and new production equipment. His dream became a reality.
Under his leadership, USHydrations expanded its business from the single-serve and bulk water markets into the international water manufacturing market by producing diverse, high-volume production lines. Today, the company's ongoing capital investments, innovations in production and technology have helped USHydrations establish itself as a leading global contract manufacturer.