The Moriguchi family continues to abide by the traditions established by their patriarch at the Uwajimaya stores, while evolving to attract new customers.
With a recent transition in leadership, Uwajimaya is making plans to upgrade and renovate its brand image and retail offerings. These changes will be first expressed through a logo update and a remodel of its flagship location in Seattle. While the majority of management, employees and customers are excited about the new ideas, some are apprehensive about the change as they have fond memories and are nostalgic about the company's 90 year history. Understanding these mixed emotions, traditions and dedication to its culture have been key as the company moves forward.
"While Uwajimaya has been around for 90 years, our current store is almost 20 years old, and the Chinatown International District has changed, customers have changed, our offerings have changed and the competition has changed," Development Manager Miye Moriguchi says. "We have to adapt while focusing on our brand and how to keep our customers, while attracting new customers in this market. The renovation will provide a complete new look, feel and orientation in some departments, but we will still spend a lot of time on what makes Uwajimaya special for our customers."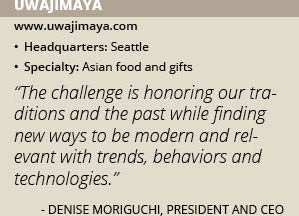 Uwajimaya is special because it is far from the typical grocery store. It was founded in 1928, when Moriguchi's grandfather came to Seattle from Japan and started a small business in Tacoma, Wash. He began by selling homemade fishcakes and other Japanese food staples from the back of his truck, naming his business Uwajima-ya after the town Uwajima where he learned his trade and "ya," which means "store" in Japanese. President and CEO Denise Moriguchi – Miye's cousin – explains Uwajimaya remains in business 90 years later because of the values their grandfather established.
"He took care of his customers, his employees and the community," Denise Moriguchi says. "Japanese immigrants would show up at the store without a job and he would give them a couch to sleep on, food to eat and a job. That example was followed by our parents' generation.
"Things started to change in 1962," she adds. "Up until this time, the Uwajimaya Japanese market primarily sold to Japanese immigrants. But in 1962, he took a booth at the Seattle's World's Fair, which is when the Space Needle was built. It was the first opportunity he had to share Japanese food and culture with non-Japanese people – introduce noodles and chopsticks to them. The spirit to share beyond the core Japanese population was very important, and now more than half of our customer base is non-Asian. We like having a much more broad appeal."
Community Contributions
Uwajimaya's broad appeal – as well as the ways in which it specializes in certain goods – has made its locations destinations for locals and travelers. The grocery department, for example, boasts more than 30,000 items with goods from Japan, China, Korea, Vietnam, Thailand, India, Indonesia, the Philippines and other areas. Dedicated to being a one-stop shop for customers' Asian cooking needs, Uwajimaya has aisles dedicated to sauces, noodles, teas and snacks.
The stores' seafood departments offer a large selection of quality fresh fish, including the finest grade of sashimi available on the market. Uwajimaya is one of the few fish markets in the Pacific Northwest to offer a live tank system, allowing customers to bring home live clams, crab, lobsters, oysters and other delicacies like sea urchin (uni) and spot prawns when in season. It also hosts live tuna-cutting events at different times throughout the year. A wide array of fresh and quality products is part of Uwajimaya's dedication to its culture, as well as its community.
"Our grandfather, Fujimatsu Moriguchi, instilled his strong values into his children, and we received those values from our parents," Denise Moriguchi says. "We have remained a family company and we are still very active in community organizations, volunteering and supporting local organizations through the company. We definitely inherited that sense of duty to be active in the community."
In fact, this year, Uwajimaya won Downtown Seattle's City Maker Award for its work to support the community over the years. In Seattle's International District, Uwajimaya focuses on helping a lot of immigrant organizations because that is the area where many Japanese, Chinese and Vietnamese people settled after the various wars. The company likes to help education centers – especially early childhood education for low-income and immigrant families – as well as the city's Wing Luke Museum of the Asian Pacific American Experience, the Asian Counseling and Referral Service, local food banks and Keiro Northwest, a center for senior care.
Uwajimaya works to enhance its community in other ways, as well. Its Seattle location, which is currently more than 35,000 square feet in size, is the anchor tenant of Uwajimaya Village, which also includes Kinokuniya Bookstore, Boiling Point Restaurant, Paris Miki Optical, Savvy Cosmetics, Chase Bank and a food court with 12 dining options.
"Grocery and food is our primary business, but over the years as part of the International District our family has been fortunate to be able to purchase land and be a part of the community as land and business owners," Miye Moriguchi says. "We recently completed a mixed-use residential development across the street from our current Seattle location. Part of it was our last store, which we had from 1970 to 2000, and the other part was a rehabilitation of a 1928 building that was an SRO [I think this should be spelled out] hotel until 2004. We redeveloped these older, historic, but no-longer-useful buildings that are on federal historic preservation lists and beloved by those who grew up and visit Seattle."
She notes the new development, which opened in 2016, has mixed-rate housing, which helps to contribute to a healthy economy. Uwajimaya wants to help ensure the area is a place where people want to be; it is across from the largest transit station in Seattle and is in walking distance to the downtown area of the city.
"When Denise's father was running the company, he led the opening of Uwajimaya Village in 2000," Miye Moriguchi adds. "It was one of the first mixed-use projects in Seattle to pair apartment living with a grocery store. We've always had a strong commitment to community and building relationships."
'Everything is Special'
Uwajimaya remains committed to the strength of its community and serving its customers as it plans to enhance its flagship location. Denise Moriguchi explains the Seattle store is one of TripAdvisor's top places to visit in the city because "it's a place to discover new things and delight in what we have." Customers often come to the store as part of a fun outing, she says, and then go home with great food.
Stephanie Steiner, vice president of sales and marketing, notes that she has been with the company for only six months, but she's already realized Uwajimaya succeeds because it is far more than a tourist attraction. "It is unusual to have been here for only six months because most employees stay here for decades," Steiner says. "Everything is special – there is nothing like Uwajimaya. …what won't change as we update is that we will still celebrate all things Asian while offering a smattering of Western goods. Customers can do all of their shopping here – it's a unique and tremendous place to shop.
"It would be a challenge to find fresher seafood," she adds. "You can pick out the fish you want, and the personnel are trained and experts at fileting. It is an incredible place to be because of how the staff engages with the customers."
The store remodel will allow Uwajimaya to update the product offering, Steiner says, but the company is doing it in a way that honors its core customers and ensures it will be attractive to the next generation. Uwajimaya's culture is that of customer service, and the company wants the new store to be a place where service is even more front and center, enhancing the customer experience. "We have close to 500 employees, and we really enjoy being able to be a part of the community – employing our employees and serving our customers," Denise Moriguchi says. "Being a connection to the community is what I'm most proud of."
Miye Moriguchi agrees, noting how the community connection has meant to their family over the years. "We continue to look for opportunities to enhance that and bring that to a new generation of people. This company has been built strongly on these values and we have a responsibility to continue that." Denise and Miye note that both of their dads (who are brothers) met their wives at the store, and there have been other marriages between store employees, which adds to the culture. There also is a Facebook group for "store alumni," and they have events to stay connected.
"We have so many married couples working here – it is all part of the Uwajimaya story," Steiner says. "Uwajimaya is immigrant friendly from an employment standpoint and a customer standpoint. People come to work here and stay and continue to contribute to the overall benefit."
Denise Moriguchi explains she is excited for those stories to continue. "There are so many opportunities in front of us, the challenge is honoring our traditions and the past while finding new ways to be modern and relevant with trends, behaviors and technologies," she says. "There will be many fun things coming out of our company in the next few years, and the remodel will be where people can really see this."