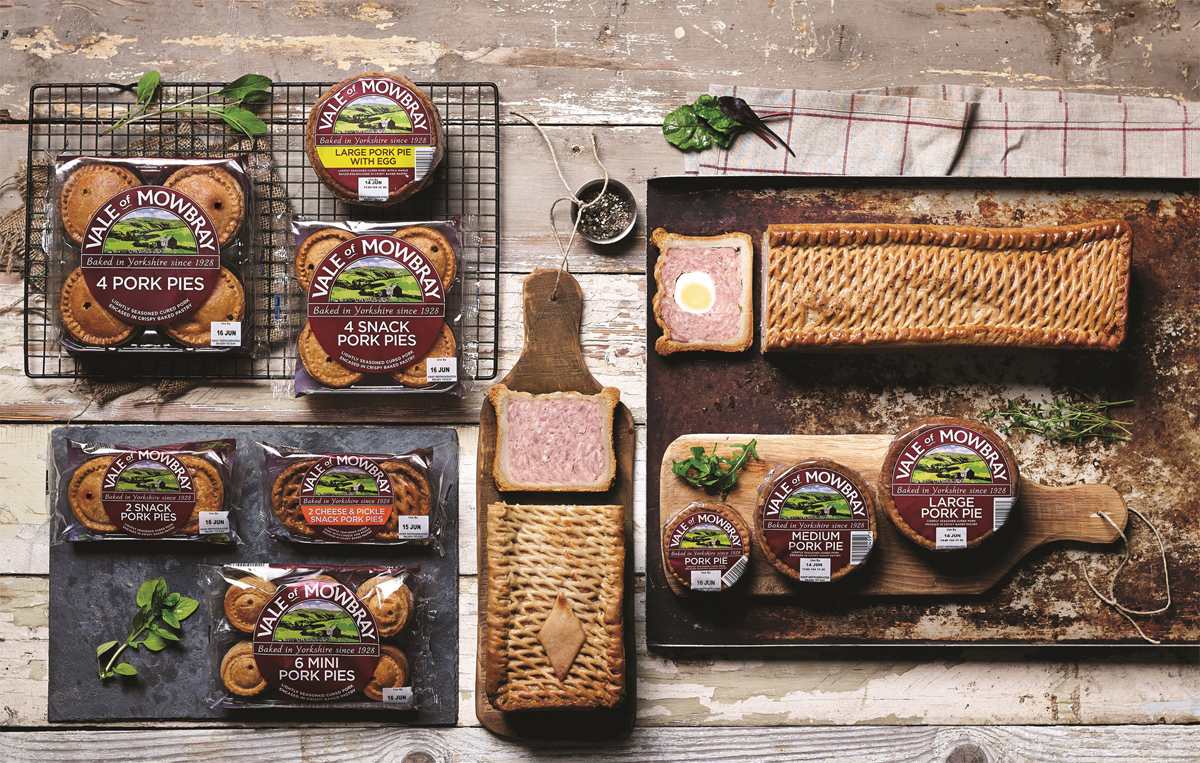 Life of pie
Vale of Mowbray bakes top-quality pork pies, which fuse traditional Yorkshire taste with exotic flavours to enthral a customer base that has never been more demanding
If there was a list of the foods that define Britain, you would be guaranteed to find the mouth-watering pork pie high in the rankings. Thriving on local pride, there are different variations across the country of the much-loved dish. For example, there are traditional grey pies that are produced in and around Melton Mowbray, making it a staple of local culture across the Midlands. This is the same for Cornish pasties in Cornwall, but up north, however, it is the cured meat pie (pork with a little salt added) that retains a regular presence on Yorkshiremen's tables, being a symbol of Northern taste.
Vale of Mowbray has been producing delightful pork pies for nearly a century now, having started in 1928 in the North Yorkshire town of Bedale, near Northallerton, and these days, it standardly makes between 1.5 million and two million pork pies every week. "The first time we reached one million pie sales per week, was in early 2004, which was especially impressive, bearing in mind
that a fire had destroyed our main site and head office two years earlier. It was a fantastic effort from everybody that we were up and running again only a couple of weeks after it, at about 80 per cent of our production capacity, before we got our new bakery and head office opened in 2003," says Vale of Mowbray's Head of Operations, Mark Gatenby.
"We are very flexible in dealing with customers, and in return they have been very loyal, which is one of the chief reasons for the growth we have enjoyed. We do our very best to ensure that they receive just what they have ordered, and, owing to the conscientiousness of our workforce, we know that we can work overtime, if necessary. Listening to what customers want and giving it to them has been key to our successful trade," Mark continues.
Dedication to innovation
In the past couple of years, Vale of Mowbray has seen a considerable increase in production that has inextricably been linked with the substantial investment that was made to extend the company's manufacturing capacity. Mark clarifies that the business spent nearly £10 million to add to its capabilities. "Half of this investment went into the plant, and the other half – into the actual building. Part of the expansion involved closing an older site just a few yards away and bringing it here, so that we could have everything under one roof, and thus make our operations much more efficient. We invested heavily in improving our refrigeration, too. The final installation of the new equipment took place in the end of 2016, we are running it all the time and are really pleased with the results we are getting, as they bring better products and in turn, by adding some automation to our production process, we can make more pies with a similar number of people. It is crucial to always look at how you can do things more efficiently. The completion of the expansion left us with some extra room to grow, so our immediate goal in the next two years will be to fill that spare capacity."
That the competition in the food marketplace is fiercer than ever, is nothing new, and if a product wants to win the customers' attention, it needs not just to taste excellent, but also to thrill consumers with the bold selection of its contents. "Innovation is extremely important these days," Mark insists. "In this business, it is all about being flexible and being able to give customers something new and interesting. The shoppers are much more discerning nowadays, always looking to try something they have not had before, which keeps us on our toes at all times. We are continuously trying to create and release new flavours, such as cheese and pickle, pork and pickle, and caramelised onion, for instance. Sometimes, we launch new flavours depending on the time of the year, or if there is an event going on. We did a Queen pie for the Queen's Jubilee couple of years ago, which was a great success and we will present some new products this summer, now that the World Cup is just around the corner," he upholds.
"On top of that, we perform a comprehensive quality check on every product that goes out of the factory. I have a maxim that I always say to my team, which goes: 'If you would not eat it, do not send it. Always look at the product as something you would eat. If you would enjoy it, I am happy for you to send it', but of course it must conform to spec. Thankfully, all of our pies are real treats.
"When you think about it, the pork pie is a very traditional product. The typical customer is a male in his mid-40s or upwards, but our desire is to entice younger customers, and this is why we need to continue developing new flavours, and marketing the many benefits that pork pies give consumers. They are convenient, portable and packed full of nutrients and calories. Anyone with a love of the outdoors; old or young, men and women alike can enjoy these benefits. In fact, we sponsor cycling Sportives in Yorkshire and recently provided an Ultra Marathon runner with some of our pies to help fuel her next run!"
Dynamic marketplace
Mark returns to unravelling ongoing market trends. "There is a wider change in customers' shopping habits. For example, people tend to shop little and often, instead of doing the traditional big shopping. They are also looking for smaller items. So, instead of buying one large pie, they now get multiple smaller pies to give themselves choice. It is a very dynamic marketplace with a few challenges, posed by rising material costs, energy costs, and labour costys, so our priority for the future will be to accurately meet customers' demands by bringing new products and continue effectively addressing the ever-increasing costs," he concludes